Five questions with Neha Mani, the winner of the H. Robert Horvitz Prize for Fundamental Research at ISEF 2021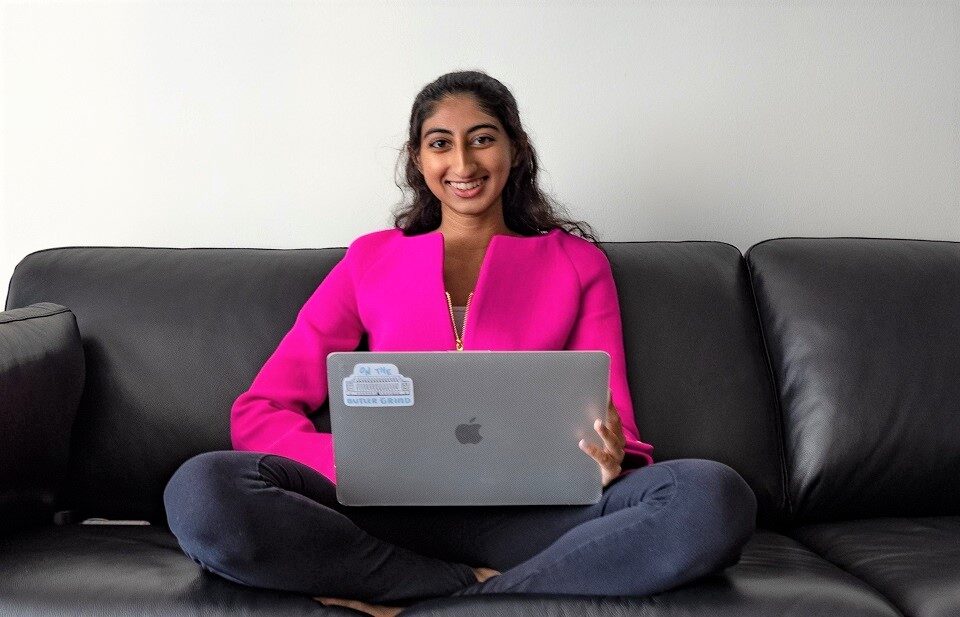 Bronx, New York native, Neha Mani, has had quite a bit to celebrate these last couple months. In May, she placed in the top seven of the nation's largest high school science fair, the Regeneron ISEF. She won $10,000 for creating a novel tool distinguishing between bacterial swarming and swimming, which can be applied as a diagnostic device for Inflammatory Bowel Disease (IBD). She explains that bacterial swarming has been linked to intestinal inflammation in IBD patients and bacterial swimming has been linked to homeostasis (i.e. a healthy gut). Neha's research, for which she has already filed for a U.S. patent, has the potential to diagnose intestinal diseases that can sometimes be difficult to pinpoint – for instance, Crohn's disease and ulcerative colitis. She hopes that by using a simple stool specimen, pricey diagnostic procedures and ongoing tests will be relegated to the past.
This fall, Neha will attend the esteemed Columbia University, not too far from her family home, where she intends to major in biochemistry and linguistics. Also, if you take a look at Neha's Instagram handle and website, one can peruse the certified Master Scuba Diver's stunning photographs of vivid wildlife from the world's oceans. Through her photography, Neha celebrates underwater creatures such as minnows, barracuda and stingrays; through this work she educates others on the importance of coral restoration and climate justice!
Let's hear more from Neha below.
Which sci-fi advancement do you wish we had by now?
I wish we could have dynamic oxygen tanks that extract dissolved oxygen from the oceans and compounded it with nitrogen so we could breathe underwater for as long as we want. Scuba diving has been a passion of mine since I was ten years old. I've always wanted to wander along the majestic reefs and sandy shelves for longer than my tank allowed.
Which scientist – alive or deceased – would you want to solve scientific mysteries with and why?
I have always admired the work of Sidney Farber (especially after reading The Emperor of All Maladies by Siddhartha Mukherjee). His seemingly simple discovery of the association between folic acid and leukemic cell proliferation paved the way for antifolate drugs to be administered as the first working, hematologic cancer therapeutic. This finding proved to yield effective cancer treatment until more resilient cancer cells cropped up. His back-to-basics research with life-saving consequences strongly aligns with my scientific interests. If he were alive today, I would be so humbled and eager to work with him.
What would you like to be most renowned for?
I think beyond scientific discovery and dreams of innovation, I would want to be renowned for humanizing my science. Though I have not settled on a career path yet, I believe any field combining medicine and research requires empathy for the problem at hand. While some say emotion is the enemy of rational thought, in science research, I find that it is perhaps the greatest motivator. I would want to be renowned for having such passion for the work I do and understanding of the plight I aim to address.
What was the most interesting/weird/surprising part of having ISEF be a virtual event?
I wasn't expecting the same level of engagement with the judges as I had experienced in past in-person science fairs. In fact, I was worried that my excitement for my research would not traverse a video feed. However, I was pleasantly surprised that those fifteen-minute time slots of interaction with the judges generated truly fascinating discourse. We even talked beyond my project, addressing general questions about bacteriology and the connection to disease diagnostics.
What was your most favorite or memorable experience from virtual ISEF? And why?
My favorite experience from virtual ISEF was the networking simulation for microbiology projects hosted by Regeneron. Through my avatar, I got to wander through the exhibits and see all of the wonderful research that my peers had conducted. I was even able to converse with them and ask questions about their projects. The best part of any science fair is the riveting exchange of ideas — I was so glad that virtual ISEF managed to encapsulate part of that experience.