2020 Regeneron STS Application: Top 10 Things to Know
The Regeneron Science Talent Search (STS), the nation's oldest and most prestigious science and mathematics competition for high school seniors, aims to identify scientific leaders of the future. Alumni have started companies that create life-changing medicines, won Nobel Prizes and so much more. Regeneron STS is owned and produced by the Society for Science. The program awards $3.1 million to deserving students and schools on an annual basis, including a top prize of $250,000. The 2020 application opened in June and the deadline for entry is November 13, 2019 at 8 p.m. Eastern Time.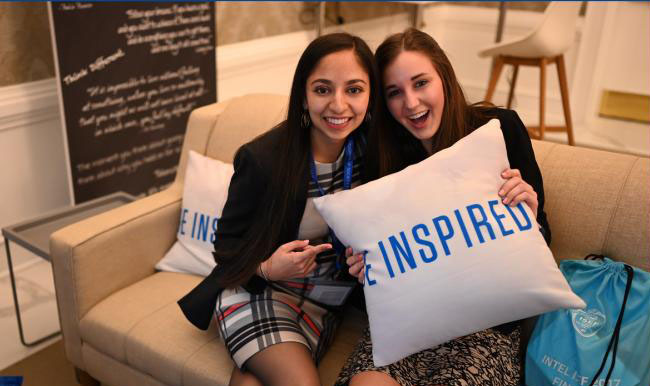 Through an online application, entrants submit an original science research paper that is up to 20-pages in length, in addition to the other requirements such as essays and recommendation letters. The application is free of charge, and open to high school seniors living in the United States and U.S. citizens living abroad. Students may submit research from any year of school, conducted over any length of time. Whether this is your first research project or you are an experienced science fair participant, we encourage you to apply!
Below, we have highlighted 10 key things an entrant should know to successfully complete the 2020 Regeneron STS application by the deadline. We encourage teachers and mentors to review student applications closely as we have made a few changes to this year's application. Other resources include the Rules and Entry Instructions and the Regeneron STS Application FAQ.
1) Application and letters of recommendation are due on Wednesday, November 13, 2019 at 8p.m. Eastern Time.
The Technical Support Deadline is November 12, 2019 at 8p.m. ET (24 hours ahead of the actual submission deadline). We encourage students to submit early to avoid any issues! All concerns reported by the Technical Support Deadline will be addressed and resolved. Even after submission, your application can be edited until the final deadline.
In an effort to help high school teachers, counselors and scientists who are racing to meet deadlines for college admissions, we have changed the recommendation due date to be the same day as the application—November 13, 2019 at 8p.m. ET.
Unfortunately, we cannot accept any application or supporting materials (including recommendations) after the November 13, 2019 deadline at 8p.m. ET. No exceptions will be made.
2) The Official Rules have been revised and enhanced for better understanding and clarity.
The Rules and Entry Instructions document is required reading for any student who wants to enter Regeneron STS. The new and improved format, with encouraging quotes from former finalists, is intended to be more accessible and clear so that everyone is aware of the rules of the competition and the rules for human and animal research. Be sure to review the Entrant Checklist on Page 2.
Please review the eligibility, human and animal rules in the Rules and Entry Instructions with your teacher and/or mentor and use the materials provided to ensure compliance with the Ethics Statement, eligibility and documentation requirements. When you submit your online application, you are required to attest that you will abide by the Ethics Statement.
Within the online application, there is a Rules Wizard to help you upload required paperwork. Clarifying language has been added to guide students through this process. Occasionally, students who enter Regeneron STS forget to upload signed versions of their paperwork. Our Rules Wizard will help you decide what you need to share.
3) Team Research is not (and has never) been allowed.
Research projects conducted with other high school students are not eligible for Regeneron STS. Regeneron STS is a competition reserved for individual researchers only. We have offered clarification to this rule for 2020 as we have noticed an increase in team projects attempting to enter Regeneron STS. The updated rule states:

Only independent, individual research is eligible. Even if students performed different parts of the experiment with another high school student, or if one student was the primary investigator, this is still considered team research. Students may not "split" a team project and enter it in Regeneron STS as individuals. Students also may not within the time between submission to the Regeneron STS in November 2019 and May 2020 combine individual research submitted to Regeneron STS and present it as team research in competition, publications, or any forum.

Several clarifying questions were added to the application for students to outline and explain prior team projects.
4) Test scores are optional and self-reporting of scores is permitted.
While this has been true for many years, we want to emphasize that application entry is completely free of charge for students, and that students do not need to pay for score reports in order to enter Regeneron STS.
We also want to give students the opportunity to present the best version of themselves, which is why test scores are optional and why we allow "superscoring"—reporting the best section score from different testing dates.
5) The recommendation form has been updated for 2020! Make requests early and share with your recommenders that it has changed.
Here's a quick list of the changes your recommenders can expect to see:

PDF letters are no longer accepted; recommenders must answer questions in the text boxes.
Project recommenders are asked questions about human and animal projects, and might be asked to upload paperwork.
Project recommenders are asked to share more information about the overall lab environment
There is a new training document about bias in letters of recommendation.

Students are now allowed to ask supervisors or coaches for recommendations. We strongly recommend that the first recommendation come from a science teacher, but the second recommendation may come from a non-classroom adult who can speak to your strengths.
6) The application has been reordered to feature your research first.
While the application and evaluation process values the whole student, we have shifted the science front and center in the application task list. Students are now asked to first provide information about their research project before providing other information.
Hot tip: Students may enter a research project from any year of high school, conducted over any length of time. This is a major difference between Regeneron STS and ISEF.
Have an hour to kill? Skip ahead and complete Task 11, which asks basic questions about your t-shirt size, address, etc. Easy!
7) We want to know about your mentors and those who have supported you along your research journey.
We have collected mentor information for many years, but have added a few questions to learn how you met your mentor. You are also offered the opportunity within the application to credit individuals who have helped you with various aspects of your project, but did not necessarily mentor you in a formal role.
No mentor? No problem. It is absolutely not a requirement to have a mentor in order to enter STS and does not impact your chances of success.
Related to your mentor or a member of the lab where you did your project? That's perfectly fine, too. We just ask that you be sure to disclose this information in your application, and be sure to mention this individual. Honesty and integrity are important in scientific research, and crediting those whose ideas you are building upon is vital, even if they contributed to your project, idea or opportunity in a small way.
8) Activities—tell us how you spend your time, and what is most important to you.
The activities section helps us contextualize your scientific and non-scientific interests, and gives us a glimpse into your home life. You may tell us about seven activities, and share leadership and awards pertaining to those activities within this section. We want to know what hobbies, jobs and personal interests are most important to you.
We recently added family responsibilities and religious obligations as category options so that students may share the most accurate representation of their time.
9) Writing your research report? You might want to check out this one-pager about our guidelines.
Regeneron STS does not require that students use a specific format for research reports, but we do recommend that you follow the norms of your research field. We require that certain elements are included—please see the document for more information.
Students may not link to outside URLs in order to provide additional pages, data sets or libraries.
10) Essays are an important way for our judges and evaluators to get to know you as a person and scientist.
We have reduced the overall number of essays and word limits in this year's application.
Still struggling with the essays? Try answering them out loud to get started and work on them in small chunks of time. You do not need to complete the application in one sitting. You have the ability to save each section and return at a later time.
The Society aims to run a fair and equitable evaluation process to select the top 300 Regeneron STS scholars and top 40 finalists. Every year, Society staff review their processes, and when necessary, make changes to align with college admissions best practices, reduce burden where possible for entrants and their supporting adults, and make sure our judges and evaluators have the information they need in order to make sound decisions. Feedback from students, evaluators and judges, and recommendations from the National Association for College Admission Counseling help drive our decision-making. We consider how our application process can be as fair as possible for students of all backgrounds, and remove burden for students and recommenders whenever possible.