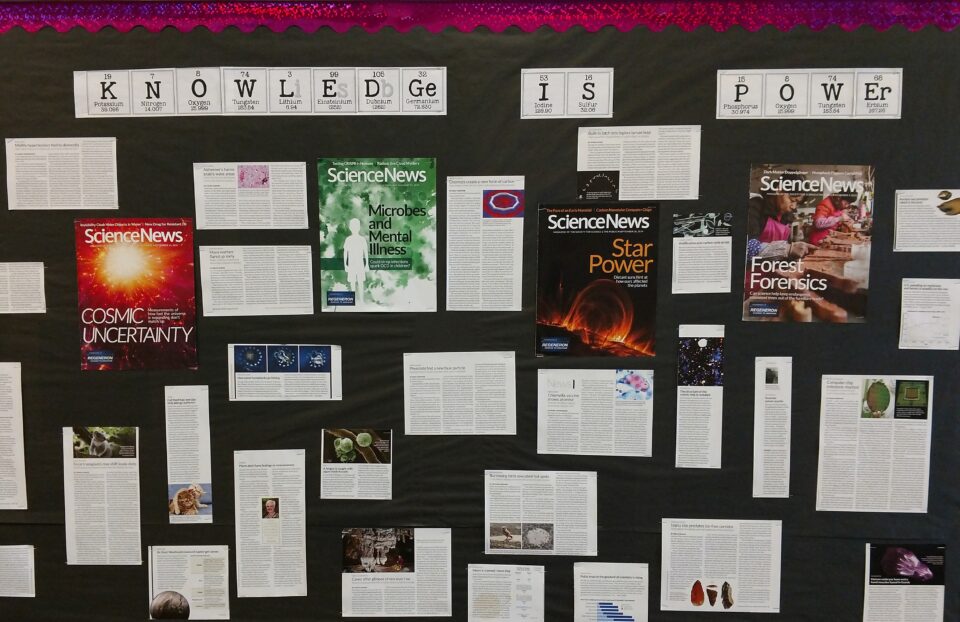 Science News in High Schools is in high gear for the 2021-2022 program year. Supporting over 5,000 schools this year, we are providing free educational resources to classrooms across all 50 states, Washington, D.C. and the U.S. territories. Teachers in the program receive 10 issues of Science News every two weeks, Educator Guide, lesson plans, including classroom activities based on articles, digital access to the journalism archives, weekly e-newsletters containing the latest educator content, professional learning webinars where teachers share how they integrate the resources into their own classroom, as well as access to an online community to connect with other educators in the program.
The goal is to put students at the center of their learning by providing classrooms with science journalism that is easy to understand, accurate, credible, timely and is fun to read. Lesson plans that tie Science News and Science News for Students articles to Next Generation Science Standards, connect the most current reporting with the foundational curricula.
Science News in High Schools currently provides digital access to more than 5,000 schools, over 5 million students and 17,000 educators across the country and around the world — now it is expanding even further.
For the first time, over 250 middle schools are taking part in a pilot to bring the program to younger audiences.
The idea for the pilot, which is sponsored by Eli and Jackie Scripps and Regeneron, grew out of feedback from teachers. Teachers in the program, particularly science teachers at K-12 schools who teach both high school and middle school students, have reported that the materials are engaging and appropriate for their middle school students as well as high schoolers. With this positive feedback, we are excited to be able to provide resources to these younger cohorts of students in a more systematic way.
The middle school pilot will continue through the end of the 2022-2023 school year when we hope to make the inclusion of this new audience permanent. Over the next 18 months, we will continue performing evaluations that will allow us to make informed decisions about any additional resources or programming we will need to best support this new audience. So far, feedback from teachers has been encouraging. Here is what some educators participating in the middle school pilot had to say:
"When I started my teaching career at the high school level, Science News was a cornerstone in my classroom. When I transitioned to middle school three years ago, I had no idea how much I would miss having this fantastic resource show up to my classroom every week. This year, with Science News being put in the hands of middle school students, I am even more amazed and thankful for this program! My seventh-grade students have their curiosity peaked, their reading comprehension challenged and their minds set ablaze for science!"
—Scotti Benton, teacher at Jasper County Middle School, Monticello, GA
"Several students love just getting to explore the pages independently, but some classes have also been putting the magazine and its online resources to good use. Another teacher and I have used them for middle school science, biology, physics and scientific research courses. The articles are interesting to the students and provide a wonderful way for the students to relate their textbook lessons to their everyday lives. The activities designed to correspond to articles have provided a great framework for teaching scientific literacy skills and applying the scientific method. I believe all of this will boost our students' research and science fair success this year."
—Christine Stewart, teacher at Governor French Academy, Belleville, IL
To learn more about Science News in High Schools, you can visit the program's webpage. Open enrollment for the 2022-2023 school year begins soon, so stay tuned! If you or your school are interested in joining the Science News in High Schools program, we invite you to express your interest through this form.