Intel STS 2014 Finalists Meet President Obama
The 40 finalists of the Intel Science Talent Search 2014 had the opportunity to meet with President Obama at the White House on Friday, March 7. Each finalist got the opportunity to shake his hand and tell him where they were from before he addressed the group.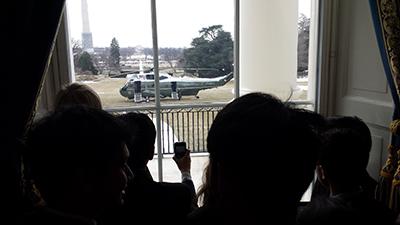 Shaun Datta of Maryland said "it was surprising how unassuming, calm, and quiet the President was. Everyone leans in and pays attention. He carries a lot of star power, like a rock star. One of the girls was so excited to see him that she was squeaking; her voice kept getting higher and higher…He told us that he had read our information [about the finalists and their projects], some of which he understood, and some of which he didn't. And then we all laughed. He also talked about his commitment to STEM education."
Thabit Pulak of Texas was wearing an American flag tie for the visit, and President Obama told him that it was the kind of tie you should wear when you know you're meeting the President. "It was great that he noticed the tie, and I got a few extra seconds to shake his hand. I was surprised that I wasn't nervous at all. It was funny how nonchalant he was." Thabit added that Obama said a lot of things about the finalists' future, the types of things lots of people say, but that "when he says it, you believe it."
After their meet and greet with President Obama, the finalists got to stay and take a tour of the White House. Their guide, a Secret Service agent, told them all about the history and particularly about all the paintings they were seeing.
The finalists also had the opportunity to watch the President and First Lady Michelle Obama walk out to Marine One and take off. "Everyone enjoyed meeting the President and taking photos of him and Michelle Obama leaving on the helicopter. He told us that he looked forward to this every year and that we were an example to other kids," said Preeti Kakani of New York. "I especially enjoyed seeing the rooms where interviews had been done, ones that I had previously seen on T.V. The red room was my favorite." There was even a sighting of Bo and Sunny on the White House lawn.