Broadcom MASTERS winner gets to tour NASA Ames Research Center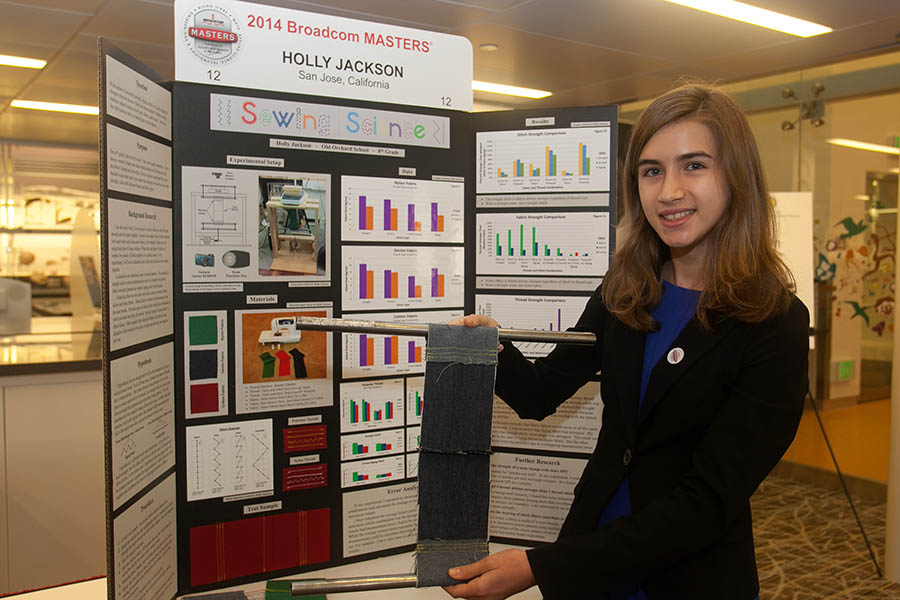 Holly Jackson won the top award at the Broadcom MASTERS in October 2014, both for her project exploring the relative strength and compatibility of threads and fabrics, and for her overall STEM excellence and leadership shown throughout a series of hands-on challenges.
What was your experience being a Broadcom MASTERS finalist like?
My experience being a Broadcom MASTERS finalist was extremely rewarding!  I met so many new people and made so many new friends that I still keep in contact with. We have periodic online Mafia games and communicate over a long email thread. I am even reuniting with some of the friends I made at Broadcom MASTERS this week. My favorite moment from the trip was, of course, meeting President Obama. It was a surreal experience, and I will never forget it!
Can you provide a short description of your research project and how you initially became interested in this topic/science in general?
In my project, I studied which type of lockstitch, a stitch made from two interlocked threads, was strongest: straight, stretch, zigzag, or three-point zigzag. I used nylon and polyester thread to stitch together identical swatches of cotton, denim, or nylon fabric. I tested these samples by pulling them apart with an electric winch. I found polyester thread failed, as hypothesized, and that the straight stitch was strongest on average.
When I was picking a topic for my science fair project, I wanted to do something on sewing because I had been sewing since fourth grade. I have always been interested in science, but I feel that my third grade teacher, Ms. Lum at Old Orchard School, really cemented my passion for the subject. Every day in class, she would always give us such fun and interactive lessons. Her class made me love science more than I ever had before and caused me to pursue science throughout the rest of my life.
You were selected as the top winner of the Broadcom MASTERS. How did you feel being announced as the top winner? What have your experiences been since then?
I was very surprised when I was announced as the top winner. Everyone in the competition was so intelligent and they all had extremely thorough and advanced projects. I couldn't believe that I was the one who won the Samueli Foundation prize. Ever since I won the award, so many new opportunities have opened up for me. A NASA scientist who I met at the awards ceremony dinner, Dr. Harry Partridge, gave me a five-hour private tour of NASA Ames on Monday, November 10.  I've been in contact with JPL and the US Navy as well.  Everyone at Broadcom MASTERS has been so supportive of me, and I couldn't be more grateful!
You recently had the chance for a behind the scenes tour at the NASA Ames Research Center, partly because of a connection you made during the Broadcom MASTERS. Can you tell us about that experience?
 
Going to NASA Ames was the experience of a lifetime! Dr. Harry Partridge, the Center Chief of Technology at NASA Ames in Mountain View, whom I met at the awards ceremony, led me around the whole day. During the course of the day, we met with six scientists who all studied in different fields. I visited Dr. Kenneth Cheung, who works with 3D materials for their applications in spacecraft; he is even making a wing light enough so that it could fly like a bird. I also talked to Dr. Margaret Stackpoole, who works with woven thermal protection systems, and Paul Wercinski, who is creating an umbrella-like spacecraft made with carbon-fiber fabric and thread. Dr. Terry Fong, who researches robotics for use on space shuttles, the moon, and Mars, also told me about his work. In addition, I met Dr. Jessica Koehne and Dr. Diana Gentry, who both do research in bioengineering. Overall, I had an amazing experience and I am thankful for all the support Broadcom MASTERS and Dr. Partridge have given me.
Are you continuing your research? And/or what are you working on now that is STEM-related?
I am currently working on a science project for this year, and I am very excited about it!  I am also in science club, math team, and the iSTEM club at my school. I also am working with Dr. Harry Partridge at NASA Ames and will hopefully have a NASA internship this summer (the details haven't quite been worked out yet)!
How has doing original research and participating in events like the Broadcom MASTERS affected you?
Doing original research and participating in events like Broadcom MASTERS has solidified my love for science. Every year that I do a science project, I feel so connected to it, because it was my own research. Participating in science competitions just makes it even more fun because I get to share what I did with others. Doing original research allows you to learn so much about a topic you are interested in. Kids may doubt that they will learn anything from their science project, but the truth is, you learn more doing a science project than you ever could in just a science class!
Do you have any advice for other young students interested in science?
My advice to young students interested in science would be to mix your personal hobbies into science. That is how I got this far! I love to sew. So I decided to do my science project on it. And through that process, I learned just how many applications my project had! Parachutes, space suits, seat belts, airbags, and more – my project could be used in many different areas. And because I studied something I loved, I enjoyed "Sewing Science" more than any other project I had ever done. So whether it is marine life or robotics or sports or sewing, do what you want to do, and it will take you far!