Broadcom MASTERS winner gets a hometown celebration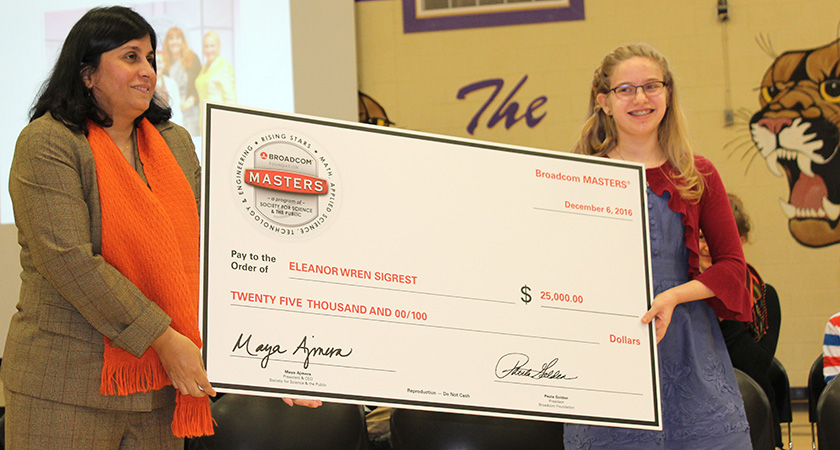 Louise A. Benton Middle School in Manassas, Va., gave Eleanor Sigrest quite the hometown celebration after she won $25,000 in the 2016 Broadcom MASTERS, the nation's premier middle school science competition. Last week, the entire 8th grade (nearly 500 students), members of the School Board, the Superintendent of Schools, and Eleanor's teacher and principal came together during an assembly to celebrate her success — and watch while Eleanor received a check for $25,000 from the Broadcom Foundation and the Society for Science & the Public.
Eleanor was awarded the Samueli Foundation Prize for her mastery of STEM principles and team leadership demonstrated throughout the rigorous weeklong competition. Inspired by the SpaceX explosion, Eleanor experimented with cold gas rocket nozzles to contribute to the engineering knowledge on the subject.
"You are all part of a middle school delivering a world class education," Superintendent of Schools Steven Walts told the 8th graders. Pointing to the reporters in the room, Walts told the students that today was "opposite day" because today's news would be positive. School Board Chairman Ryan Sawyers followed, noting that Eleanor is obviously an inspiration to her classmates.
Maya Ajmera, President & CEO of the Society for Science & the Public and Publisher of Science News commented, "Not only was Eleanor's science fair project exceptional, but she showed tremendous leadership and creative problem solving ability while working through the many challenges that took place during the Broadcom MASTERS finals week." Ajmera encouraged the entire 8th grade class to ask questions about the world around them. "You can make a tremendous impact on the world around you through STEM."
Before she presented her school with a check for $1,000 and her science teacher a check for $1,000 — a benefit to winning the top prize — Eleanor encouraged her classmates to participate in a science fair. She shared, "Yes, competing in a science fair is a lot of effort, but if you pick something you love it never feels like work. And the real reward is an event like Broadcom MASTERS, where you get to come together with friends with a common love of science, technology, engineering, and math." You can read Eleanor's full speech here.