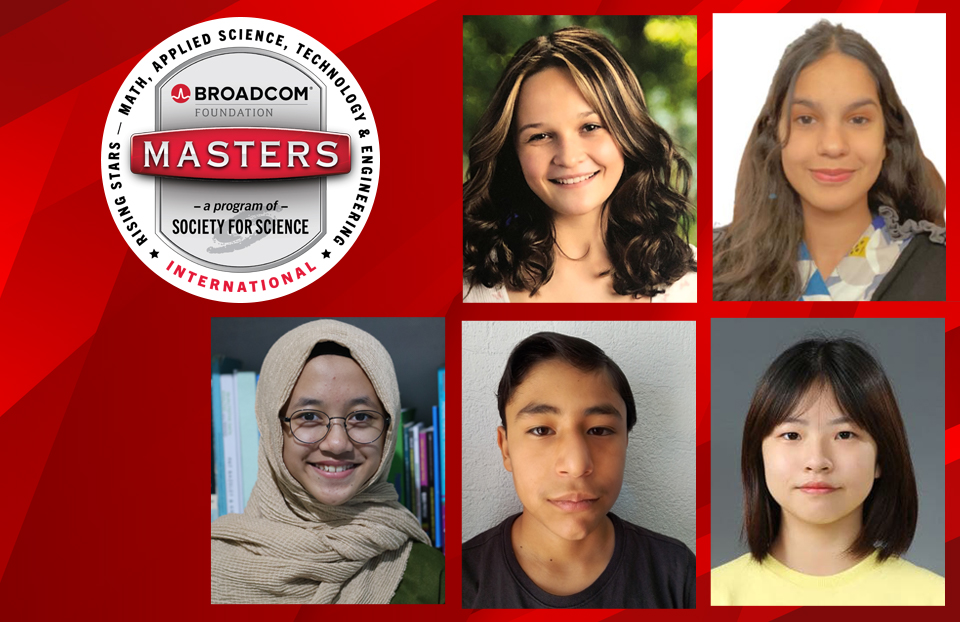 In times of great difficulty, challenges can spark the creativity needed for effective solutions. For five of this year's Broadcom MASTERS International delegates, the COVID-19 pandemic inspired many of them to pursue research that would help combat some of the problems brought on by the public health crisis. Find out more about their projects and fun tidbits they shared about their countries below!
Sophia Baker, 14
United States
People began ordering a lot more takeout when the COVID-19 pandemic hit and because the food often comes in plastic containers, Sophia became concerned about increased pollution. For her project, she investigated the effect different main ingredients in bioplastic had on its durability and biodegradability. "Using bioplastic for takeout container would help to improve ocean health and decrease carbon dioxide emissions," Sophia said. So, she made prototypes using tapioca and potato starch and found that both were more durable than Styrofoam and degraded faster.
If anyone from Sophia's cohort of Broadcom MASTERS International delegates were to visit her home state of Arizona, she recommends visiting the Grand Canyon. "Many come from all over to see the sunrise and sunset, to take in the peaceful silence, fresh air and natural beauty," Sophia described. "Native tribes such as the Navajo and Hopi have put great value on the Canyon, referring to it as a 'place of emergence.' Many are said to set sail through as part of their passage from this human life to their next afterlife destination."
Hanun Dzatirrajwa, 13
Indonesia
Hanun was interested in tracking and analyzing Twitter conversations about COVID-19. Using the hashtag "#covid19semarang," Hanun gathered data from the social media platform from March 2, 2020 to July 21, 2020. Her research found that users were discussing conversations on four main themes: 1) hesitancy to adopt the use of masks, 2) mobility of Semarang society, 3) discouraging community activities and 4) scarcity of personal protective equipment.
A unique Indonesian tradition that Hanun shared with her fellow delegates is a festival called Dugderan. "Dugderan welcome the holy month of Ramadan," she explained. "It is officially opened by the Governor and is enlivened with fireworks. During the festival, once can see Warak Ngendok, an imaginary creature that can only be found during Dugderan."
Mauricio "Mau" Licea, 13
Mexico
Climate change is something Broadcom MASTERS International delegate Mauricio cares greatly about. During the pandemic, many cities were reporting lower air pollution levels, but Mauricio wanted to verify that was indeed the case. "By reviewing air pollution records before and during the pandemic, I analyzed what adjustments to daily life we have to make to save our planet," he told the Society. His research included strategies that could help keep pollutant levels low even when people resumed pre-pandemic activities.
Sharing a Mexican tradition with his fellow delegates, Mauricio discussed the importance of celebrating the Day of the Dead on November 1 and 2. "Altars containing candles, colored paper, fruits, breads, marigold flowers, photos of people who have already died, as well as their favorite foods are put up," he explained. "It is believed that on those days their souls are granted permission to visit their families and take away the aroma of those delicious dishes and drinks placed as a sign of the love that they still have."
Loulwa "Lulu" Marzooqi, 13
Saudi Arabia
Seeing the toll COVID-19 had on the mortality of older people motivated Loulwa to study how bioinformatics could be used to screen natural compounds for their potential inhibitory effects on SARS-CoV-2. Her research showed that chicoric acid is one possible inhibitor. "This offers promising insights to apply to further research in order to limit disease spread," Loulwa said. She hopes to continue studying other possible therapeutics for the novel coronavirus.
There are many interesting traditions and holidays in Saudi Arabia, but choosing just one to share with her Broadcom MASTERS International cohort, Loulwa picked Eid al Fitr. "Every year, the day after Ramadan is celebrated," she shared. "It involves amazing cooking, feasting on delicious food, visiting family and friends, and most importantly, sharing gifts!"
Eunchae Song, 12
South Korea
Handwashing is very important when it comes to preventing COVID-19 infection. People should wash their hands for at least 20 seconds, but Broadcom MASTERS International delegate Eunchae wanted to take that a step further and designed an Arduino handwashing timer for 30 seconds. "When you put your hands in the sink, the clock begins a 30-second countdown," she explained. "If you were to stop handwashing before the 30 seconds are up, a warning sound will alert you to continue." In the future, Eunchae hopes to make it easier for young children to access software like the one she used for her project.
Eunchae suggests visiting Gyeongbokgung Palace in her hometown of Seoul. "It is the palace where the king lived during the Joseon Dynasty," she said." Eunchae also shared interesting facts about the evolution of Hanbok, traditional Korean clothes. While people have worn them for nearly 1,600 years now, Hanbok have improved and more people wear them.