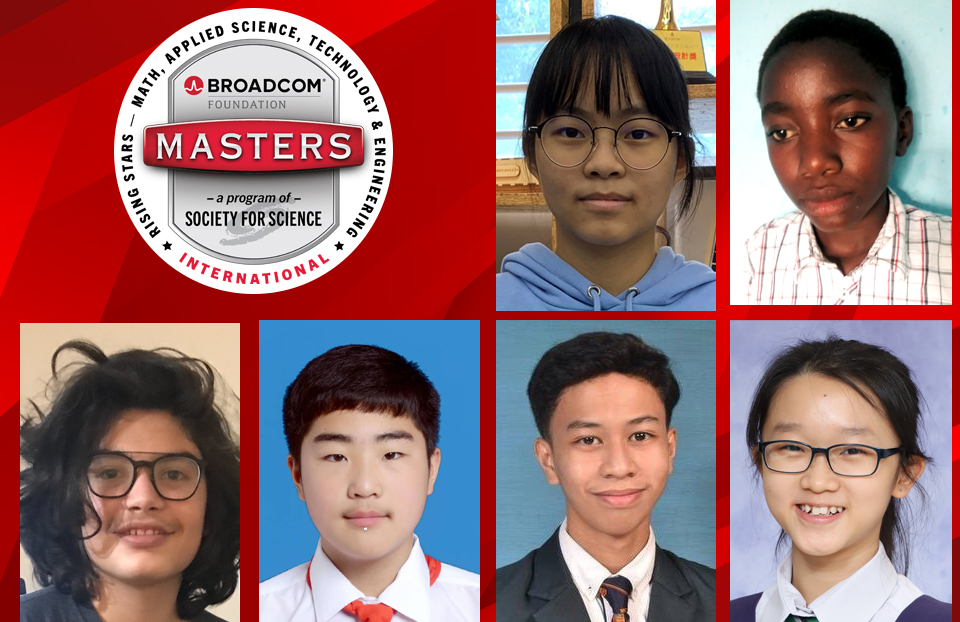 You are never too young to make a difference, just take a look at the 2021 Broadcom MASTERS International delegates! The Society was thrilled to be see this year's participants gather virtually, helping them to form connections with one another so that they can continue tackling big scientific challenges, while finding support through this community. With their projects, six students in this year's class sought to improve on already existing things, such as air filters, motors and even pet cages. Learn more about what innovations these intrepid middle schoolers from around the world came up with below.
Hilary Chee, 14
Singapore
Witnessing the negative effects of air pollution in her native Singapore, Broadcom MASTERS International delegate Hilary wanted to do something about it using her science research skills. "I aimed to create a versatile, low-cost and biodegradable filter that anyone could easily install on existing fans," she told the Society. "I tested three plant materials: luffa gourd, corn silk and sugarcane bagasse. Luffa gourd was the most efficient after 5 minutes at 74.4% efficiency. Sugarcane bagasse and corn silk were around 50% effective. Repeatedly usage of the material also did not decrease filtration efficiency by a large percentage."
It is not often that one's culture is recognized by the UNESCO as an intangible cultural heritage, but Singapore hawker culture gets to boast that title and it's something Hilary is very proud of. "Since Singapore is a melting pot of various cultures, we don't have a specific tradition that all Singaporeans share, but our hawker centers are definitely one of the common spaces where our various cultures interact and overlap."
Ashley Katandawa, 13
Zimbabwe
Ashley designed a portable hammer mill. "This machine can be used by small-scare gold miners to crush their ore," he explained. "Pharmacists can use the mill to crush their medicines. It can also be used in the spice industries." The COVID-19 pandemic gave Ashley additional time to work on his prototype and perfect its functionality. He hopes to become an electrical engineer one day, as he wants to make work and life easier for people.
Victoria Falls in Ashley's native country is a must-see, according to Ashley. As another one of the Seven Natural Wonders of the World, Ashley strongly urges his fellow delegates to have this on their itineraries if given the opportunity to visit Zimbabwe.
Lucas Katz, 14
United States
For his engineering project, Lucas designed and constructed a spherical-motor that enables omnidirectional motion for robots, prosthetics and electric-vehicles, including electric-skateboards, electric-wheelchairs and autonomous self-driving cars. "The spherical motor is designed to rotate in all directions and can also serve as a sphere-shaped wheel, enabling ultimate maneuverability and enhanced safety," he explained. "Normal motors attach to a vehicle frame using an axle connected to a wheel that can only rotate in one direction."
A unique American food Lucas enjoys is deep dish pizza. "It is similar to a traditional pizza, but with a two to three-inch layer of tomato sauce over the cheese," he described. "Due to the thicker crust and sauce, each bite is biscuit-crisp, flowing with sauce over the mozzarella cheese."
Zhiqian "Baymax" Miao, 14
China
Zhiqian built an automatic pet cage. "It is made up of four main systems," he explained. "There are feeding, water, excrement cleaning and blue tooth systems." One of his main motivations for his invention was to make lives easier. Zhiqian's prototype can look after small animals like rabbits or hamsters.
Zhiqian's favorite food from his native China is Xiaolongbao, also known as soup dumplings. "It literally means 'little basket bun' and are traditionally steamed in bamboo baskets, hence the name." He is also a fan of sweet glutinous rice dumplings.
Adam Naufal Mohd Faizal, 14
Malaysia
Adam built an autonomous grease trap maintenance system. Several observations he made about his local community motivated him to pursue this project. "Everyday, I am seeing more reports from the municipal authorities that our local environment is becoming more polluted," he said. "There are also local cleaning contractors that are getting diseases caused by unhygienic working conditions." All this spurred him to take scientific action, wanting to provide his community with an efficient, cost-effective and environmentally friendly alternative to how things are currently done to maintain grease traps.
Nasi Lemak is a Malaysian dish Adam wanted to share with his Broadcom MASTERS International cohort. "It represents the beauty of Malaysia in a simple and enjoyable way. Nasi Lemak consists of coconut rice served with a chili paste called sambal and boiled eggs. It is so delicious, I dare to guarantee if you are to visit and try it, you will become addicted."
Liang "Linky" Siting, 14
Hong Kong
Liang devised a device to calculate the service life of water filters. "When the device detects that people are using the drinking fountain, the digital display sensor shows the life of filter," he said. "When the filter needs to be serviced, the Internet of Things (IoT) technology will send a message to remind maintenance workers to replace it. There is also a sensor that will turn on to let people known to not to use the drinking fountain [until the filter has been replaced]."
One of Liang's favorite traditions is celebrating Lunar New Year. "We hold a big banquet and invite friends and relatives to eat and watch the dragon dance team composed of children from every family."