Broadcom MASTERS finalist launches robotics program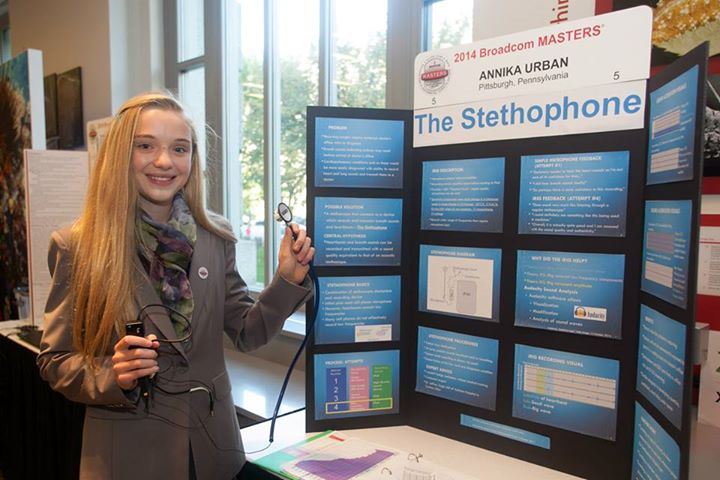 Annika Urban won a 2nd place award in Engineering at the 2014 Broadcom MASTERS. With the money her school received for her participation as a finalist, Urban's gone on to start SENSE, Student Exploration Network for Science and Engineering, as a way to teach robotics to other young students. Urban caught us up to her post-Broadcom MASTERS projects and shared insight and advice for other young students interested in science.
How did you initially become involved in science?
 My interest in science was sparked when I visited my dad's lab for the first time. I was five years old, and my older brother and I were getting a tour of the lab. My dad is a neuroscientist, so we were able to see mouse and goat brains, which were the most fascinating things that I had ever seen.  I was amazed at how intricately brains were built, and how important one organ could be.  During this visit I also looked through a microscope for the first time, and this amazed me as well.  I was astonished to find that living things were made up of tiny little cells, and I couldn't believe that people could actually see them up close. 
A few years after visiting my dad's lab, my grandfather got me a microscope for my birthday.  I spent weeks putting anything I came across under the microscope.  I tried everything from the tendons of the chicken my mom cooked for dinner to the pieces of skin that came off of my sunburned face.  I couldn't believe that all of this was made up of tiny little cells, and it amazed me how structurally different from, yet still similar to each other these things were.  When I went back to my dad's lab later, I met a PhD student who was studying chicken and zebrafish embryos. I was able to see their hearts beating, and they weren't even born yet, which again amazed me.  My early experiences with science were spectacular, and when I was asked if I would like to do my own project, I jumped at the opportunity.  
What was your most memorable moment as a 2014 Broadcom MASTERS finalist?
 My entire experience as a Broadcom MASTERS finalist was spectacular.  Some of the highlights included meeting President Obama, and having dinner with Nobel Prize winner Dr. H. Robert Horvitz and both the founder and the current president of Broadcom.  I also loved working on the team challenges and presenting my project at public exhibition day.  On public exhibition day, I loved being able to share my project with younger children and  talk to them about science fairs.
Can you provide a short description of your research project?
Last summer, I was diagnosed with exercise-induced asthma.  However, it was initially hard for the doctors to diagnose this condition because by the time I arrived at the doctor's office, the asthma sounds would be gone.  I wanted to create a way to record my breath sounds from home and send them to the doctor.  I created the Stethophone, a device which can be plugged into the audio jack of a phone or tablet and used to record a person's heartbeat or breath sounds.  The user can then send these recordings to a doctor, and the doctor can use these to help to remotely diagnose the patient's condition.  
You recently helped develop the curriculum for a new robotics class for other young students in your school district. Can you tell us about that and other experiences you've had since Broadcom MASTERS?
 Last summer, I worked with my school district's Director of Technology and developed a curriculum for, organized, and taught a computer programming class for elementary school kids.  I am now working on developing curricula to teach elementary school children how to use Hopscotch (a computer programming application), and Finch robotics.  These programs are part of an outreach program called the Student Exploration Network for Science and Engineering (SENSE), which I also created.   This outreach program allows other teens interested in teaching Science and Engineering to join the program and receive help with starting and running their outreach programs.  I love teaching younger kids skills like robotics and computer programming– watching the kids learn new skills and become so excited when they accomplish the task that they have been working so hard on is amazing.  
I am also on a FIRST Lego League team.  For our project this year, we created a method of helping seniors learn how to use technology.  We created a very senior-friendly website with videos which show the seniors how to use their iPads.  I also am a junior member of a FIRST Robotics Competition team called Girls of Steel, where we create a robot which competes at tournaments around the country.  
Are you continuing your research? What STEM-related projects are you working on now?
I am continuing my research with the Stethophone.  The goal of my science fair project this year is to automate the classification of heart sounds, specifically to aid in diagnosing heart conditions such as murmurs.  I will then use the recordi
ngs from my Stethophone with the automated system to create a completely remote diagnosis system.  
How has participating in Broadcom MASTERS affected you?
Because I participated in Broadcom MASTERS, more people learned about my project.  As news of my project has spread, I have had more opportunities to share my project and inspire young scientists, which I love to do.  Sharing my project with others has also made me more comfortable with public speaking.  
Since Broadcom MASTERS, I also have become extremely thankful for all of the organizations like Broadcom which inspire young scientists to continue in their STEM pursuits.  
Finally, I'm determined to have an outstanding project this year in the hopes of going back to Broadcom MASTERS.  
What is the best advice you can give to a young aspiring scientist?
 The best advice I can give to an aspiring young scientist is to always make sure that you love whatever you are doing.  Completing your project will be so much easier when you're interested in the subject or if you really want to find out the answer to a problem or question.  Just like when you're reading a book, you'll be much more inclined to finish it if you like the subject matter, but if you don't like the book's subject, it'll be more difficult to finish.  
 Also, don't limit yourself to only exploring competitions or groups which your school supports.  So many programs are looking to inspire young scientists like you.  Another piece of advice I can offer is to take risks and be bold.  Often the most risky projects turn out to be the greatest.  Lastly, always make sure that you reach out into your community to share your knowledge with others.  Inspiring other people to follow in your footsteps in always rewarding and is so important to our world's future.