Broadcom MASTERS Finalist Builds Skills and Friendships Through STEM Competition
Olivia Henderson from Loveland, Ohio was a finalist in the 2012 Broadcom MASTERS. Below she describes her experience during the Broadcom MASTERS finals in Washington, DC this fall. Broadcom MASTERS, a program of Society for Science & the Public, is the national science, technology, engineering, and math competition for U.S. 6th, 7th, and 8th graders.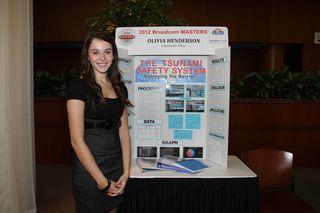 Being a Broadcom MASTERS finalist was truly a life changing experience for me. In this incredible competition, I was challenged in the different areas of science, met young scientists a lot like myself, and exposed to the scientific world around me. During finalist week, every day felt like a new adventure for my team. Each day we were presented with a series of challenges in which we had to use our own prior knowledge and collaborate as a team to come to a final answer. The feeling of accomplishment and success after we reached the final answer in a challenge was overwhelming and really made us proud to be Broadcom MASTERS. One of my favorite parts of the trip was the way that all of the finalists connected, not only on an intellectual level, but also on a personal level. The young scientists that I met at this competition are friends that I will have for a lifetime and hopefully I will work with one day in some field of science.
For two years now, I have been studying and researching tsunamis, a natural disaster that causes tremendous amounts of damages, human deaths, and wildlife endangerment. I wanted to see if there was a way to combat this incredible force to reduce the damages and deaths on a shore after a tsunami hits. To do this, I basically created an underwater barrier system that breaks up the "wall of water" that a tsunami travels in. My system is completely underwater and lays flat on the ocean floor until activated by the tsunami itself. This system uses the hydraulic force of the tsunami to raise an artificial netting barrier that will essentially "cut" or break up the force of the water. By breaking up this disaster's incredible force, it reduces the energy and the power that the tsunami carries onto the shore. I have calculated that if my Tsunami Safety System were to be used in real life, it would reduce the damages and deaths on the shore by about 80%. These results are astonishing and even though we cannot fully stop a tsunami from happening, we will be one step closer in defeating this natural disaster!
I have always had a love for science, but I credit my newfound love of the science fair to my 7th and 8th grade teacher, Mr. McPheron. He is truly an amazing teacher, one that introduced me to science fair and challenged me to become the student that I am today. Specifically, I became interested in tsunamis because I was really touched by the effects that these disasters have on our world. The devastating stories of tragedy and suffering really got me thinking about how I could step up and make a difference in our world. That's how the Tsunami Safety System project was born; I wanted to make a change and help people using my love of science to do so.
Like I mentioned before, becoming a Broadcom MASTER was truly a life changing experience. I had such an incredible time during finalist week and I will never forget the knowledge I gained, the amazing people I met, and the memories I made in D.C. I have learned so many things from the Broadcom MASTERS program, especially about the STEM principles. I learned how important each of these principles are in science and also in our everyday lives. The competition showed me how science, technology, engineering and math go hand in hand by giving me opportunities to use these principles in real life situations. I was given the chance to explore these fields and really connect them with my own science fair project. I believe that being a part of this competition really prepared me for my journey into my future career. I was given the opportunity to venture out into the world of science and witness firsthand what being a Broadcom MASTER and also a scientist was really all about.
I would encourage younger students interested in science to really get involved in the science world, either by joining a science club or participating in a science fair. It is so important to introduce science to a student at a young age and I think the best way to do this is through hands-on activities where they can really branch out and explore the world of science. My main message to students interested in science is that you can make a difference in the world! Don't use science fair or any other science activity to prove a fact. Instead, try to solve a problem that you are passionate about and make goals for yourself. Finally, I would encourage students to never give up, no matter what. I speak from experience when I say that sometimes your experiments or your theories don't work in the way you expected them to. However, science is all about trial and error, so use your mistakes and reevaluate what you need to do to better solve the problem.
For the finalists participating in the competition next year, my advice would be to have fun and enjoy yourself! Finalist week goes by so quickly and in the blink of an eye, it's over. So I would say to take advantage of the opportunities Broadcom MASTERS is giving you to branch out into the science world, challenge yourself, and definitely make friends with your fellow competitors. These young scientists will be with you throughout finalist week and the friendships you build with them at Broadcom MASTERS will last a lifetime.