Broadcom MASTERS big winners announced: $100,000 in prizes awarded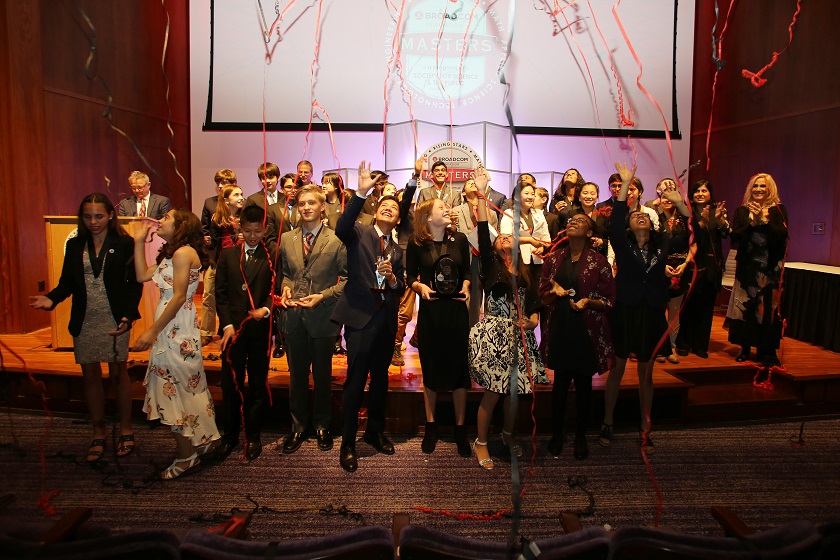 Broadcom Foundation and Society for Science & the Public today announced that Georgia Hutchinson, 13, Woodside, California, won the coveted $25,000 Samueli Foundation Prize, the top award in the Broadcom MASTERS®, the nation's premier science and engineering competition for middle school students.  
The Broadcom MASTERS (Math, Applied Science, Technology, and Engineering for Rising Stars), a program of the Society for Science & the Public, inspires middle school students to follow their personal passions to exciting college and career pathways in STEM. Thirty finalists, including Georgia, took home more than $100,000 in awards.  They were honored during an awards ceremony for their achievements in science, technology, engineering and math (STEM) together with their demonstration of 21st Century skills including critical thinking, communication, creativity, collaborative skills and team work.
"I am thrilled to congratulate Georgia, whose project focused on creating a lower cost solar panel system," said Maya Ajmera, President and CEO of the Society for Science & the Public and Publisher of Science News. "Middle school is a critical time of transition for young people, where they are figuring out their path forward. I'm proud that through the Broadcom MASTERS, the Society and the Broadcom Foundation are able to support and cultivate an interest in STEM for thousands of middle schoolers around the country."
"The Broadcom MASTERS taps ten percent of young people participating in state and regional science fairs throughout the STEM Ecosystem to participate in this national competition. These kids are exemplars of the quality work being done by middles schoolers with their teachers, mentors and families throughout the US. The Top 300 and 30 finalists are representative of special young people who are preparing themselves to solve the Grand Challenges we face through the world," said Paula Golden, President of the Broadcom Foundation. "The Broadcom Foundation is honored to champion young scientists, engineers and innovators and spur them on to greatness."
Winners Include:
The Samueli Foundation Prize: $25,000
Georgia Hutchinson, Woodside Elementary School: Woodside, California
Designing a Data-Driven Dual Axis Solar Tracker
Robert Wood Johnson Foundation Award for Health Advancement: $20,000
Jack Albright, The Nueva School: Hillsborough, California
Predicting the Future: Using Machine Learning to Forecast the Progression of Alzheimer's Disease
Marconi/Samueli Award for Innovation: $10,000
Jacqueline Prawira, Altamont Elementary School: Mountain House, California
Bio.fiber.plastic: The Effect of Lignocellulosic Fiber in Enhancing the Formation and Tensile Strength of Rice Bioplastic
Lemelson Award for Invention: $7,500
John Madland, Leslie Middle School: Salem, Oregon
Terrella Aurora Model: A Demonstration of Charged Particle Shielding for Space Exploration
STEM Award Winners:
First and second place winners of STEM Awards demonstrated acumen and promise in science, technology, engineering and math. First place winners were awarded $3,500 and second place winners receive $2,500 to support his or her choice of a STEM summer camp experience in the U.S. Each STEM Award winner also received an iPad. Top awards in math were sponsored by Robert John Floe, President, Floe Financial Partners.
Science Award:
First place: Amara Orth, Council Bluffs, Iowa
Chemical Analysis of Honey Bee Propolis: Habitat Diversity Affects the Quality of Propolis – An Essential Component of Honey Bee Colonies
Second place: Janani Kumaran Gainesville, Florida
Integrated Control of the Invasive Aquatic Plant Hydrilla Using Snails and a Plant Growth Regulator (Continuation Project: Year 2)
Technology Award:
First place: Gabriella Lui, Palatine, Illinois
Design a Fully Automated Real-Time Presence Detection Safety System in a School Environment Using Radio Frequency Identification (RFID) Technology
Second place: Gary Zhan, Logan, Utah
The Colder, the Bluer—Significant Enhancement of Indigoidine Production Using a Cold-Shock Inducible Promoter
Engineering Award:
First place: Alice Feng, San Jose, California
The Effect of Mushroom Species and Substrates on the Properties of a Novel Biodegradable Material: Mycelium
Second Place: Mihir Nitin Joshi, Salem, Oregon
Terrella Aurora Model: A Demonstration of Charged Particle Shielding for Space Exploration
Mathematics Award:
First Place: Espen Slettnes, Castro Valley, California
Minimal Embedding Dimensions of Rectangle k-Visibility Graphs
Second place: Asmi Kumar, Milton, Georgia
Developing a Device to Predict Autistic Meltdowns Using Arduino and MS Azure
Rising Stars Award:
In recognition of their promise as the youngest competitors, two Rising Stars win a trip to Phoenix, Arizona in May 2019 as the United States delegate to Broadcom MASTERS International and Official Observer at Intel International Science and Engineering Fair (ISEF), the world's largest international high school science fair competition.
Kate Quinn, Louisville, Kentucky
Exploring Atrazine's Neurotoxicity as a Possible Cause of Parkinson's Disease
Sriram Bhimaraju, Cupertino, California
Low-Cost Archery Assistant with an Interface for the Visually Impaired