Broadcom MASTERS awards $100,000 in prizes at 2016 national middle school STEM competition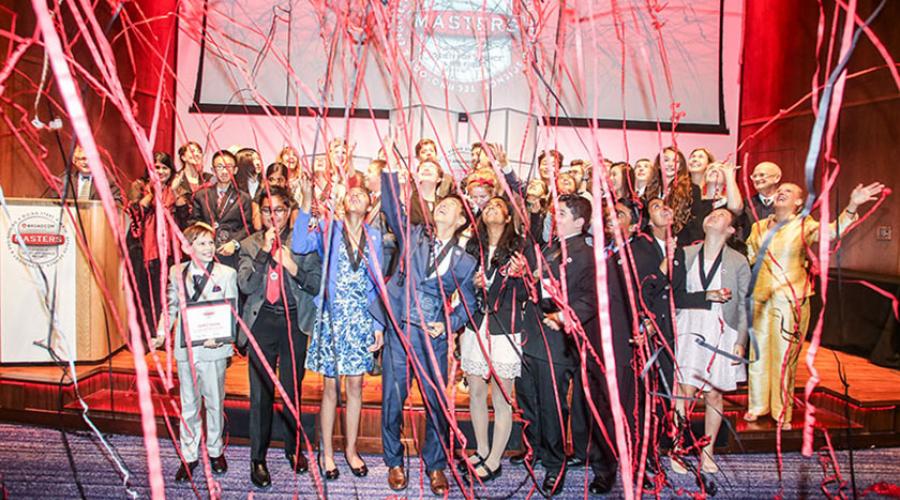 Broadcom Foundation and Society for Science & the Public announced the winners of the sixth annual national Broadcom MASTERS competition for sixth, seventh, and eighth graders.
Broadcom Foundation and the Society also announced first and second place winners in each of the STEM categories of science, technology, engineering, and math, the Team Award, and two Rising Stars who will be the U.S. delegates at the Broadcom MASTERS International and official observers to Intel ISEF in May.
Broadcom MASTERS winners were chosen from the 30 top finalists (15 girls and 15 boys) from 15 states, 28 public and private schools, and one home school. Winners were selected by a panel of distinguished scientists, engineers, and educators.
The finalists were selected from 2,342 nationwide competitors nominated by judges at 300 state and regional science fairs from 49 states and 4 U.S. territories.
The Samueli Foundation Prize: $25,000
Winner: Eleanor Wren Sigrest, 13, Woodbridge, VA
Project: Rockets and Nozzles, and Thrusts, Oh My
Eleanor was awarded the Samueli Foundation Prize for her mastery of STEM principles and team leadership demonstrated throughout the rigorous weeklong competition. Inspired by the SpaceX explosion, Eleanor experimented with cold gas rocket nozzles to contribute to the engineering knowledge on the subject.
Robert Wood Johnson Foundation Award for Health Advancement: $20,000
Winner: Aria Eppinger, 15, Pittsburgh, PA
Project: Roundup's Effect on Human Gut Bacteria
Aria was awarded the Robert Wood Johnson Foundation Award for Health Advancement for her promise in a health-related field. For her research, Aria grew two types of bacteria found in the human gut and tested the effect of Roundup on that gut bacteria.
Marconi/Samueli Award for Innovation: $10,000
Winner: Kaien Yang, 14, Chantilly, VA.
Project: iDiagnostic: Invention of an Early Detection Tool for Major Depressive Disorder
Kaien was awarded the Marconi/Samueli Award for Innovation for his vision and promise as an innovator who, in the spirit of radio inventor Guglielmo Marconi, demonstrated aptitude and skill in technical and mathematical concepts both with his science fair project and throughout team challenges. Kaien created an app that uses statistical data to predict the risk for major depressive disorder with an accuracy of 93 percent.
Lemelson Award for Invention: $7,500
Winner: Nathan Deng, 14, San Marino, CA
Project: Drop by Drop: Manipulating the Surface Tension of Water to Find the Best Way of Cleaning
Nathan was awarded the Lemelson Award for Invention for seeking to solve a real-world problem like oil spills through an invention. Through his research, Nathan sought to find an efficient cleaning method that is sustainable and environmentally safe.
STEM Award Winners:
First and Second Place winners of STEM Awards demonstrated acumen and promise in science, technology, engineering and math. First place winners were awarded $3,500 and second place winners receive $2,500 to support his or her choice of a STEM summer camp experience in the U.S. Each STEM Award winner also received an iPad.
Science Award:
First place: Ananya Ganesh, Sandy Springs, GA, for Bruxism: Using Myoelectric Signals to Treat a Common Health Problem
Second place: Cynthia Chen, Cupertino, CA for A Novel Method for Reducing Water Consumption in Germinating Seeds
Technology Award:
First place: Adishree Ghatare, San Jose, CA for A Software Application as a Learning Platform for Increasing Memory Retention of Definitions of Words
Second place: Shreya Ramachandran, Freemont, CA for The Effect of Soap Nut Grey Water on the Environment
Engineering Award:
First place: Brendan Crotty, Muskogee, OK for Comparative Study of Insulating Materials for a Gas Forge
Second place: Emhyr Subramanian, Aurora, CO for A Study of Super-Absorbent Polymers and their Effectiveness in Organic Waste Extraction
Mathematics Award:
First place: Anushka Naiknaware , Portland, OR for Chitosan and Carbon Nanoparticle based Biocompatible Sensor for Wound Management
Second place: Olivia Lazorik, Fort Pierce, FL for Climate Change Problem: The Effect of Ocean Acidification on the Growth and Coloration of Lysmata wurdemanni
Rising Stars Award:
In recognition of their promise as the youngest competitors, two Rising Stars win a trip to Los Angeles in May 2017 as the United States delegate to Broadcom MASTERS International and Official Observer at Intel International Science and Engineering Fair (ISEF), the world's largest international high school science fair competition.
James Fagan, Riverside, CA for A Wind Tunnel to Test for the Best Aerodynamic Characteristics for Flight on Mars
Ashini Modi, Shreveport, LA for Dark Matter: The Hidden Universe
Team Award:
Each member of the team that best demonstrates their ability to work together, and solve problems through shared decision making, communication and scientific and engineering collaboration will receive an iPod nano.
Winners: Nathan Deng, Aria Eppinger, Anushka Naiknaware, Rachel Pizzolato, and Lucas Ritzdorf
Scott A. McGregor Leadership Award:
Finalists select one student from the group based on their leadership abilities to represent their class as a speaker at the awards ceremony.
This year, the Broadcom MASTERS unveiled two new awards: the $20,000 Robert Wood Johnson Foundation Award for Health Advancement, which recognizes the student whose work and performance shows the most promise in health-related fields, and the $7,500 Lemelson Award for Invention, awarded by The Lemelson Foundation to a young inventor creating promising solutions to real-world problems.
The $25,000 Samueli Foundation Prize is a gift of Dr. Henry Samueli, co-founder of Broadcom Corporation and Chair of the Broadcom Foundation, and his wife, Dr. Susan Samueli, President of the Samueli Foundation. In addition to the grand prize, Dr. Samueli also presented the $10,000 Marconi/Samueli Award for Innovation, an honor made possible by Samueli's generous donation of his 2012 Marconi Society Prize award.