Broadcom MASTERS announces the top 300 middle school innovators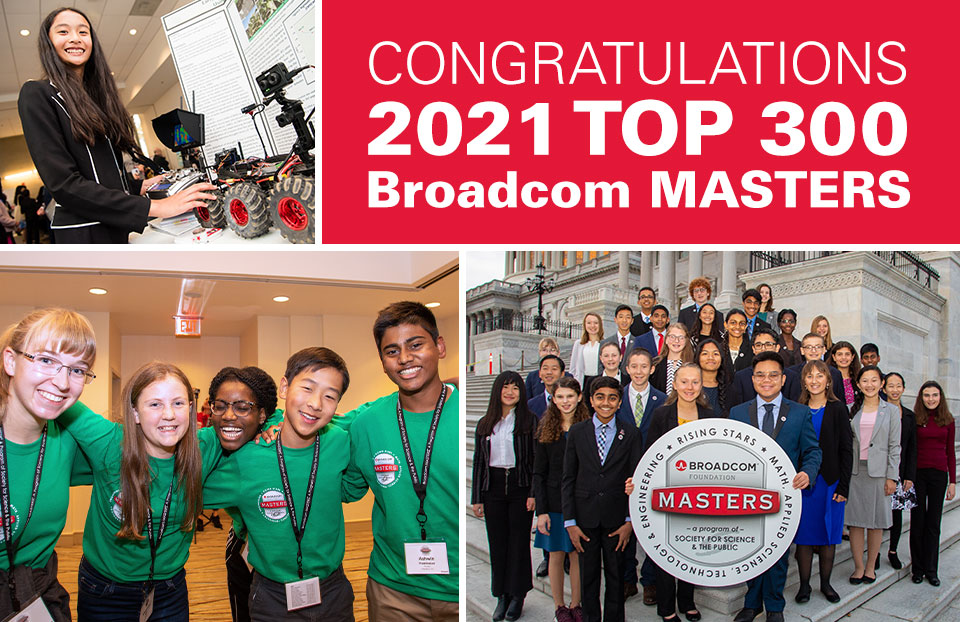 Broadcom Foundation and Society for Science have announced the Top 300 MASTERS in the 10th annual Broadcom MASTERS. Each of the Top 300 MASTERS will receive a $125 award from DoD STEM. With this prize, now in its second year, the Department of Defense continues its support of youth in STEM, working towards a more diverse pipeline of highly qualified STEM professionals in the future.
The Top 300 MASTERS were selected from 1,841 students from 48 states, Washington, DC and three US territories (Puerto Rico, Guam and Virgin Islands) applying to be a Broadcom MASTER. Only students who are named in the top 10% of their science fair are eligible to enter the Broadcom MASTERS, which is the only middle school STEM competition that leverages Society-affiliated science fairs as a critical component of the STEM talent pipeline.
The Top 300 Broadcom MASTERS include:
58.7% of the Top 300 MASTERS identify as girls while 40.3% identify as boys.
The MASTERS come from 41 states and Guam, a US territory.
The state with the most MASTERS is California, with 23% or 69 students. Florida follows with 31 students (10.3%), then Texas at 22 (7.3%), Pennsylvania 20 (6.67%) and Oregon 18 (6%)
The top two project categories are Earth and Environmental Sciences (42) and Behavioral and Social Sciences (38)
More than 2/3 of the MASTERS (206) go to public school, with 59 (19.7%) in private school and 15 (5%) in charter schools. The remaining students are in home, magnet or online schools.
The students' names and a state-by-state breakdown of the Top 300 Broadcom MASTERS can be found at https://www.societyforscience.org/broadcom-masters/2021-top-300-masters/.
Thirty of the top 300 Broadcom MASTERS will be selected as finalists by a panel of scientists, engineers and educators from around the nation. The 30 finalists, who will be announced September 14, will be competing for over $100,000, including the coveted $25,000 Samueli Prize, $10,000 DoD STEM Talent Award, the $10,000 Lemelson Award for Invention, the $10,000 Marconi/Samueli Award for Innovation and the $10,000 Robert Wood Johnson Foundation Award for Health Advancement.