Broadcom MASTERS alumna receives CTY Cogito award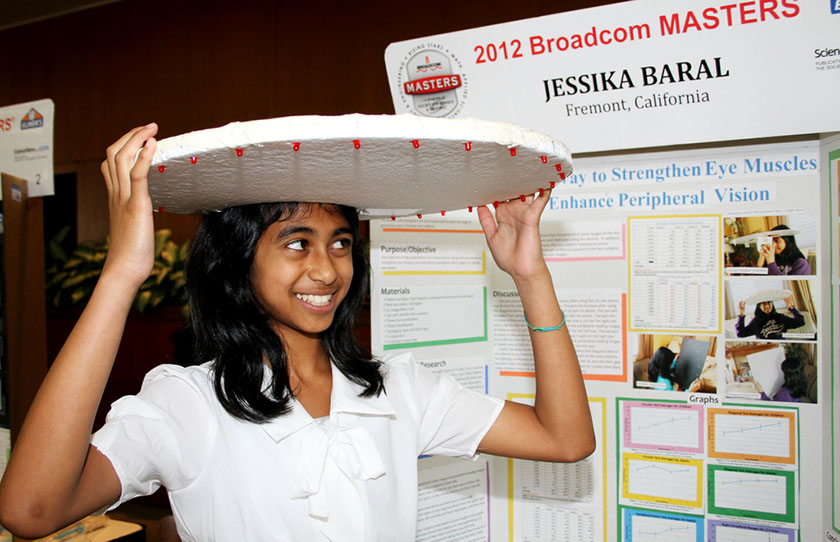 Jessika Baral recently received a Center for Talented Youth Cogito award. She'll work with mentors from Johns Hopkins University to solidify her ideas on a strip to accurately, quickly, and cheaply detect small cell lung cancer.
Johns Hopkins established the CTY Cogito Research Awards in 2013 to enable middle and high school students to conduct research in STEM fields. Each year, 10 winning students (or teams) are selected to receive grants and virtual mentorship to complete their proposed projects.
Jessika's love for science was solidified at Broadcom MASTERS 2012, when she met students who were driven and interested in the same topics as her. 
Broadcom MASTERS influenced Jessika to continue with science:
Broadcom MASTERS was one of the top three reasons aside from my curiosity and love for science that really kept me going. Broadcom MASTERS was where I made some of my closest best friends and "family." All the mentors, especially Ms. Golden, still inspire me today.
I encourage everyone to not only apply to Cogito's award but also Broadcom MASTERS. I can say without a doubt that science is worth all the ups and downs associated with the process.
Jessika become interested in science and medicine in elementary school:
I became interested in science and medicine in the early years of elementary school, when I used to analyze the bacteria from my swimming pool or make cars and catapults. However, my love for science was definitely reinforced greatly after my first science fair in 7th grade, for which I went to Broadcom MASTERS. There I was able to connect to a group of students who were as driven and interested in the same topics.
At Broadcom MASTERS, Jessika invented three devices that would allow people to exercise their eyes in a fun and organized manner. It actually improved eye muscle endurance in up to 85 percent on average in test subjects.