Broadcom MASTERS alumna plans for more science fair competitions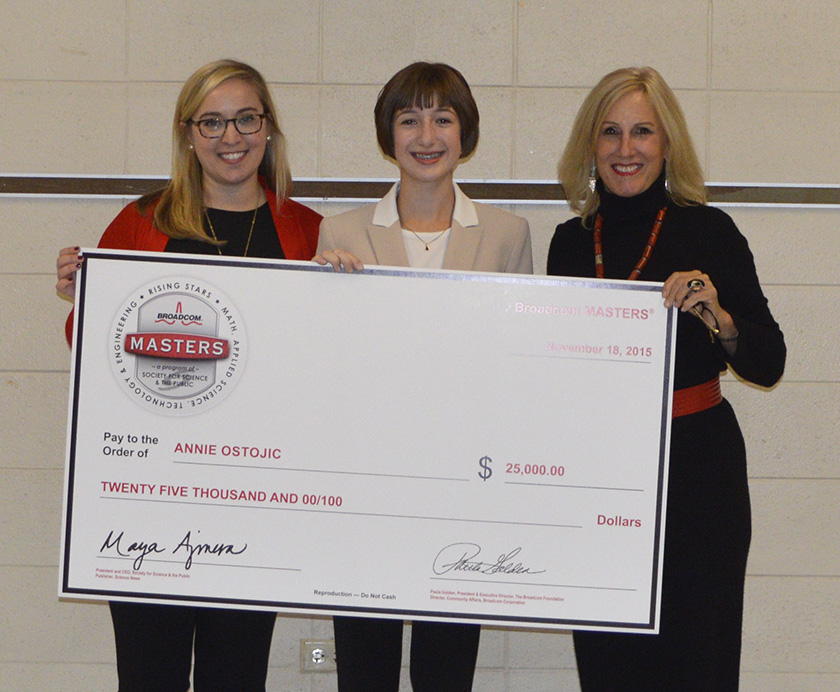 Broadcom MASTERS 2014 finalist and 2015 top winner Annie Ostojic was honored by a school assembly on Wednesday, November 18. She received a $25,000 check and her school, Wilbur Wright Middle School of Munster, Indiana, received a $1,000 check from the Broadcom Foundation to use for STEM programming, supplies, or activities.
School administrators, Society for Science & the Public and Broadcom staff gathered at Wilbur Wright Middle School to congratulate Annie's success at Broadcom MASTERS 2015. SSP caught up with Annie after the assembly to see what her next STEM goals are.
Your school recently received a check from the Broadcom Foundation. Staff from the Society and Broadcom joined your school in congratulating your success. How did this recognition feel?
It was an amazing feeling to be recognized and supported by so many people. It was wonderful to be congratulated by teachers, administrators, board members, family, friends, and regional science fair directors. In addition, several individuals from places such as the Indiana Science Education Foundation Board, the Society for Science & the Public, and the Broadcom Foundation had traveled great distances to be there, which really made me feel special.
                                                            
What was your most memorable experience at Broadcom MASTERS 2015?
The entire Broadcom MASTERS 2015 experience is a treasured memory, but if I have to choose, I would say that it was the close-up view we had of real world scientific applications and processes when we toured Google, Tesla, and the NASA Ames Research Center. It was remarkable to see current research being done at the sites and the behind-the-scenes tours were a real honor.
Can you provide a short description of your project?  What inspired your project?
A failed attempt at warming up a frozen dinner one night sparked my interest into solving the problem of uneven microwave cooking in food along with excessive energy usage from extending the microwaving time. My research involved redesigning the microwave oven cavity into a rectellipse shape (a combination of a rectangle and ellipse or rounded rectangle) by using cylindrical parabolic reflectors to optimize energy efficiency. I knew there was a problem with lost energy in the corners of the microwave beyond the turntable from my research last year where I had designed a microwave container for more uniformity in heating food. This year, I thought it would be a practical solution to this problem to redesign the inside cavity shape of the microwave oven and change the geometric reflections of the microwave energy to be more focused on the turntable plate. Through multiple designs and many trials, I found the best solution was a group of large-width cylindrical parabolic reflectors in the microwave's corners. By putting one of the reflectors in each of the four corners of the microwave oven, I was able to create a new cavity design, which I have a provisional patent on, as it does cook food more efficiently and thoroughly. The new cavity design focuses all of the lost energy from the corners of the microwave oven toward the turntable food.