Broadcom MASTERS 2018 application deadline coming up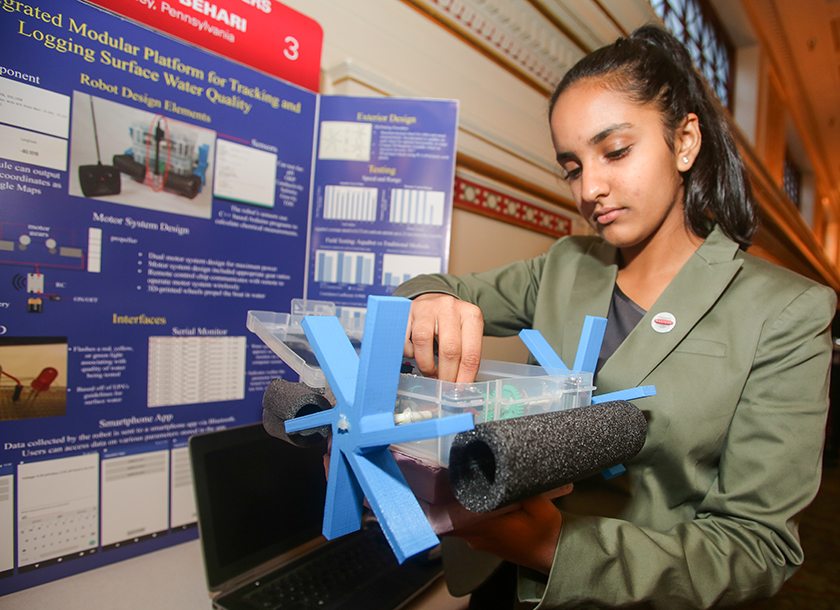 The Society is excited to soon welcome the next class of young STEM innovators. The top 10 percent of 6th, 7th, and 8th grade projects at Society-affiliated science fairs have been nominated to compete in Broadcom MASTERS 2018. The application closes at 8 p.m. ET on June 13.
The deadline is coming up, so don't forget to complete your application if you were nominated. You can view webinars offering guidance about completing the application on YouTube.
For questions about the program, please email masters@societyforscience.org.
Read about a few Broadcom MASTERS 2017 alumni below.
---
Meghna Behari has had a busy year since Broadcom MASTERS 2017. She's been exploring robotics courses at her high school and has even had the opportunity to coach several robotics competitions.
Meghna recently presented her latest science fair project at the Pittsburgh Regional Engineering and Science Fair. Her latest project is a search-and-rescue robot called ResQbot, which can be used during natural disasters. She hopes to become more proficient in computer science languages and keep developing ResQbot. Her Broadcom MASTERS project, called the Aquabot, was similar to her current endeavor. It's a robot that can detect contamination and water quality in bodies of water.
"Broadcom MASTERS was one of the best experiences of my life," Meghna said. "Not only was I able to present my love for science to people who shared the same passion, I was able to learn from all the other finalists, mentors, and alumni about why science was important to them as well. Broadcom MASTERS really allowed me to continue to develop and share my interest in science. Broadcom MASTERS, and similar science competitions, are so important because they show kids how their interest in STEM will make a huge impact."
What is her advice to those considering applying this year? "Definitely seize this opportunity!" Meghna said. "It has definitely changed my life. When filling out your application, remember to be concise and clear, and of course, be yourself. Showing the reviewers who you are and what you're passionate about will really go a long way."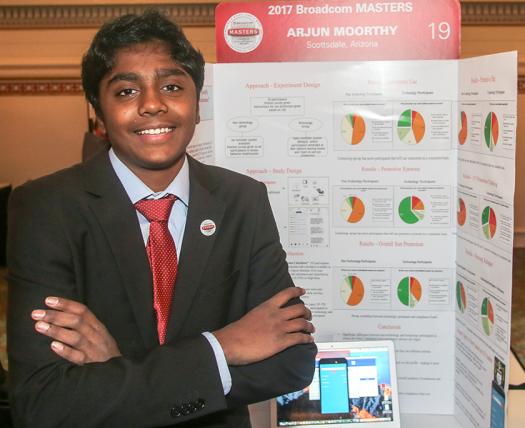 Since competing in Broadcom MASTERS 2017, Arjun Moorthy placed first at the Arizona Science and Engineering Fair. His project used deep learning and artificial intelligence to determine if skin regions have melanoma. "You can upload a picture into the app and it can predict within 80 percent accuracy whether it is melanoma or not," Arjun said. "The goal was not to be a diagnosis. It was to offer technology to rural areas, so people who don't have immediate access to a doctor can see if they need to see a doctor or not."
This Arizona state project relates to the one he submitted to Broadcom MASTERS — an app that helps users to protect themselves from sun damage, by giving them easy access to the UV index for any zip code in the U.S. "That app gives the approximate time when damage will start to occur to your cells," he explained.
Arjun shared that he especially enjoyed the last challenge of the Broadcom MASTERS week, when he and his teammates built a robot to collect sediment samples from the Chesapeake Bay. "Learning stuff in the classroom is all good, but through science fairs like Broadcom MASTERS, kids are encouraged to go outside of the box and come up with innovative solutions to the problems the world is currently facing."
Arjun's advice to potential applicants? "Always believe that there's a solution to a problem," he said. "There are people who are just as talented and capable as you working on problems, so why not you? You can also be a person who is doing these amazing things."