Broadcom MASTERS 2017 awards $100,000 in prizes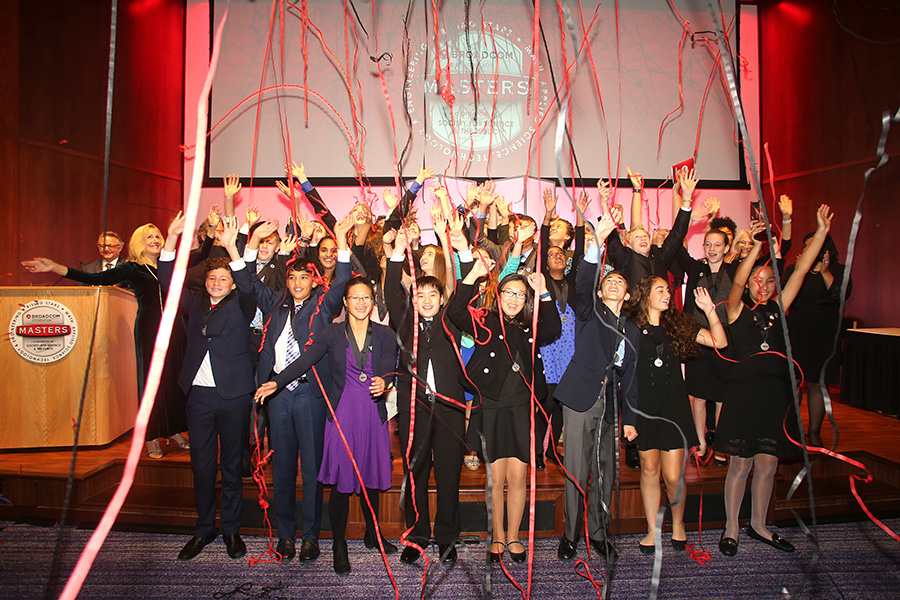 Following a rigorous competition that tested their abilities in STEM, critical thinking, communication, creativity and collaboration, the Broadcom Foundation and Society for Science & the Public announced today the Broadcom MASTERS 2017 winners. Faris Irwin Wald, 15, Santa Fe, NM, won the coveted Samueli Foundation Prize, the top award in the Broadcom MASTERS. Thirty finalists, including Faris, took home a total of $100,000 in awards.
The Broadcom MASTERS (Math, Applied Science, Technology, and Engineering for Rising Stars), a program founded and produced by the Society for Science & the Public, encourages middle school students to translate their personal interests into a passion for STEM by participation in science fairs, which inspires them to continue their studies throughout high school and college and enter STEM careers.
"Congratulations to Faris, whose impressive project has the potential to help us better understand the sun's power to influence weather, such as cyclones," said Maya Ajmera, President and CEO of the Society for Science & the Public and Publisher of Science News. "Now, more than ever, it is critical that we support our young scientists and cultivate their interest in STEM so that they can go on and solve many of our world's most intractable problems."
"It is a thrill to celebrate the achievements of these young men and women who competed their hearts out in complex STEM challenges in the Broadcom MASTERS this week. Many of their interests touch on saving our planet and improving the lives of others, and Faris exemplifies their collective commitment as a generation, deserving top honors for his achievements in team leadership and STEM aptitude," said Paula Golden, President of the Broadcom Foundation. "Faris and his colleagues in the Broadcom MASTERS Class of 2017 now join a very special cohort of alumni who are poised to change our world for the better."

Winners include: 
The Samueli Foundation Prize: $25,000
Faris Irwin Wald
Project: The Correlation Between Solar Coronal Hole Occurrences and the Formation of Tropical and Extra-Tropical Cyclones
Robert Wood Johnson Foundation Award for Health Advancement: $20,000
Emily Tianshi
Project: Microscopic Study of Torrey Pine Needles for Moisture Condensation
Marconi/Samueli Award for Innovation: $10,000
Meghna Behari
Project: Aquabot: An Integrated Modular Platform for Testing and Monitoring Surface Water Quality
Lemelson Award for Invention: $7,500
Helen Lyons
Project: Using Flotation Systems to Harness Wave Power Using Electromagnetism
STEM Award Winners:
First and second Place winners of STEM Awards demonstrated acumen and promise in science, technology, engineering and math. First place winners were awarded $3,500 and second place winners receive $2,500 to support his or her choice of a STEM summer camp experience in the U.S. Each STEM Award winner also received an iPad.
---
---
Science Award:
First place: Pujita Tangirala, Los Gatos, CA A Green, Low-Cost Adsorbent for the Removal of Dye from Aqueous Solutions
Second place: Jessie Gan, San Diego, CA, Natural Antioxidant and Nano-Antioxidant Effects Against Oxidative Stress
Technology Award:
First place: Herin Kang, Los Gatos, CA, Energy Efficient Oxygen Generator Using Micro Algae as an Alternative to Window Ventilation
Second place: Anthony Hill, Holladay, UT, No Pressure: The Effects of Martian-Like Atmospheric Pressure on Enzyme Catalyzed Reactions in Plants
Engineering Award:
First place: Andrew Chiang, Saratoga, CA, Manipulation of Ultrasonic Force Field
Second place: Spencer Green, Huntington, CA, The Sonification of Accelerometers for the Training of Elite Gymnasts
Mathematics Award:
First place: Zoe Gotthold, Richland, WA A Novel Method for the Efficient Determination of Long-Term Emulsion Stability
Second place: Sara L. Kaufman, Cooper City, FL, The Effects of Wind Mitigation Devices on Gabled Roofs
Rising Stars Award:
In recognition of their promise as the youngest competitors, two Rising Stars win a trip to Pittsburgh in May 2018 as the United States delegate to Broadcom MASTERS International and Official Observer at Intel International Science and Engineering Fair (ISEF), the world's largest international high school science fair competition.
Mithra Karamchedu, Portland, OR, Remote Sensing the Ablation or Accumulation of a Glacier by Using Fractal Analysis on Glacier Images
Regan Williams, Wilmington, NC, Marsh Attacks: Context-Dependent Effects of Intraspecific Trait Variation in a Marsh Ecosystem Predator-Prey Interaction
Team Award:
Each member of the team that best demonstrates their ability to work together and solve problems through shared decision making, communication and scientific and engineering collaboration will receive an iPod Touch.
Andrew Chiang, Arjun Moorthy, Zoe Gotthold, Regan Williams, Mithra Karamchedu
Scott A. McGregor Leadership Award:
Finalists select one student from the group based on their leadership abilities to represent their class as a speaker at the awards ceremony.
Congratulations to the winners and all of the Broadcom MASTERS 2017 finalists!