Broadcom MASTERS 2013 Winners Announced!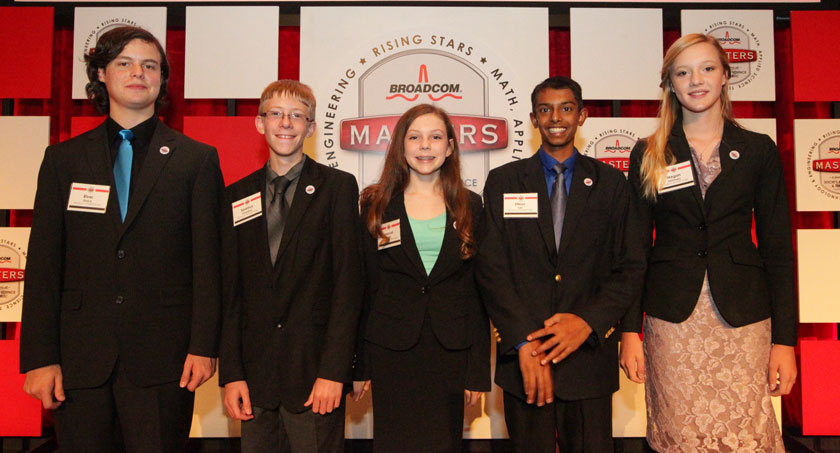 River Grace, 14, from West Melbourne, FL won the Samueli Foundation Grand Prize of $25,000 for his project, Rain Dance of the Radiata: Behavior of the Endangered Radiated Tortoise and Related Species and his mastery of STEM principles during the weeklong competition.
River became fascinated by the behavior of tortoises through his volunteer work at his local zoo and a tortoise breeding facility. He observed that whenever it rained, a captive group of endangered radiated tortoises would rise up and shuffle rhythmically. River hypothesized that this behavior allows tortoises to avoid drowning in flash floods in their arid native habitat in Madagascar and tested their reactions to a gentle flow of water, light mist and a sprinkling of lentils. To support conservation efforts, River now plans to repeat the experiment on several closely related tortoise species.
The Marconi/Samueli Award for Innovation of $10,000 went to Eitan Acks, 14, of San Diego. Eitan was inspired to study speech therapy by his little brother, who has dyspraxia, a disability that affects the ability to communicate. Eitan wanted to improve on the simple exercises using tongue depressors prescribed by speech therapists. So he put his engineering skills to use building a better device to strengthen the parts of the body used in speech, and to mend the connection between those muscles and the brain. Through trial and error with five different prototypes, Eitan found that his device is capable of improving modern speech therapy for dyspraxia as well as other speech disorders.
In addition, first and second place awards were provided in each of the four STEM categories: science, technology, engineering, and math.
Science Awards: First place goes to Keoni Gandall of Huntington Beach, CA, for his project on engineering pink salt. Second place goes to Julienne Sauer of San Ramon, CA., for her project on superconductors and frictionless motion.
Technology Awards: First place goes to Austin McCoy of Rochester, MN, for his project on disease detection lab equipment for developing countries. Second place goes to Rebecca Bloomfield of Colorado Springs, CO, for her project on the effects of slope and remediation on post-fire sedimentation.
Engineering Awards: First place goes to Mihir Garimella of Pittsburgh, PA, for his project on digitally recreating smells. Second place goes to Sidhika Balachandar, of Gainesville, FL, for her project on soundproofing.
Mathematics Awards: First place goes to Johann Kailey-Steiner of Denver, CO for his project on rocket design. Second place goes to Joshua Wentzel of Portland, OR, for his project on homemade air cannons.
Krystal Horton of Menifee, CA, and Sean Weber of Sequim, WA were also named Rising Stars and won a trip to the Intel International Science and Engineering Fair (Intel ISEF) in May 2014 as part of the Broadcom MASTERS International program.