Broadcom MASTERS 2011 Finalist Katherine Landoni Advises Students to Stay Curious
Katherine Landoni from Sequim, Washington won a STEM (science, technology, engineering, and math) award at the Broadcom MASTERS 2011. Below she encourages other young students to stay curious and stick with science.
My Broadcom MASTERS experience was indescribable. I met people who were a lot like me! Everything went so smoothly there, it was all planned out perfectly.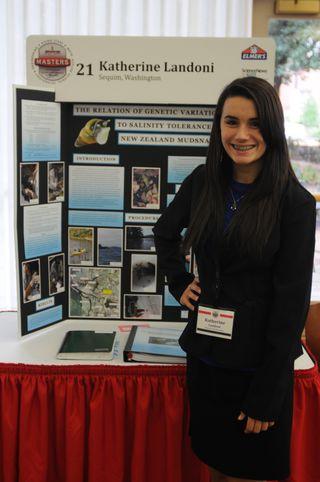 I initially became interested in science because my parents have nurtured me to be curious. I became interested in my topic specifically because I love the ocean and crime shows. They always do DNA and lab work in those shows, so I thought it would be pretty interesting to do it myself. I was presented with the opportunity to do some DNA work on invasive New Zealand mudsnails. I took them up on the offer! I tested mudsnails from differ ent salinities to see if they survived in those higher salinities because of a genetic variation or a physical adaptation.
Broadcom MASTERS made me excited for the rest of my life because there are so many possibilities to what I can do. My advice to young scientists is to explore, stay curious, never stop asking questions and stick with it!
Broadcom MASTERS (Math, Applied Science, Technology, and Engineering for Rising Stars) is a competition for 6th-8th grade students in the U.S. Finalists for 2012 were announced on August 29th and the public is invited to attend a Science and Engineering Project Showcase on September 29, 2012 in Washington, D.C.