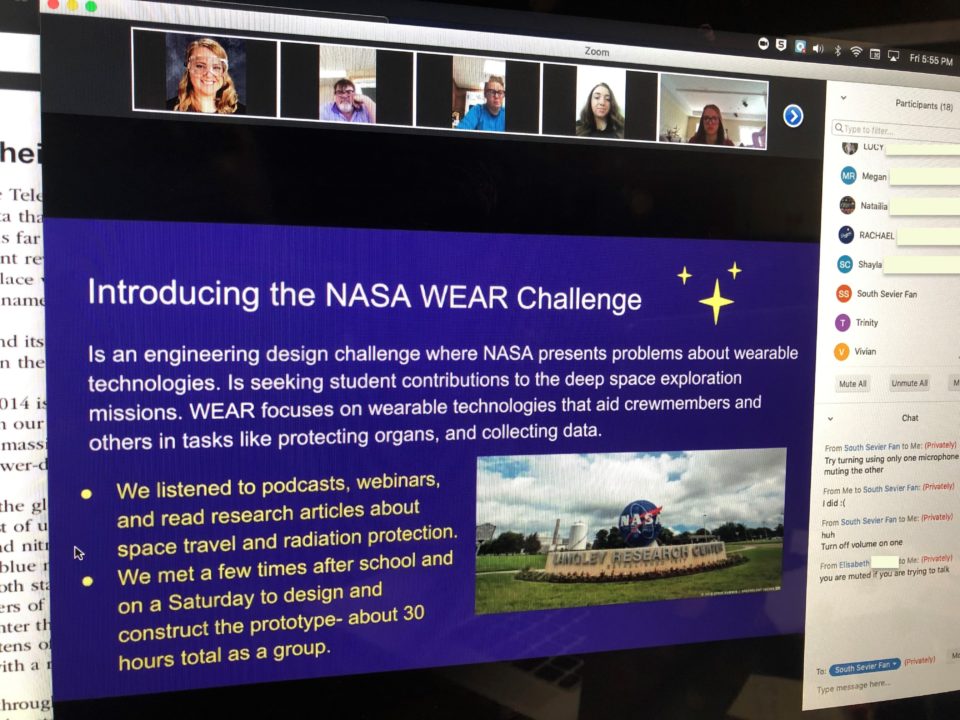 It's no secret that it has been a balancing act for teachers over the past few months. They have been required to adapt to a brand-new system of virtual work, managing classes, students and their own families. Fortunately, with this shift to online learning and shared pedagogical challenge, teachers have been able to lean on each other.
In a new collection of free webinars, seven Society Lead Advocates support their peers by sharing knowledge on key methods for engaging students in STEM research. We had a chance to connect with two Society Advocates who shared a few best practices and advice for creating an effective webinar.
Be professional, but also show your personality.
Debbie Morgan, South Sevier High School science teacher in Utah and Society Lead Advocate approaches virtual learning for her students and her professional peers in this style. Whether the audience is teachers or students, Debbie tells the Society that it's important to be professional, but also, "don't be afraid to show your personality whether that's with humor or talents that make you unique! Share personal insights through stories to help support your topic and make sure resources are relevant and useful in the classroom (and online) for today's educators."
Fellow Society Lead Advocate, Lorraine O'Shea, a science teacher at Grand Forks Public Schools in North Dakota agrees, "adding some humor helps!" With all of us shifting to digital formats, engaging one's audience with personality, humor and storytelling will go a long way. If your webinar is too dry, people may start to check out.
When possible, make your webinar live….
Debbie has conducted many webinars in her career. She shares, "the most successful ones are by far the live webinars where attendees get to contribute by asking questions and providing feedback. Providing a webinar in real time with actual attendees can seem intimidating because you never know what will happen, but you will be richly rewarded by having your professional peers participate."
Lorraine adds, "I think that making them interactive is a great way to make them more engaging. The biggest disadvantage is that if you are not watching them live you don't have the opportunity to ask questions or discuss with others; the robustness of the discussion is lacking."
…but, use prerecorded webinars when appropriate.
Lorraine O'Shea thought she would be nervous when hosting one of her first webinars. However, having the option to pre-record, was helpful for her. For Lorraine, the experience of recording a Society Advocate webinar was good practice for her virtual classes. "I developed the presentation and practiced, which took time, but the recording itself took me a full day because I wanted to make it as good as possible," Lorraine shared. "You know the topic and you practice and it turns out great. Also, the nice thing about making a webinar is that you can record and rerecord it and if you are doing it live, you can edit it afterwards."
If your webinar was hosted live, edit it before posting publicly.
Lorraine and Debbie agree that one of the big advantages to pre-recorded webinars is the ability to go back in and edit. Also having them saved online allows people to learn at their own pace and on their own schedule. Learners can access the webinar at a time that works best for them, even years down the line.
Debbie said, "you can always go back and edit if anything goes awry before you post it for public use, but please edit before you post publicly. No one wants to sit through minutes of set up because of technical difficulties or discussion that isn't pertinent."
Keep an open mind and learn from your audience.
Even if you are the host of a webinar, you aren't required to know everything and be able to answer every question posed. Rather, simply do your best. Debbie tells the Society that being flexible and being open to change during a webinar is very important. "We all have different skills to bring to the table and I cannot be an expert on everything. I'm learning from my students and peers every day!" Webinars can be an interactive experience where all attendees learn from each other. To make the webinar most effective, Debbie sticks to meeting learners at their level by providing clear and concise instructions and resources that align with the topic.
Stay on topic. Give the webinar an accurate title and tag it with key words.
With a limited amount of time, registrants will expect to learn what they signed up for. Some learners may get off topic, and it's within the host's purview to get things back on track. Debbie tells the Society that, "This is why it's important to record and catalog webinars with key words for use and access by learners when it is convenient. Also, title your webinar with keywords that let learners know exactly what the topic is."
Do you have a great idea for a webinar you'd like to create? Complete the Webinar Proposal Form to send us your idea!