Advocate Program Webinars
Learn more about how you can help your students with webinars from our Lead Advocates.
The following webinars were created by the Lead Advocates in the Society's Advocate Program. These teachers and mentors are experienced in leading underserved students in independent STEM research projects, such as science fair projects. These webinars contains their own strategies and tips on topics of their own choosing related to student research.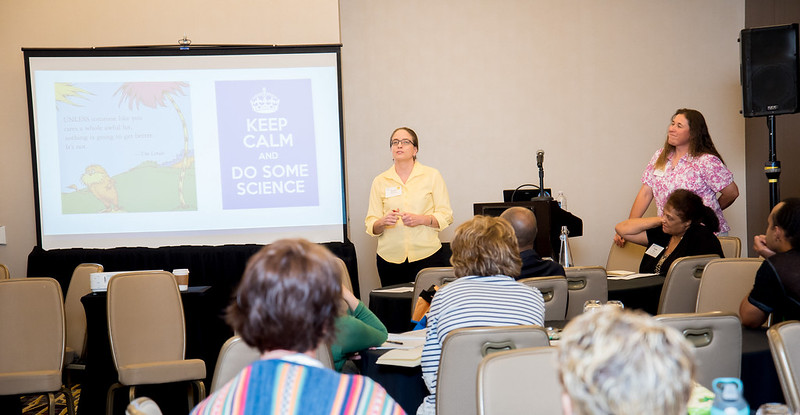 We at Society for Science & the Public believe that there is not one specific "correct" way to lead students in STEM research projects because of the diverse student needs and resources available in any given area. We rely upon our experienced teachers and mentors who share their expertise with others and we thank them for their generosity in creating these webinars. We encourage you to adapt their methods to best meet the needs of your students.
Do you have a great idea for a webinar you'd like to create?  Complete the Webinar Proposal Form to send us your idea!
Biographies
Jennifer Claudio, Oak Grove High School (San Jose, CA)
Jennifer Claudio teaches AP Biology and Advanced Science Research at Oak Grove High School. In the past, she has taught Forensic Science, Biology, and Anatomy/Physiology. On campus, she is known to students as the adviser for the Chess Club, Rock Climbing Club, and the newly founded Science Club. She has experience with helping students enter the district, regional, and state science fairs, as well as a few other competitions such as the BioGENEius Challenge and Regeneron STS.
Andrea Cobb, George Mason University (Manassas, VA)
Dr. Andrea Cobb is the Director of George Mason University College of Science's Aspiring Scientists Summer Internship Program (ASSIP). Prior to working at George Mason Andrea worked to bring authentic, discovery and inquiry science for her thousands of students at three different Virginia high schools. In addition, Andrea has also worked with BioBuilder, Vernier Instruments, the American Physiological Society, and the J. Craig Venter Institute.
Charmain Brammer, SUCCESS Academy DSU (St. George, UT)
Charmain Brammer is a Science Research, Chemistry and Physics Teacher for eighteen years. She has helped students with research projects for the past ten years with multiple students participating in ISEF and other competitions. She loves helping students identify topics they are interested in studying. She is starting her third year as an Advocate teacher for Society for Science & the Public.
Deborah Morgan, South Sevier High (Monroe, UT)
Debbie Morgan has been nurturing future scientists for over 17 years. She currently teaches high school earth science, chemistry, physics, and investigation science students as well as serves as a district technology coach. When she isn t in the classroom, Debbie seeks to promote positive change, authentic research, and active investigation in rural science education as a Hope Street Group Utah Teacher Fellow, member of the Infiniscope Education Advisory Board, National Geographic Certified Educator, and Science for Society & the Public Advocate.
Heather Overkamp, Portsmouth Public Schools (Portsmouth, VA)
Heather just finished her 18th year of teaching secondary science, with 10 of those years as a STEM teacher. She has taught earth science and oceanography, but enjoys the classes she's teaching now the most as they expose students to a multitude of scientific and engineering processes, equipment, and research experiences. Of the last four years teaching Experimental Design, her students have participated in the Junior Science and Humanities Symposium, eCybermission, the Virginia Junior Academy of Science symposium, and a local Expo about resilience to climate change.
Lorraine O'Shea, Grand Forks Public Schools (Grand Forks, ND)
Lorraine O Shea has taught science for Grand Forks Public Schools for 25 years. She has worked as Science Fair coordinator at both Schroeder and Valley Middle schools and is the Director for the Northeast North Dakota Regional Science and Engineering Fair. Mrs. O Shea currently works as a Curriculum Coach for the district.
Vincent Joralemon, Frank McCourt High School (New York, NY)
Vince is a biology teacher at Frank McCourt High School in New York City, where he has taught courses in neuroscience, cancer biology, bioengineering, genetics, and computer science. He is highly involved with several professional development organizations, including EDxEDNYC and Math for America. Vince is passionate about conducting authentic and rigorous scientific experiments with his students, and specializes in DNA Barcoding, Bioengineering, and Neuroscience research.He has worked to develop curriculum for Columbia University's Hk Maker Lab and Stavros-Niarchos Foundation, as well as advising NYU's Brainwaves program, Tufts University's Great Diseases courses, and Johns Hopkin's Center for Talented Youth. In his free time, he loves to garden and cook with his wife, who is also an educator in New York City.