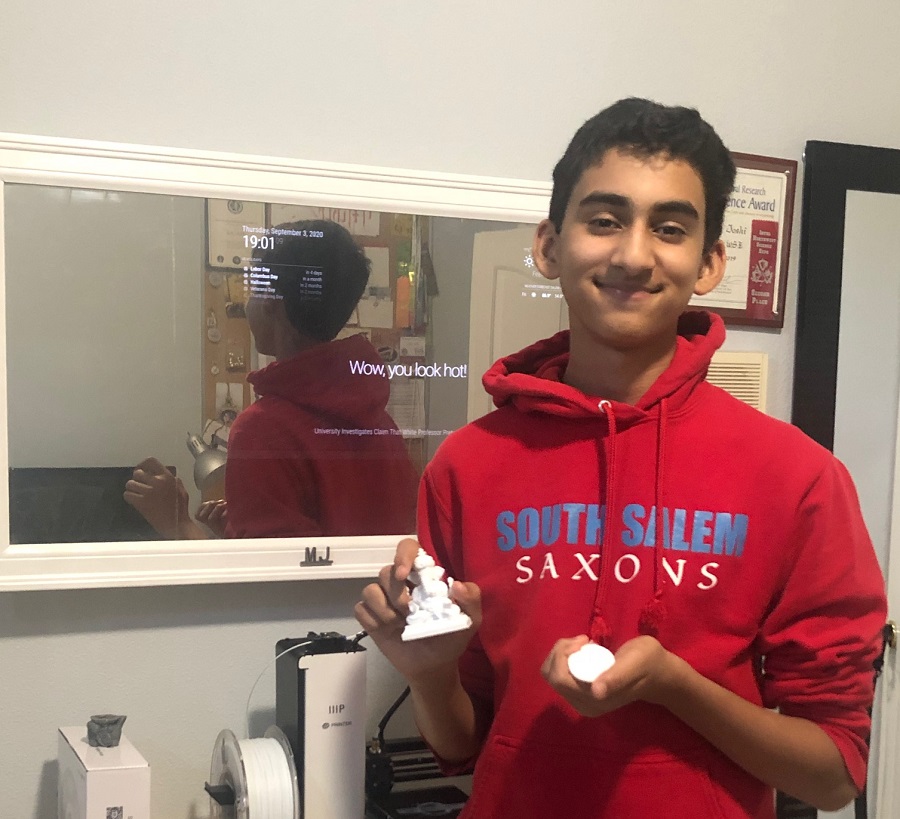 Student summer camps looked different this year. Like most events and programs, most camps were postponed or cancelled, while others opted to switch to virtual formats. We recently caught up with students who participated to learn more about how they spent their time.
As part of the Broadcom MASTERS, first and second place awards are given to finalists in the categories of Science, Technology, Engineering and Math. First place STEM award winners receive $3,500 stipends for their summer camp of choice, while second place STEM award winners receive $2,500 stipends. Though most Broadcom MASTERS alumni who were awarded summer camp experiences had their camps postponed, there were a couple of Society alumni who participated in revamped experiences.
Mihir Joshi (BCM 2018) won the second-place engineering award at the Broadcom MASTERS 2018 with his project, "Terrella Aurora Model: A Demonstration of Charged Particle Shielding for Space Exploration." Using his stipend, Mihir participated in this year's iD Tech camp to learn 3D modeling and printing.
Mihir chose this camp for the STEM skills the program offers. "There were instructors that would encourage you to test your creativity while helping guide you towards a satisfactory end product," he explained. "It really opened my eyes to making anything from scratch." Learning how to 3D print objects expands Mihir's engineering skillset. "The most memorable part was being able to see my design printed and work exactly the way I wanted it," he said. While this summer camp was originally supposed to be in-person, it transitioned to a virtual Zoom class due to COVID-19. The switch, however, did not dampen Mihir's fun. "I enjoyed the experience and it didn't affect my will to learn or what I learned at all."
WebValley, another summer school program, is typically given out as a Special Award at the International Science and Engineering Fair (ISEF) after judging. Because there was no judging this year at Regeneron ISEF, the Bruno Kessler Foundation, the Special Award Organization that supports the WebValley summer program, encouraged the finalists to apply instead through an online application and interview process. Three students—Clara Tandar (BCM 2017, ISEF 2020); Tarun Kumar Martheswaran (ISEF 2019-2020) and John Lin (ISEF 2019-2020)—took advantage of this opportunity.

The high school seniors had a jam-packed two weeks. This year's theme for the summer program was artificial intelligence in computational biology. For the first week, participants learned technical skills like programming languages, data science methods and machine learning techniques. They listened to comprehensive lectures by distinguished researchers like Leland McInnes and Valerio Maggio. The second week was spent working in teams, applying everything they learned to real datasets dealing with cancer and even COVID-19. Science, however, wasn't the only subject the students focused on. "We learned about goal-setting, presentation skills and communication," explained John. "There were just so many components to the camp, from the hard skills to the soft skills, and I came back with a wide variety of new ideas in my toolkit."
Clara, Tarun and John raved about their time with WebValley. "This opportunity was unlike any other because we not only focused on technical skills, but also on interdisciplinary approaches to research," said Clara. "It was a unique experience, as it allowed us to collaborate with others across the globe," noted Tarun.
Despite the lack of in-person interaction with their peers, the finalists still found ways to form lasting friendships. "I made some amazing friends and formed strong bonds with a lot of the WebValley team!" expressed Clara. Tarun felt the same way: "While I would have enjoyed exploring Trentino, connecting virtually was a great alternative. I still formed strong bonds with several other team members." John added, "I will never forget the hours we spent brainstorming and coding to make the best course possible, and in the end, I was super proud of what we accomplished!"
Even if summer camps this year around the world looked and felt different from what students normally expect, these undaunted Society alumni proved that the pandemic doesn't have to affect plans to continue pursuing research interests.