Gardening and a passion for the environment as early as kindergarten. That's where it all started for 15-year-old Camellia Sharma, a STEM phenom hailing from Henrico, Virginia. Since then, distinct life experiences and curiosities have led her to pursue a variety of science projects and science fairs.
In 2021, it was her concern for a declining fish population impacted by climate change and overfishing, as well as a love for the water and snorkeling, that informed her Broadcom MASTERS project — a 3D-printed, GPS-enabled AI AquaDrone. The special drone can fly, land on the water, transform into a boat, and then proceed to dive under the water to take photos of fish. The software that Camellia created to complement this nifty invention uses computer vision to then count the fish living there; it can even categorize by fish type. She explains that her hybrid drone "has the advantage of performing local studies in the context of a wide area. For example, in Minnesota, the drone could land on the water to study marine habitat in a lake and then fly to the adjoining lakes to see if there is a pattern among the water bodies spread over a wide area." The invention has many applications including in the fields of marine biology, search and rescue, and defense.
When the Society asked Camellia what she would say to inspire the next generation of scientists, she says, "Firstly, work on something that you are passionate about. My passion for the environment, especially water, led me to the project that I submitted for Broadcom MASTERS. Secondly, there will be roadblocks and dead ends when you are pursuing a line of investigation. Do not give up. It is a common part of the process. Some of the best innovations happened after a series of failures. When a reporter asked Thomas Edison, 'How did it feel to fail 1,000 times?' Edison replied, 'I didn't fail 1,000 times. The light bulb was an invention with 1,000 steps.'
Last year, Camellia's work led her to win the $10,000 DoD STEM Talent Award in the Broadcom MASTERS competition. The award is given to the student who most demonstrates excellence in science, technology, engineering or math, along with the leadership and technical skills necessary to excel in the 21st Century STEM workforce and build a better community for tomorrow.
We had a chance to catch up with Camellia. Let's hear more from her below!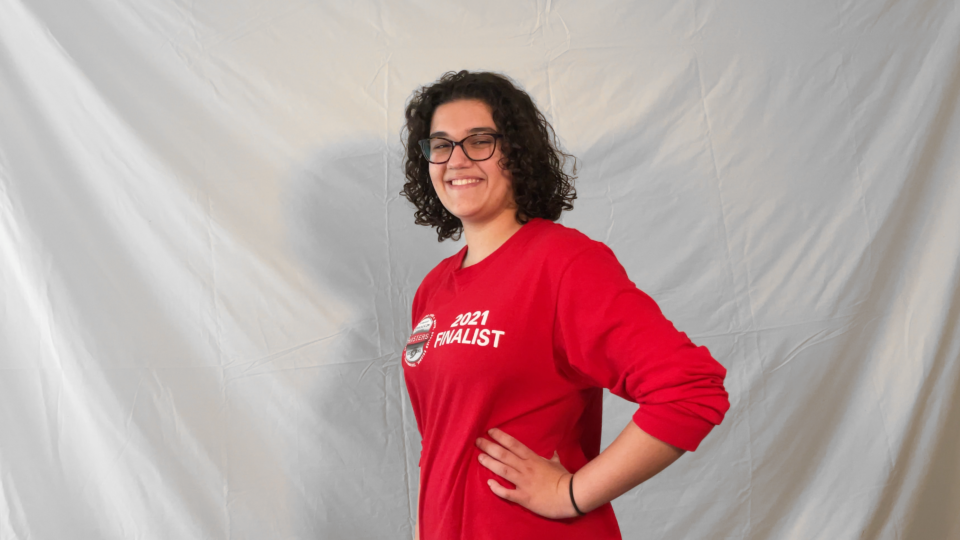 What would you invent if you had all the resources in the world?
I would like to find a vaccine for cancer. A vaccine is developed against an antigen. An antigen is the part of a pathogen that our immune system recognizes. For example, spike protein on the surface of the SARS-CoV-2virus (the source of COVID-19) is the antigen against which the vaccines are being developed. On the other hand, cancer cells often do not have such markers because they are a part of our body. Further, they are adept at hiding from the immune system and defeating its mechanisms of attack. Therefore, developing a cancer vaccine is challenging.
Which scientist – alive or deceased – would you want to solve scientific mysteries with and why?
Marie Curie is my hero. She is one of the only four scientists who have won two Nobel Prizes. I would like to explore what is time with her. Why does time only move forward while we can move back and forth in the other three dimensions? Does it have anything to do with the expanding Universe? Will time start running in reverse when the expanding Universe starts contracting back? The theory of relativity has established the relationship between gravity and time. To me, it is mindboggling that something so unique like gravity and time could be related.
What would you like to be most renowned for?
I want people to remember me as a good human being. My family and I take multiple vacations every year. I have traveled to over 30 countries thus far and planning to explore the Baltic Sea region on a month-long trip next summer. My travels taught me that people are the same everywhere. It would be heaven on Earth if we could learn to live together as one big global family.
Given that Broadcom MASTERS went virtual this year, what about your experience surprised you the most?
My brother was a finalist in 2017. My family traveled to Washington D.C. to drop him off. I had experienced the thrill and excitement in the air as the students from different parts of the country were registering and socializing. I thought that experience would be diminished in the virtual event. However, much to my surprise, I connected well with my peers. While there is no substitute for an in-person experience, I did not feel the lack of it. I'm hopeful though that one day we will have a reunion and that I will be able to meet the other finalists in person!
What was your most favorite or memorable experience from virtual Broadcom MASTERS? And why?
My most favorite experience from virtual Broadcom MASTERS was the celebration after the awards ceremony. Although it was sad to know that that celebration was going to be the last event of Finals Week, I still enjoyed it. My favorite part of the celebration was the Halloween trivia and themed group Halloween costumes, where we dressed up and guessed other teams' themes.
Another one of my favorite parts of the virtual experience was getting to know the 29 other like-minded finalists. I enjoyed being able to discuss current STEM topics with people who understand and care about it.
The deadline for the 2022 Broadcom MASTERS application is June 15, 2022 at 8pm ET. Remember, you have nothing to lose by entering, so apply today! For more information, please visit our Nominee and Eligibility and Important Information pages. Email masters@societyforscience.org with any questions about the application or competition.