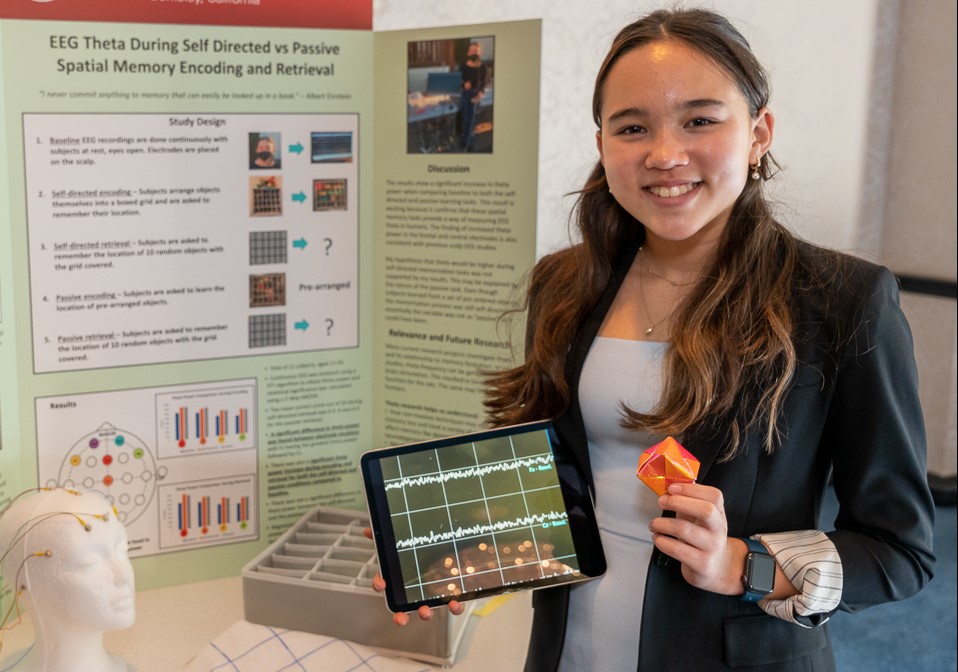 Mina Fedor, a 15-year-old resident of Berkeley, California, achieved an outstanding feat last year when she secured the prestigious Robert Wood Johnson Foundation Award for Health Advancement. Her project delved into the intricate realm of theta rhythms and its correlation with memory conditions. Mina explains, "I aspired to unravel the brain's patterns by harnessing the power of an electroencephalograph (EEG) machine. My aim was to discern the disparities between active and passive memory. Upon reevaluating my data, I also sought to identify the elusive gamma rhythm, a hallmark of focused cognitive states."
Mina's goal was to see how the human brain responded to active learning versus passive learning. Her extensive research ultimately yielded a rather intriguing result: the brain did not significantly discriminate between these two distinct modes of learning. This discovery has the potential to revolutionize educational practices, shaping the way educators impart knowledge to their students and more generally how we approach learning overall.
When asked about inspiring the next generation of young scientists, Mina offered some advice: "Don't be deterred by the fear of making mistakes, for it is in these moments of error that we often glean our most valuable lessons. Follow your passions and excitement, not the expectations of others."
The Robert Wood Johnson Foundation Award for Health Advancement acknowledges a student whose research exhibits exceptional promise in health-related fields while showcasing an acute awareness of the societal factors influencing community health. Mina's research on active and passive learning tasks earned this award, solidifying her status as a promising young scientist on a path to influence the field of health and education.
Let's hear more from Mina below!
Which scientist – alive or deceased – would you want to solve scientific mysteries with and why?
Marie Curie because she would most likely be a good teacher and have interesting anecdotes. I want to also hear more about her experience being a woman in STEM and her perspectives on life. I want to learn about her scientific process and her experiences with discovery, success and failure.
What would you invent if you had all the resources in the world?
A mind reading device, because I think it would greatly benefit humanity if we could consider the perspectives of others.
What would you like to be most renowned for?
Neuroscience research and my youth advocacy group, AAPI Youth Rising. I founded AAPI Youth Rising in 7th grade, and we now have close to 100 chapter leaders across 25 different states. Our mission is to advocate for Asian Americans and youth.
What about your experience at the competition surprised you the most?
Also, how comfortable I got with everyone so fast, I feel like I found a crowd of people who shared many interests with me, and I didn't expect to connect with everyone that fast.
What was your most favorite memorable experience from the competition this year?
My favorite experience was the Smithsonian Environmental Research Center (SERC) activity. I learned a lot about wildlife on the East Coast, and considered how different it was from where I live in California. We got to see and catch real marine wildlife and work as teams to solve puzzles. I also had much fun joking with the other finalists, and it was a great time and definitely a highlight of last year.