2021 Annual Report: Society Alumni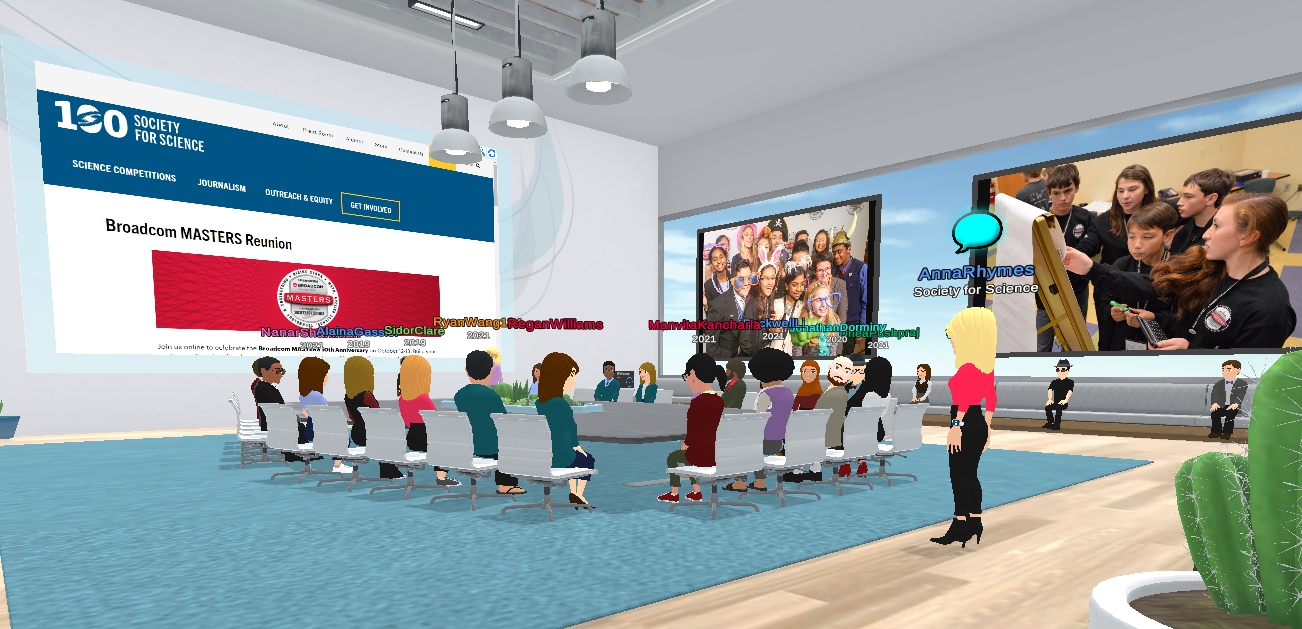 In 2021, several Society events, including the Broadcom MASTERS reunion pictured above, were hosted on Event Farm. This online platform allowed attendees to create avatars that could explore virtual event spaces and interact as if they were together in person.
Though we couldn't be together in person in 2021, alumni of the Society's three competitions – Regeneron Science Talent Search, Regeneron ISEF and Broadcom MASTERS – still found ways to connect. Below are some highlights of how alumni came together to share their insights and experiences with each other, as well as with the next generation.
Are you an alum? Learn more and get involved!
Regeneron STS Alumni Conversations
At the virtual Regeneron Science Talent Search, Maya Ajmera spoke with esteemed alumni Nina Schor (STS 1972) and Ron Vale (STS 1976) about their STS experiences.
Meet the New Members of the NLC
The Society for Science National Leadership Council is composed of alumni leaders from the Society's Science Talent Search, International Science and Engineering Fair, and middle school science competitions.
The mission of the Council is to advance the Society's goals; to share alumni achievements with the world at large; and to create a spirit of unity, engagement and philanthropy among Society alumni, members, supporters and friends.
2021 Signature Event
In the Society's second virtual Signature Event, keynote speaker Tom Gruber, Co-Founder and CTO of the team that created Siri and Founder of Humanistic AI, discussed the potential of AI to augment human intelligence.
Conversations with Maya
Over the course of the year, the Society's President & CEO, Maya Ajmera, engaged some accomplished Society alumni in wide-ranging conversations about their personal stories, their life's work, and their advice for young people interested in pursuing careers in the sciences.
Read our edited summaries of their interviews on the Society blog:
Broadcom MASTERS Reunion
In 2021, we celebrated the tenth anniversary of the Broadcom MASTERS competition by hosting a virtual reunion open to all past participants. The event welcomed more than 160 alumni from the past decade to (re)connect with each other, as well as with the 2021 cohort.
Read the blog post
Community and Creativity in Aerospace
In a discussion with alumni following a special screening of Apollo 13, Michael Kanfer (STS 1976, ISEF 1976), an Academy Award-winning visual effects artist who worked on the film, spoke with two researchers and innovators in the field of space exploration:
Abigail Fraeman (STS 2005), Curiosity Mars Rover Deputy Project Scientist at Caltech's Jet Propulsion Laboratory
David Moore (STS 1999, ISEF 1999), Principal Software Engineer at SpaceX
Society Alumni Network
In 2021, the Society Alumni Network, a vibrant online community connecting alumni of all Society competitions, grew to over 3,400 members. If you are an alum interested in joining the network, you can learn more and register on the Society Alumni Network website.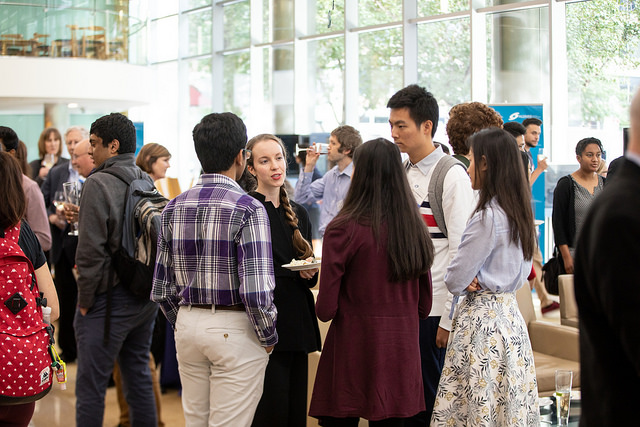 Watch on Our YouTube Channel