Conversations with Maya: Monika Schleier-Smith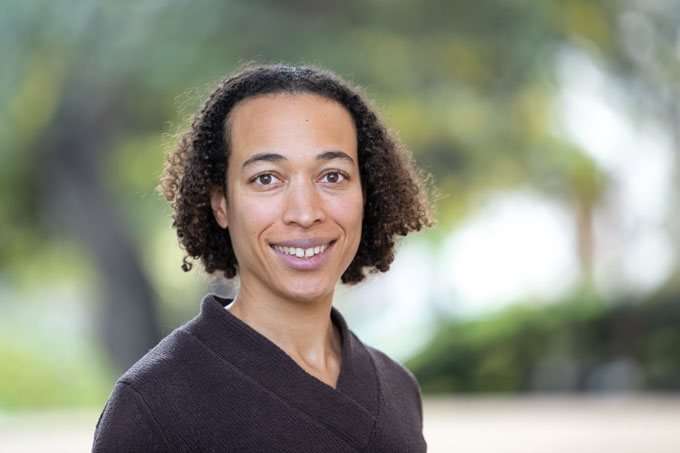 Maya Ajmera, President & CEO of the Society for Science and Publisher of Science News, chatted with Monika Schleier-Smith, an alumna of the 2001 Science Talent Search who was named to the SN 10, Science News' list of 10 scientists to watch, in 2019. Schleier-Smith is an Associate Professor of Physics at Stanford University and recently received a MacArthur Fellowship. We are thrilled to share an edited summary of their conversation.
What was it like to conduct science research when you were a high school student, and how did it impact your life? Are there any particular moments that still stand out to you?
In high school I had the unique opportunity to conduct cutting-edge nanotechnology research at a nearby company, the MITRE Corporation. It was tremendously empowering to have that type of experience at such an early age. I was given an open-ended research problem and had a mentor who gave me the confidence that even I — a 16-year-old — could tackle this problem. I got to spend my summer reading scientific literature, learning new techniques like computational chemistry. I had the freedom to come up with my own ideas, which ultimately led to a couple of patents, a paper and my first scientific collaboration. It was really an amazing experience to be fully engaged in the world of scientific research at such an early age.
When you spoke at the Virtual Regeneron International Science and Engineering Fair 2020, you shared a bit about your childhood. Where did you grow up and who were your role models?
I grew up outside Washington, D.C., in northern Virginia and went to Thomas Jefferson High School. It's difficult to identify just one role model, although my older brother was a big influence on me. I started to learn how physicists think from him. He would take a physicist's attitude, writing down an equation on the back of an envelope to solve a problem from first principles.
I also had a fantastic experience at Thomas Jefferson High School, with an amazing group of friends with whom it was normal to be on the math team and also run track. It was possible to have this kind of well-rounded life. We motivated each other in math and science and that was really wonderful.
What advice do you have for students who would like to progress in their research at the high school or college level, but are confined to their homes because of the COVID-19 pandemic?
It's possible that being confined at home might give you a little bit more time to be creative and do what you want to do without all the extracurricular things that might otherwise keep you busy. One of my fond memories from high school was a project that was driven by my own curiosity. I had been reading a book about fractals and learned that fractals appear in music. As an amateur violinist, I was fascinated by this idea and started investigating what I could learn by analyzing the fractal patterns in music. I conducted a mathematical analysis to determine whether I could identify which era a particular piece was written in. That actually turned into a science fair project.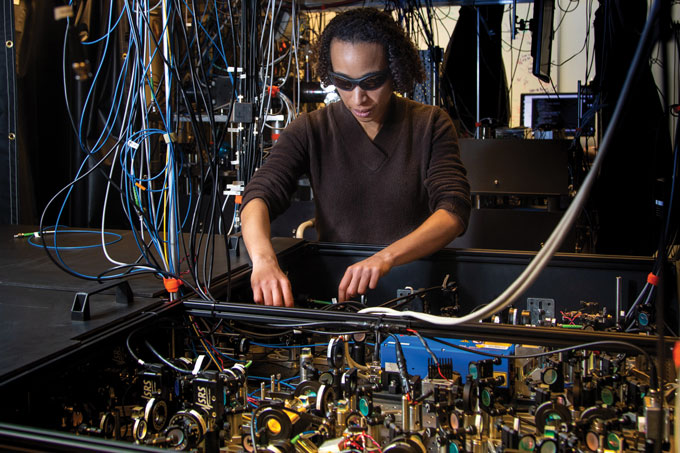 What are you currently working on?
My research group does experiments with laser-cooled atoms, which is something I started working with in graduate school. I think of it as a wonderful model system for studying quantum mechanics and advancing the control we have over quantum systems to the point where they ultimately will have some technological impact. The application you are most likely to read about in the news is quantum computation — and that is one area I am interested in — but there are also applications such as precise sensors used in medical imaging that may stand to benefit from advances in quantum control.
The key phenomenon that quantum technologies aim to exploit is known as entanglement, which essentially says that one can encode information in a way that's not in one particle but that can be delocalized, hidden in correlations among many particles. Generating those correlations between specified particles requires controlling which particles interact and which do not — it's almost like sharing a secret between specified people by whispering or sending text messages. In my lab, we use laser light to control the interactions between atoms with an eye towards expanding the kinds of entanglement that we can create. We are also working on quantum simulation, which is where we use these atoms as model systems to answer questions from other areas of physics, ranging from materials science to quantum gravity.
Congratulations on being named a 2020 MacArthur Fellow. What do you hope to do with the grant?
I am still trying to figure out how I am going to leverage the grant. So far, being named a fellow has given me an opportunity to share quantum physics with a broader audience. That's something that I appreciate.
As a leading Black female physicist, do you feel you've had any unique obstacles in your path? How were you able to overcome them?
I don't think that I've had challenges that are unique. Everybody, in any career, faces some challenges along the way. That said, I think as a woman in physics, I had to adjust to feeling comfortable within the sometimes assertive culture of communicating in physics.
Physicists often ask a question by making a statement and then seeing whether anybody disagrees with it. My natural method for pointing out that somebody is wrong would be to ask a question. But sometimes that's not heard. I don't like to overgeneralize, but I think this is more of a female communication style.
It can be frustrating when everybody else is more assertive and seems more confident. It also can take some time to not be intimidated, and it took me time to learn how to say things in a way that would be heard. I recently told one of my graduate students that this was something I had to learn and she was shocked. She said she couldn't imagine me not being assertive.
What strategies and actions do you think are critical for scientific leaders and policy makers to take in order to combat scientific illiteracy and disinformation?
I'm certainly not an expert in this, but my main instinct is that the best thing we can do is to create an awareness of science and encourage a sense of curiosity about the world at an early age. That's something where I feel I was lucky; although my mother doesn't have a background in science, it was important to her to do simple science experiments at home to instill that sense of curiosity.
I think the more our society emphasizes scientific inquiry and gives those opportunities to everybody, the better off we will be.
What advice do you have for young people just starting college or their professional careers?
Find a subject that you are passionate about and find an environment with people who you love to work with. I find it's always important to have fun in what I'm doing. It's great to have goals and vision, but also if I'm doing something every day, I want to do it with people I love to work with.
What keeps you up at night right now?
I have to say that I am not a worrier. I tend to be an optimist. I know that issues like climate change are out there, but I also see people working to solve those problems. I get to spend a lot of my time interacting with students, which is the best thing about my job. Some of them are worriers, and that's a good thing. They also bring a lot of positive energy to wanting to improve the world around them. So that's perhaps what keeps me an optimist — I'm always around young people who are committed to solving all the world's problems.