Susan Solomon
International Science and Engineering Fair – 1972
About Susan Solomon
Susan Solomon is a leading atmospheric chemist and MIT professor. In 1986, she traveled to Antarctica and discovered that dangerous chemicals, including chlorofluorocarbons (CFCs), were damaging the ozone layer. Her pioneering research earned her the National Medal of Science and led to a successful global ban on those chemicals. Starting in 2002, she co-led Working Group I of the United Nations' Intergovernmental Panel on Climate Change. The panel's report on the irreversibility of global warming shared the Nobel Peace Prize 2007 with former Vice President Al Gore. Solomon competed in ISEF in 1972.
Climate Change
In this Vox interview, Solomon reflects on her ground-breaking research which confirmed the harmful effects of chlorofluorocarbons on the ozone and led to the ratification of the Montreal Protocol by every United Nations country in the world.
Watch the Video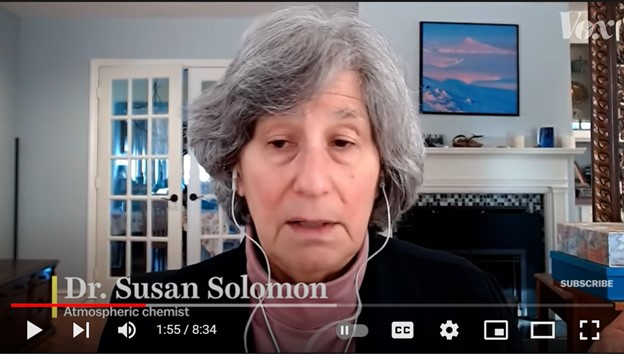 Watch the Video
Solomon attributes her interest in the atmosphere to her high school science fair project on gaseous mixtures, which she entered in the 1972 ISEF competition.