Volunteer Viewpoints: Edna Santizo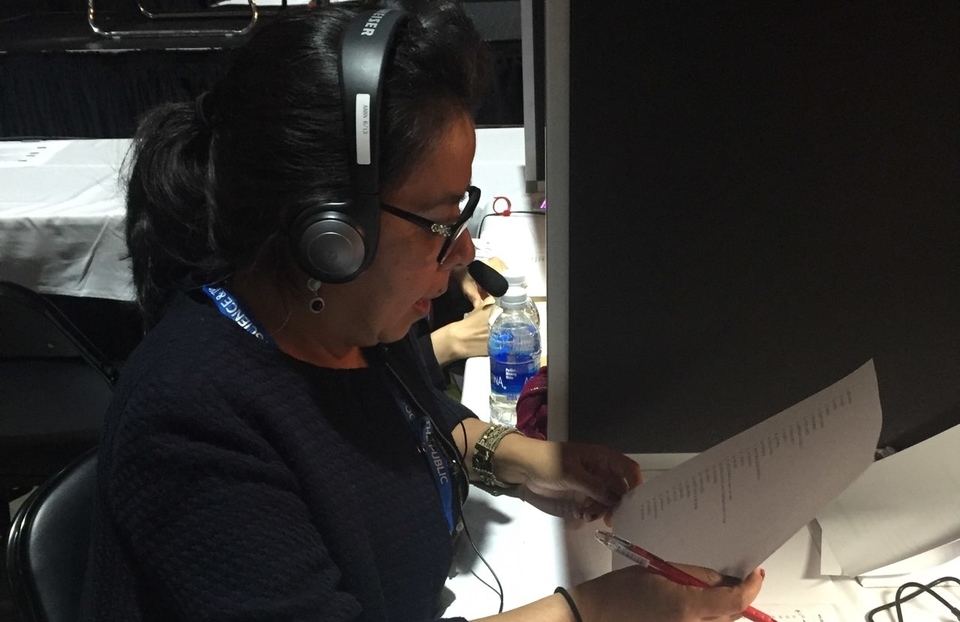 The Regeneron International Science and Engineering Fair is the world's largest global science competition for high school students. As you might imagine, ISEF would not be possible without the hard work of thousands of dedicated volunteers and judges. As we approach ISEF 2022 in Atlanta this May, we will post a series of interviews introducing you to some of these talented and dedicated individuals—and hopefully offer a glimpse into many different volunteer experiences. You can read the first two posts in the series, here and here.
For this installment, we spoke with Edna Santizo. Edna is a certified court interpreter, conference interpreter and translator. She has volunteered as a Spanish language interpreter at ISEF for the last eight years.
How long have you been a volunteer (or judge) with the Society for Science? How did you first get involved?
I've been a volunteer since 2014. The first time I participated as a volunteer was in Los Angeles in 2014 as a Spanish Interpreter for a team from Puerto Rico. I was invited by an interpreter-colleague to volunteer on judging day.
Why do you volunteer and what has been the most fulfilling aspect of being a volunteer?
I volunteer because I enjoy serving as a bridge of communication. I help international students from Spanish-speaking countries explain their projects in front of the judges. I also interpret at the main event— the Opening Ceremony, the Excellence in Science and Technology Panel and at the Awards and Closing Ceremonies.
Most of the international students are visiting the United States for the first time. For some, it's their first international trip. The enthusiasm, joy and desire to share their projects is contagious, and perhaps the most fulfilling aspect is serving as a bridge of communication.
What does your work as a volunteer entail? What does a typical day look like?
I serve as a volunteer interpreter. I translate the words of students and judges so they can communicate effectively.
On opening day, I report to the interpreting booth about an hour before showtime to do a tech run and receive any final instructions from the production team. We receive the final copy of the script, and we get ready to start interpreting. ISEF provides simultaneous interpretation in four languages: Spanish, Chinese, Russian and Arabic. I must convey the same level of energy and enthusiasm as the hosts; it's electrifying!
Do you have any favorite memories from your time as a volunteer?
In 2019, I interpreted for a student from Mexico. He was extremely nervous, but so eager to share and explain his project. The judges seemed to appreciate his enthusiasm and experience. He received an award for his project! I felt grateful for the opportunity to help him convey his message and explain his project.
Another great memory was in 2017, in Los Angeles, when I had the privilege of interpreting for the keynote speaker, Manu Prakash. Manu Prakash is an Indian scientist who is a Professor of Bioengineering at Stanford University. Manu was born in Meerut, India. He is best known for his contributions to the Foldscope and Paperfuge. It is, without a doubt, a highlight in my professional career!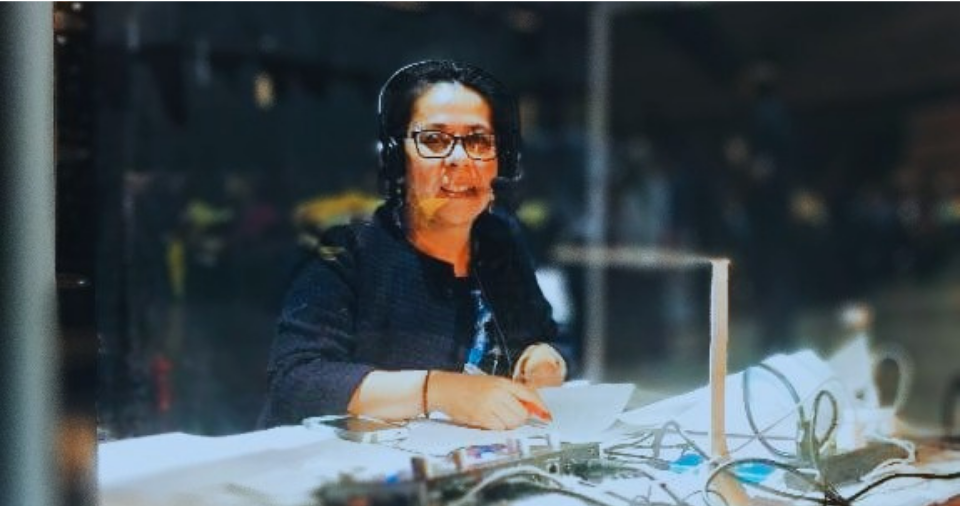 Why would you encourage others to volunteer and what one piece of advice would you give them?
Why wouldn't you want to volunteer for ISEF? You get to meet people from all over the world, especially the world's young scientists, mathematicians and robotic engineers! Also, everyone treats you like family, from the staff, to the production team, to the volunteers.
A piece of advice: If you decide to volunteer, wear comfortable shoes!
To my fellow interpreter-colleagues, this is an opportunity to give back to the community. The students have worked hard, they have traveled from all over the world and they need our talent to explain their projects during judging day. Come join us!
What do you feel is your most important contribution to the community?
I provide a voice to students that otherwise would be unable to overcome the language barriers. I'm very grateful for the opportunity to contribute with my skills and talents to provide equity in language access.
Is there a book that has made an impact on your life? What is the name of the book and what impact did it make?
Cien años de soledad (One Hundred Years of Solitude) by Gabriel García Márquez. The novel manages the imagination and the Spanish language beautifully. Moreover, it has been translated into more than 40 languages. It is a translators must read in any language!
—
If you are interested in volunteering at Regeneron ISEF, please email isefvolunteer@societyforscience.org