Volunteer Viewpoints: Sheila Porter from Dublin, Ireland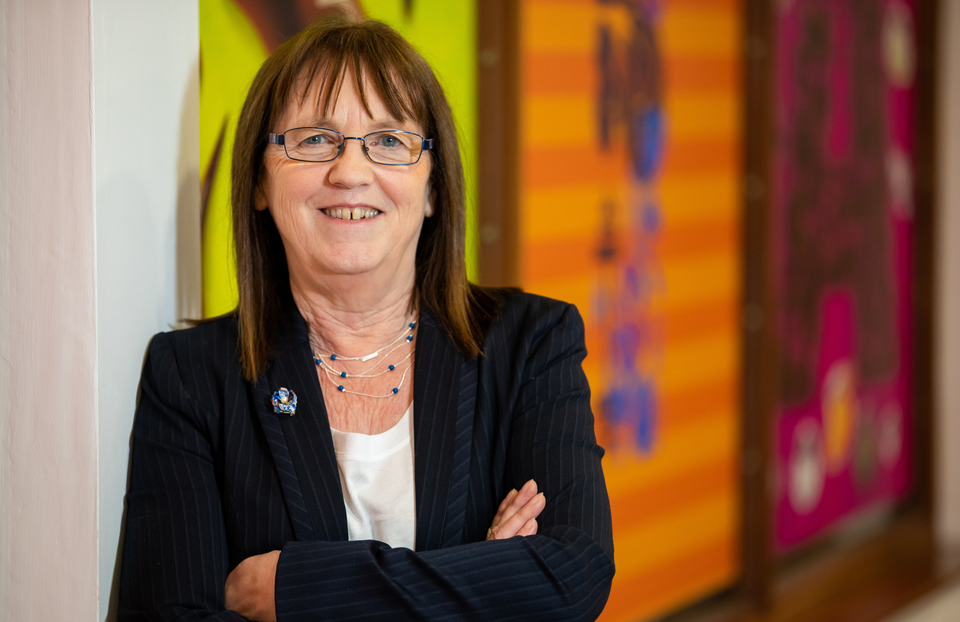 The Regeneron International Science and Engineering Fair is the world's largest global science competition for high school students. As you might imagine, ISEF would not be possible without the hard work of thousands of dedicated volunteers and judges. As we approach ISEF 2022 in Atlanta this May, we will post a series of interviews introducing you to some of these talented and dedicated individuals—and hopefully offer a glimpse into many different volunteer experiences. For this installment, we spoke with Sheila Porter.
A retired science teacher in Dublin, Ireland, Sheila is the Founder and CEO of SciFest, which is a member of ISEF's Affiliated Fair Network. Since its founding in 2006, SciFest has grown to be the largest second-level STEM Fair program in Ireland, with over 10,000 students taking part in local, regional and national fairs each year.
How did you first get involved with ISEF?
My first experience at ISEF was in 1998. I was awarded the Intel Ireland Educator of Excellence Award for my support of physics and chemistry projects at the ESAT Young Scientist Exhibition (an annual student science competition held at the Royal Dublin Society in Ireland). The award consisted of an all-expenses-paid trip to Fort Worth, Texas to attend the inaugural ISEF Educator Academy. The Academy brought together select groups of educators and government officials from around the world to share proven, innovative methods of engaging students in STEM. Part of the program was to visit the ISEF Exhibit Hall and meet with the students. I was blown away by the sheer size of the exhibition and the standard of the projects.
Since 1998, I have attended ISEF almost every year as a team leader and as a guest speaker at the Educator Academy. In 2006, impressed by the STEM fair setup in America, and with my learnings from the Intel Educator Academy, I set up the SciFest STEM fair program. My aim was to give all second-level students in Ireland, no matter their background, gender or circumstance, the opportunity to participate in a STEM fair. I was very excited when in 2012 The Society for Science approved SciFest as an affiliated fair.
Why do you volunteer and what has been the most fulfilling aspect of being a volunteer?
There's something magical about a science fair. So many young people gather together, all excited about their projects and a little nervous about meeting the judges. And that's just the students! Teachers and parents hover in the background ready to console and encourage the students that haven't won an award and to congratulate those who have.
As a volunteer, one gets the opportunity to be a part of the magical moments and to support not only the students, but also the teachers and parents. Some of the students participate year after year and it is lovely to see them grow and progress from producing something simple to something amazing.
These young people are the scientists and innovators of tomorrow. It's a privilege to be a part of a team working to support them and to help them equip themselves with the skills, knowledge and passion that result from participation in a STEM fair. Seeing how so many former SciFest participants go on to work in STEM fields is one of the most fulfilling aspects of volunteering.
What does your work entail? What does a typical day look like?
There is no such thing as a typical day. Before the pandemic, I regularly attended STEM fairs in person, from judging to supporting teachers. I would also attend as many of the regional fairs as possible and help organize the National Final. During COVID, I have spent a lot of time in front of my computer. No job is too big or too small. I do everything from compiling new resources, to designing certificates, ads and flyers. I join online judging panels, meet with potential sponsors and post on our social media channels. I really miss the face-to-face interaction, but hopefully it will not be long before things are back to normal.
Do you have any favorite memories from your time as a volunteer?
One of my favorite memories from ISEF was being invited to sit at breakfast with Dudley R. Herschbach, a 1968 Nobel Prize winner in Chemistry who is better known, according to himself, as a guest voice on The Simpsons.
Another favorite memory would be meeting one student as he participated in SciFest for each of his six years in secondary school. His mom would always be with him and each year she would take a photograph of the two of us. As the years went on, he grew taller and taller; his love for SciFest remained despite all the growth spurts. Finally, in his sixth year in school, he was the top winner of SciFest. We are still in contact, and he is now studying computer science at his university.
Why would you encourage others to volunteer and what one piece of advice would you give them?
Without the generosity of volunteers, SciFest would not be possible. Teachers volunteer to run our in-school SciFest fairs. Lecturers and staff run our 16 regional SciFest fairs. We also have around 700 people from industry and academia who volunteer as judges each year. Volunteering is hard work, but it is very rewarding. My advice would be to give it a try. Over the years I have met so many wonderful and interesting people and made so many life-long friends.
I believe that volunteering opens doors, gives you a sense of purpose, connects you with like-minded people and provides an opportunity to learn new skills. And most of all, you have the enormous satisfaction of seeing the amazing work of the students and their excitement while participating in a STEM fair.
What do you feel is your most important contribution to the community?
I feel my most important contribution to the community is that by setting up SciFest I have made it possible for all students in Ireland, no matter their background, gender, circumstance or type of school they attend, to participate in and experience the excitement of a STEM fair. Since SciFest was launched nationwide in 2008 more than 80,000 students have participated. As a result of SciFest, students have also had the opportunity to participate not only in Regeneron ISEF and the Broadcom Masters International, but also in the International Environment & Sustainability Project Olympiad (INESPO) in Holland, the Long Night of Science in Berlin, Germany and the Hong Kong Global Youth Science and Technology Bowl (GYSTB). These have been life changing experiences for all students involved.
---
If you are interested in volunteering at Regeneron ISEF, please email isefvolunteer@societyforscience.org