Volunteer Viewpoints: Chris Mucha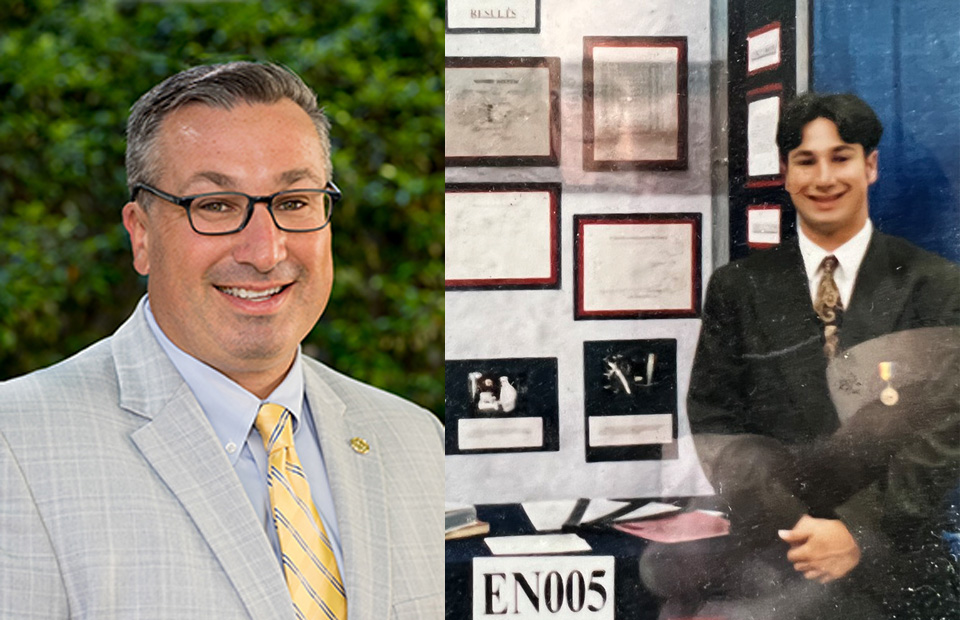 The Regeneron International Science and Engineering Fair is the world's largest global science competition for high school students. As you might imagine, ISEF would not be possible without the hard work of thousands of dedicated volunteers and judges. As we approach ISEF 2022 in Atlanta this May, we will post a series of interviews introducing you to some of these talented and dedicated individuals—and hopefully offer a glimpse into many different volunteer experiences. You can read the first two posts in the series, here and here.
For this installment, meet Chris Mucha of Atlanta, GA. Chris is the Director of Youth and Their Families at Peachtree Road United Methodist Church, as well as one of the lead judges for the Georgia Science and Engineering Fair and the Georgia Junior Science and Humanities Symposium. An ISEF volunteer for over fifteen years, Chris is currently the Chair of ISEF's Atlanta Local Arrangements Committee.
How long have you been involved with ISEF? How did you first get started?
I have been connected on some level to ISEF for 29 years. My first experience with ISEF was as a student finalist in 1993. In 2005, I joined the team to bring ISEF to Atlanta in 2008 as the Events Chair.
Were you involved in science fair when you were in school?
I got involved in science fair as a sophomore in high school. I had a mentor who identified potential in me and convinced me to pursue scientific research. At the time, I was really bored with my science classes but he convinced me that I could pursue anything I wanted to explore when it came to research. That got me hooked. I participated in ISEF in 1993, '94 and '95.
Why do you volunteer and what has been the most fulfilling aspect of being a volunteer?
I volunteer because I want to give back to a program that inspired me and helped me build confidence. When I began doing research in high school, my scope of what was possible was limited. My first time competing at ISEF showed me the breadth of what I could accomplish and inspired me to go back home and tackle big issues. ISEF takes young people seriously and recognizes the impact they can have on the world. It also offered the opportunity to connect with peers from around the world and build communication skills through those relationships, as well as through interactions with judges.
The most fulfilling aspect of volunteering is probably exposing my city to the fair. I want kids locally to have the opportunity to be inspired the way I was and have confidence that they can wrestle with some of the world's biggest problems and be taken seriously.
What does your work as a volunteer, judge, or other role entail? What does a typical day look like?
Currently, my volunteer role is Chair of the Atlanta Local Arrangements Committee (LAC). My primary responsibility was to build a team of volunteers to support the Society. Our team is set up in sub-committees that lead Education Outreach Day, promote the fair locally, recruit judges, interpreters and general volunteers. The LAC also helps make connections and arrangements for many of the events that happen throughout the week.
For the years leading up to the Atlanta fair, I stay in regular contact with the Society and lead periodic meetings for our LAC. I make sure all of our sub-committees are supported and we, as a team, are doing all we can to support the Society in planning the fair.
Do you have any favorite ISEF memories?
I have so many good memories! As a student, I remember being on the beach and jet skiing for the first time in Gulfport for my first ISEF. I remember the pin exchanges and receiving a rare pin from some new friends I met from Japan. I remember the anxiety and anticipation during the awards ceremonies and the feeling of hearing my name called out multiple times my senior year.
As a volunteer, I remember sitting with some of the other lead volunteers and Society staff in a room overlooking the closing ceremonies in 2008 with our feet up as we marveled at all that had been accomplished that week in Atlanta. There are so many more memories I could share and I am looking forward to making many more this year!
Why would you encourage others to get involved with ISEF and what one piece of advice would you give them?
I think it is vital that we do all we can to engage and inspire young people on the path of discovery. The world is facing a growing number of challenges and our young people give us a perspective on many of these challenges that can't be found anywhere else. ISEF does an incredible job of connecting the world of young people through discovery and a common desire to make the world a better place. Why wouldn't you want to get involved with that?
What do you feel is your most important contribution to the community?
I think my biggest contribution has been recruiting an amazing team of volunteers to make up the Atlanta LAC. When I recruited the team, they were under the impression that they would be able to visit the fairs before ours to learn the ropes and shadow previous LACs. Little did we know that we would be faced with a pandemic which has made everything more difficult, from not getting to experience previous fairs, to recruitment of judges, interpreters and volunteers, to facilitating the first ever "hybrid" fair. As the challenges mounted, we didn't lose a single team member on the LAC and they have done an incredible job. For all the challenges we faced, we had the right people in the right places and now we can't wait to see this fair happen! 
Is there a book that has made an impact on your life? What is the name of the book and what impact did it make?
I am an avid reader but if I had to choose one that had a large impact on me it would probably be The Irresistible Revolution: Living as an Ordinary Radical by Shane Claiborne. This book challenged me to see those living in the margins of our society in a new way and inspired me to build relationships with them. Those relationships have changed my life and the lives of many of the young people I influence.
---
We are still looking for some volunteers for this year's competition! If you're interested in joining us in Atlanta, check out our open volunteer opportunities.