Top 300 teen scientists named scholars in Regeneron Science Talent Search 2023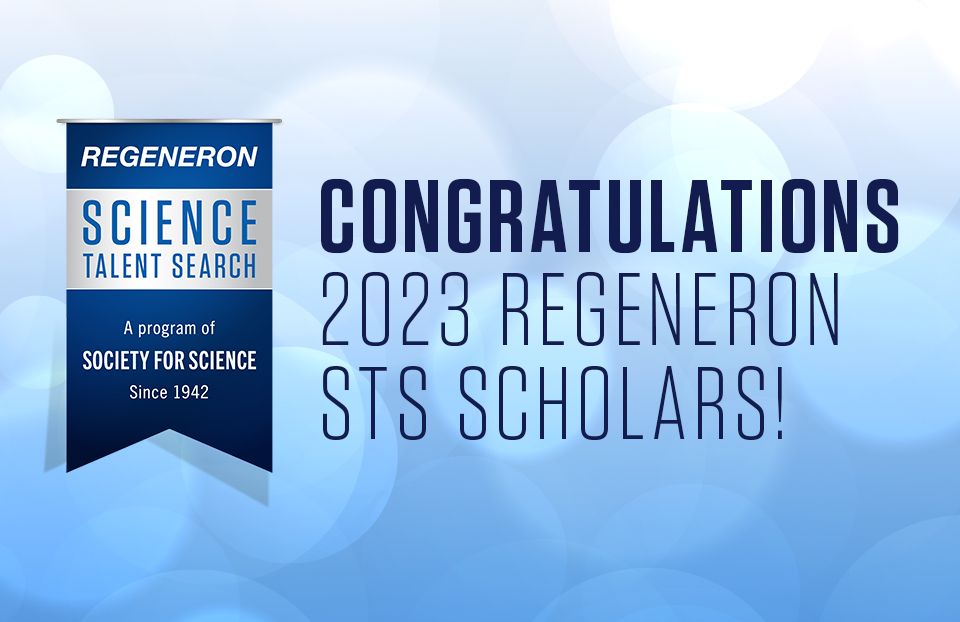 Today, Society for Science announced the top 300 scholars in the Regeneron Science Talent Search 2023, the nation's oldest and most prestigious science and math competition for high school seniors. The 300 scholars will be awarded $2,000 each and their schools will be awarded $2,000 for each enrolled scholar.
The Regeneron Science Talent Search scholars were selected from 1,949 applications from 627 high schools across 48 states, Washington, D.C., Puerto Rico and four other countries. Scholars were chosen based on their outstanding research, leadership skills, community involvement, commitment to academics, creativity in asking scientific questions and exceptional promise as STEM leaders demonstrated through the submission of their original, independent research projects, essays and recommendations. The 300 scholars hail from 194 American and international high schools in 35 states and China.
The full list of scholars can be viewed here: Top 300 STS Scholars
"Congratulations to the top 300 scholars in this year's Regeneron Science Talent Search," said Maya Ajmera, President and CEO, Society for Science and Publisher, Science News. "The enthusiasm and quality of projects from this year's participants were just outstanding. Each year, I am tremendously impressed by the ingenuity that the students bring to the competition. Their hard work, creativity and perseverance should be applauded."
The Regeneron Science Talent Search recognizes and empowers our nation's most promising young scientists who are generating innovative solutions to solve significant global challenges through rigorous research and discoveries. It provides students with a national stage to present new ideas and challenge conventional ways of thinking. Now in its one hundred and first year, Society for Science has played a significant role in educating the public about scientific discoveries as well as in identifying future leaders in science, technology, engineering and math. Regeneron has sponsored the Science Talent Search since 2017 as part of its deep commitment to STEM education and to supporting young scientists.
This year, research projects cover topics from analyzing the impact of the Russia-Ukraine war, to developing eco-friendly biofuel, and improving methods used to detect diseases and neurological disorders such as Alzheimer's, bladder cancer, monkeypox, autism and more. Other students chose to focus on social issues, such as exploring ways to reduce social media-induced emotional distress and violence, as well as studying how mask mandates impact how accurately people can recognize emotion on others' faces. With a total of 21 research categories, the top 5 categories among scholars' projects this year include:
| | |
| --- | --- |
| Top 5 Category | Scholar Stats |
| Behavioral and Social Sciences | 16% |
| Medicine and Health | 12% |
| Cellular and Molecular Biology | 10% |
| Neuroscience | 8% |
| Environmental Science | 7% |
"We celebrate this year's scholars for their exceptional work and unmatched motivation to use the power of science, technology, engineering and mathematics (STEM) to make a meaningful mark on the world," said Christina Chan, Senior Vice President, Corporate Communications & Citizenship at Regeneron. "Through our partnership with the Society for Science, it is our goal that the Regeneron Science Talent Search elevates young scientists and underscores the significance of STEM in solving society's biggest challenges. We commend the scholars' inspirational and thought-provoking projects and look forward to what the future has in store for each of these budding innovators." 
On January 24, 40 of the 300 scholars will be named Regeneron Science Talent Search finalists. The finalists will then compete for more than $1.8 million in awards during a week-long competition in Washington, D.C., taking place March 9-15.
For over eight decades the Science Talent Search has rewarded talented high school seniors who dedicate countless hours to original research projects and present their results in rigorous reports that resemble graduate school theses. Collectively, STS alumni have received millions of dollars in scholarships and gone on to be awarded Nobel Prizes, Fields Medals, MacArthur Fellowships and numerous other accolades.