The Broadcom MASTERS Competition Top Award winners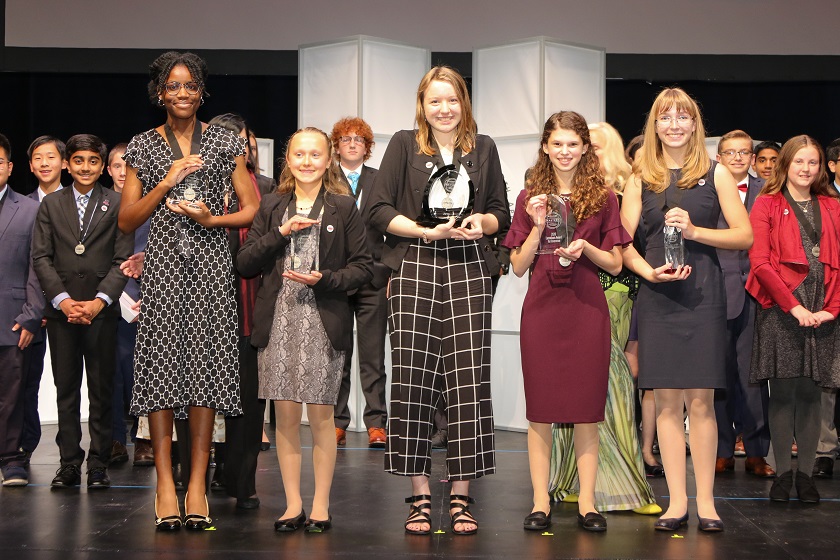 Middle Schooler's Invention Seeks to Correct Blind Spots; Wins $25,000 Top Award in the National Broadcom MASTERS Competition
Broadcom Foundation and Society for Science & the Public today announced that Alaina Gassler, 14, of West Grove, Pennsylvania, won the coveted $25,000 Samueli Foundation Prize, the top award in the Broadcom MASTERS®, the nation's premier science and engineering competition for middle school students.
Through her project, Alaina Gassler is seeking to make driving safer by reducing blind spots. She designed a system that uses a webcam to display anything that might block the driver's line of sight. Alaina was inspired to create her device after seeing her mother struggle with blind spots in their family automobile.
The Broadcom MASTERS (Math, Applied Science, Technology, and Engineering for Rising Stars), a program of the Society for Science & the Public, inspires middle school students to follow their personal passions to exciting college and career pathways in STEM. Thirty finalists, including Alaina, took home more than $100,000 in awards.
The finalists were honored during an awards ceremony for their achievements in science, technology, engineering and math (STEM) together with their demonstration of 21st Century skills, including critical thinking, communication, creativity, collaborative skills and team work.
"Congratulations to Alaina, whose project has the potential to decrease the number of automobile accidents by reducing blind spots," said Maya Ajmera, President and CEO of the Society for Science & the Public and Publisher of Science News. "With so many challenges in our world, Alaina and her fellow Broadcom MASTERS finalists make me optimistic. I am proud to lead an organization that is inspiring so many young people, especially girls, to continue to innovate."
"I speak for Henry and Susan Samueli as well as the Broadcom Foundation to express our excitement in awarding the Samueli Foundation Prize to Alaina for her remarkable achievements in all of the STEM challenges as well as her leadership in competition throughout week. It is her total contribution to the Broadcom MASTERS in addition to her impressive work on her science fair project as a talented young engineer seeking to improve automobile safety that earned her this prestigious award," said Paula Golden, President of the Broadcom Foundation. "She, along with the entire Class of 2019, are already leaders in their fields of science, technology, engineering and mathematics. These young innovators give every one of us hope for the future."
Alaina Gassler, 14, West Grove, Pennsylvania, won the $25,000 Samueli Foundation Prize, for her project reducing blind spots in cars and her exemplary performance during the Broadcom MASTERS's hands-on challenges. The prize is a gift of Dr. Henry Samueli, Chairman of the Board, Broadcom Inc., and Chair of the Broadcom Foundation and his wife, Dr. Susan Samueli, President of the Samueli Foundation.
Rachel Bergey, 14, Harleysville, Pennsylvania, won the $10,000 Lemelson Award for Invention, awarded by The Lemelson Foundation to a young inventor creating promising solutions to real-world problems. Rachel developed a trap made of tinfoil and netting for the Spotted Lanternfly, an invasive species causing damage to trees in Pennsylvania.
Sidor Clare, 14, Sandy, Utah, won the $10,000 Marconi/Samueli Award for Innovation, an honor made possible by Samueli's generous donation of his 2012 Marconi Society Prize Award. Sidor developed bricks that could one day be made on Mars, so that humans would not be required to bring building materials with us in order to build there.
Alexis MacAvoy, 14, Hillsborough, California, won the $10,000 Robert Wood Johnson Foundation Award for Health Advancement, which recognizes the student whose work and performance shows the most promise in health-related fields and demonstrates an understanding of the many social factors that affect health. Alexis designed a water filter using carbon to remove heavy metals from water.
Lauren Ejiaga, 14, New Orleans, Louisiana, won the $10,000 STEM Talent Award, sponsored by DoD STEM, for demonstrating excellence in science, technology, engineering or math, along with the leadership and technical skills necessary to excel in the 21st Century STEM workforce and build a better community for tomorrow. Lauren's research focused on how current levels of ultraviolet light from the sun due to ozone depletion impacts plant growth and performance.
Broadcom MASTERS winners were chosen from the 30 finalists (18 girls and 12 boys) selected from 2,348 applicants in 47 states. Winners were selected by a panel of distinguished scientists, engineers and educators. Each finalist's school will receive $1,000 from the Broadcom MASTERS to benefit their science program.