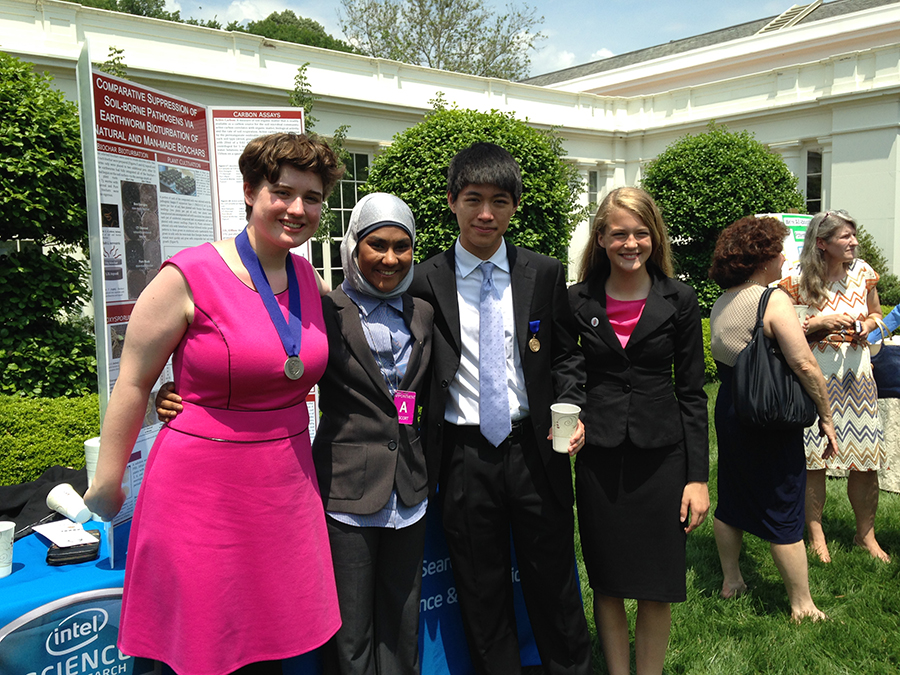 Eight Society for Science & the Public (Society) science fair alumni attended the fourth White House Science Fair today where President Obama honored winners of the nation's top science competitions and viewed their award-winning projects.
All eight students were participants in at least one of Society's prestigious science education programs, including the Intel Science Talent Search, the Intel International Science and Engineering Fair, and the Broadcom MASTERS. The students invited to participate were Eric Chen, 18, of San Diego, CA; Laura Herman, 18, of Fort Lauderdale, FL; Connor Klemenhagen, 18, of Dayton, MN; Henry Lin, 18, of Shreveport, LA; Anne Merrill, 17, of Old Greenwich, CT; Zarin Rahman, 17, of Brookings, SD; Elana Simon, 18, of New York, NY; and Brenna Wallin, 13, of Lexington, KY.
"By honoring and publicizing the dedication, hard work, and scientific acumen of these students, President Obama is helping to inspire even more students across the country to become involved in STEM fields," said Rick Bates, interim CEO of Society for Science & the Public. "Congratulations to all of the students selected to attend this prestigious event! We are, of course, especially proud of Society  alumni and look forward to seeing where their research leads them in the future."
Several student participants, including Chen and Simon, got to present their work to President Obama. Lin and Merrill also had the opportunity to exhibit their projects at the White House. In addition, Herman, Rahman, Sanders, and Wallin were invited to attend a Girls in STEM discussion with senior administration officials and White House senior leadership.