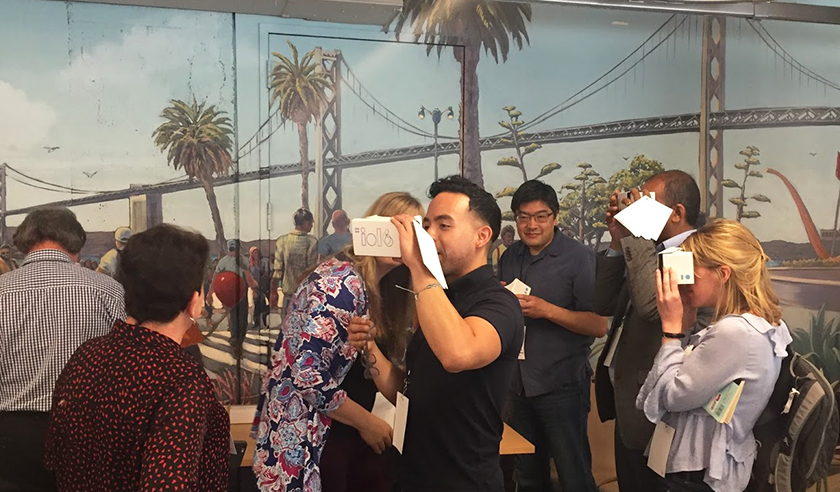 Conferences occur every day all over the world; Upswell Labs is turning the typical conference on its head with its new "unconference," devoted to bringing changemakers together. Upswell invited a few Society alumni to join in the experience during its June 4 unconference in San Francisco.
Thomas Colburn (Regeneron STS 2016), Anvita Gupta (Intel STS 2015 and Intel ISEF 2013), Surabhi Mundada (Regeneron STS 2017; Intel ISEF 2014, 2015, 2017; Broadcom MASTERS 2013), and Wyatt Pontius (Intel ISEF 2015-2016) attended an Upswell Labs event in San Francisco, presenting their research and sharing their journeys in science. The Society had an opportunity to catch up with Thomas and Surabhi to hear about their experience.
---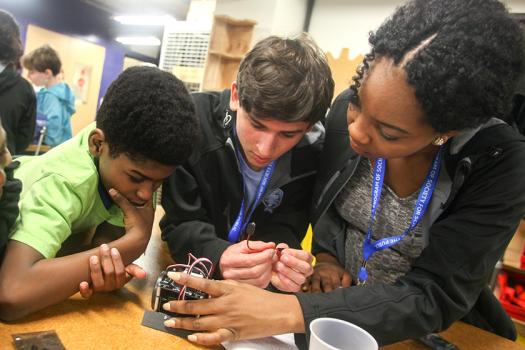 Hosted at the Google Community Space, the event kicked off with an introduction about how the "unconference" explores the concept of a public square. This is a space where people can build meaningful conversations through different activities across various subjects. Upswell's event included four main stations: science and engineering, the arts, virtual reality, and leadership skills, where attendees could explore and hold 20-minute discussions with each presenter.
There were approximately 50 guests at the event, mainly from Bay-area nonprofits.
At their station, Thomas and Wyatt discussed the science behind their company, ReMatter, a recycling start-up working to add computational intelligence to industrial waste management. Thomas developed the initial science behind the company for his Regeneron Science Talent Search 2016 project, where he developed additives to common plastics to promote enhanced decomposition in sunlight.
"The Upswell event was a collaborative networking event focused on bringing together changemakers from nonprofits across disciplines to engage in critical problems and global issues," Thomas said.
Surabhi enjoyed being able to meet professionals from a variety of fields at the event. "The event was very exciting because it brought together a lot of people from different backgrounds with one common goal: to innovate and make a positive impact on the world," she said. "It was a unique experience. I enjoyed the atmosphere it created."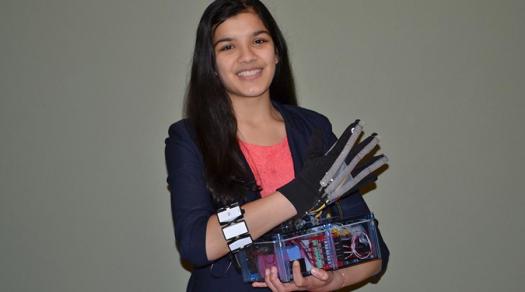 Surabhi presented her invention, MyGlove, at the science and engineering station, explaining facets of the wearable glove that assists with uncontrolled hand movements and grip, for Parkinson's disease patients and those who have Parkinson-like symptoms. Her other invention, MyHealth, is a wearable band that assists in early detection of Parkinson's disease and helps to monitor and control Parkinson's disease symptoms.
"I started developing my wearable system, which included many prototypes, in my sophomore year of high school, developing the algorithms and the hardware," she explained. "The system uses sensors to detect hand movements and then moves accordingly to assist with movements and improve grip. It also monitors Parkinson's disease symptoms and controls tremors."
"The people who attended my station listened and gave feedback," Surabhi said. "There were engaging conversations about our projects and interests. I made good connections and had a chance to network."
Surabhi was inspired to develop the wearable system when she noticed one of her teacher's hands shaking during class. "I learned that shaky hands were common and not many 'friendly' solutions existed," she said. So she transformed a bedroom at home into a mini-lab.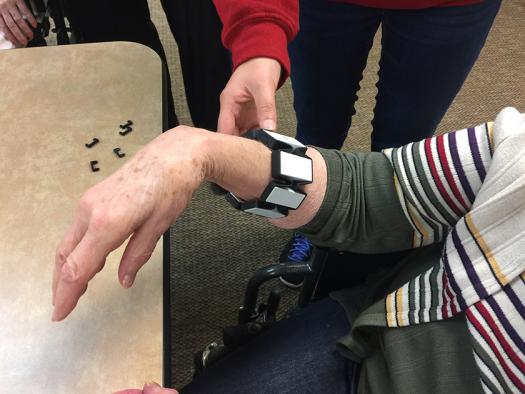 Currently a sophomore at Stanford University, Surabhi plans to study computer science. "I love the field of health tech, and want to continue creating technology to help with medical problems across the globe," she said. "I would love to create healthcare gadgets and wearables that address medical problems."
After allowing time for attendees to visit the various stations, the Upswell organizers held a discussion period, asking for feedback on the event as a whole. "It was interesting to watch because people had a completely open and honest discussion about the public square, both complimenting and providing constructive criticism," Surabhi said.
Upswell's next event is in Los Angeles, California on November 14.