Nobel laureates impart wisdom to Regeneron STS 2021 finalists
To mark the 80th anniversary of the Science Talent Search (STS), the Society was honored to host a panel comprised of four distinguished STS alumni, all recipients of the Nobel Prize, for an event with Regeneron STS 2021 finalists. The rare opportunity to gather this distinguished group was one small benefit of the virtual nature of this year's Science Talent Search competition. Panelists included:
These notable figures in science joined Maya Ajmera, President and CEO of Society for Science and Publisher of Science News, for a lively discussion, and participated in small-group conversations with the Regeneron STS finalists. They shared how STS impacted their lives, their thoughts on winning the Nobel Prize and advice for the young scientists in attendance.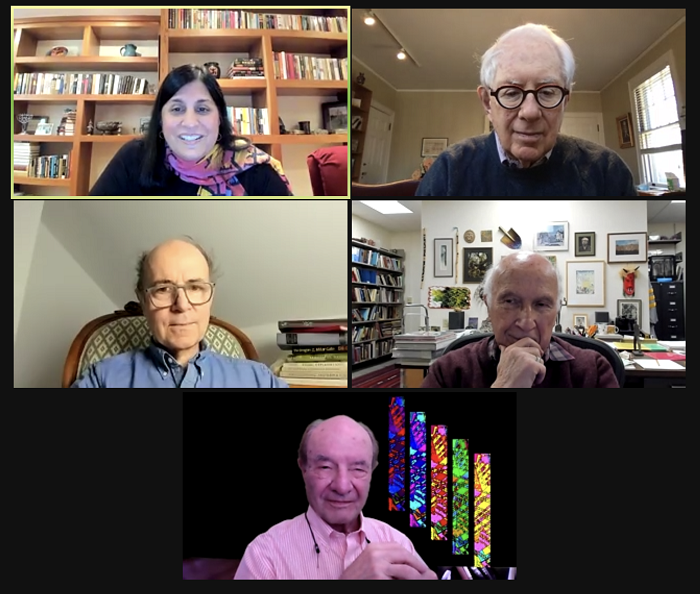 For these Nobel laureates and alumni panelists, competing in STS marked the beginning of their illustrious careers. Frank Wilczek remembered how he became more self-assured from the experience. "It's very important for young people to build confidence. One of the most important assets a scientist can have is bravery," he added. Walter Gilbert fondly recounted a strong sense of belonging once he met other students in the competition. "There are other people, at the same age, deeply involved in science, but most of us had only a few people like ourselves in high school and suddenly you discover this other world."
The STS alumni panelists and this year's cohort of finalists have and will continue to have a positive impact in the world. They strive to contribute to the ever-growing body of scientific knowledge. Winning the Nobel Prize can be seen as the ultimate culmination of that goal, but the laureates cautioned against placing too much focus on attaining the award. For Frank Wilczek, "It was a result of being in the right place at the right time." Roald Hoffman echoed that thought saying, "You cannot legitimately aspire to do it. It's a chance event, at the highest level. Just have some faith in yourself, and choose whatever you think is good or fun, or some combination of those, and the Nobel Prize may or may not materialize at the end."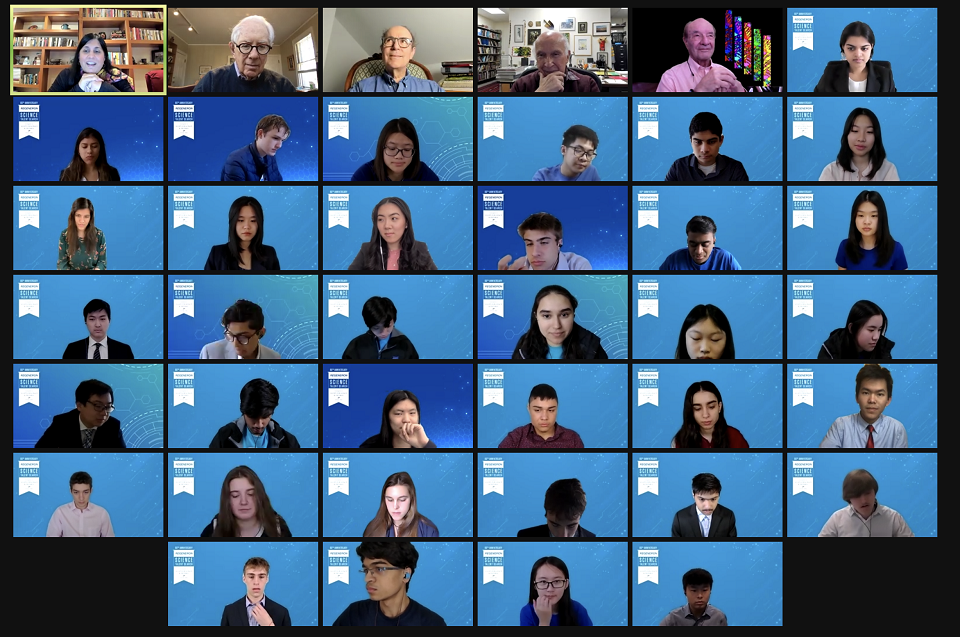 The Nobelists were unanimous in encouraging the finalists to investigate subjects beyond science in their studies. "In general, the arts and humanities offer so much more about life than science does," Roald Hoffman, who writes poetry, told the students. "I wised up in graduate school and recognized what I was missing," said Sheldon Glashow as he recalled taking a course in Japanese music. Frank urged the young researchers to not fall into the trap of being too focused on any particular subject. "Look around and go explore. My advice is to cast a wide net and then select." Walter Gilbert, who is also an artist, agreed: "It's good to take courses that are not in the sciences just as it's good to take courses across the sciences. The more broadly you educate yourself about the world, the easier it is to find just the things you're really interested in."
Besides generously giving their time to the finalists, sharing their insights into science and life, the Nobel laureates also had gifts for the students. They each received a signed tie or scarf from Walter's art collection, an Amazon gift card for the Max Planck, Sheldon Glashow documentary, a signed copy of Roald Hoffman's most recent book of poetry, Constants of Motion, and a signed copy of Frank Wilczek's book, Fundamentals: Ten Keys to Reality.
In the 80-year history of STS, 13 alumni have gone on to win the Nobel Prize. Who knows, maybe a finalist (or more!) in this year's class will end up being among them in the near future.