Five hot tips for the 2020 Broadcom MASTERS application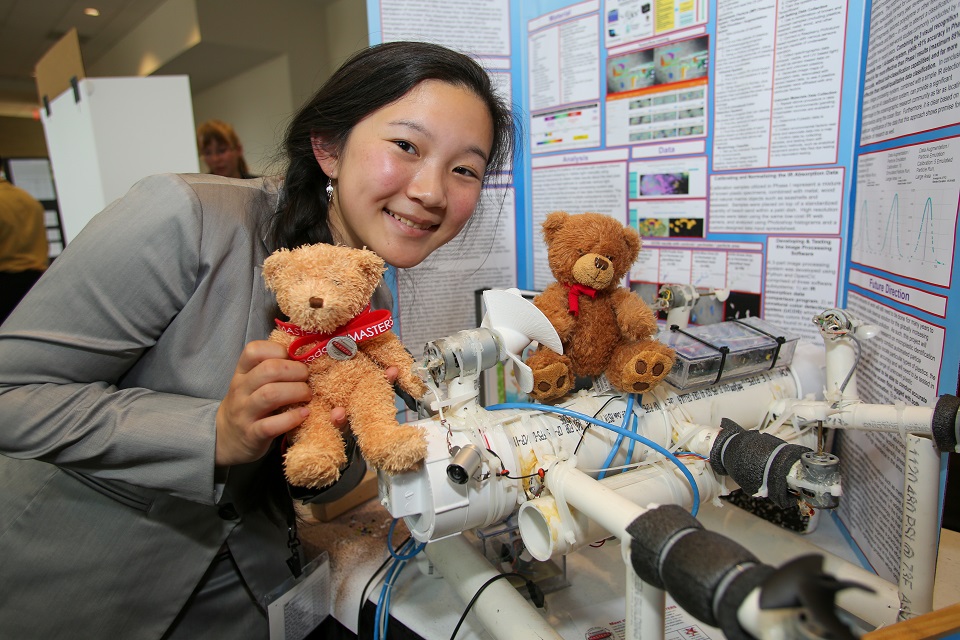 The Broadcom MASTERS® is the nation's premier middle school STEM competition. Annually, the program awards approximately $100,000 to extraordinary middle schoolers whose research explores a multitude of science and engineering questions and projects, such as improving automobile safety to monitoring water quality or deactivating opioids.
Due to the extenuating circumstances of COVID-19, the 2020 Broadcom MASTERS nominee process and application is being opened widely to include sixth, seventh and eighth grade students who were registered to participate at an affiliated fair this year. The deadline for entry is June 10, 2020 at 8pm Eastern Time. This is an incredible opportunity—so be sure to apply today!
Below, we have highlighted five key tips for nominees applying to the 2020 Broadcom MASTERS. For a more comprehensive guide, take a look at these Official Entry Rules:

1. You will be asked for a username and fair password to create an application.
When you received your nomination, whether it was after participating at your affiliated fair, or through an email notice from your fair director, you should have also received a username and fair password that gives you access to the application. If you do not have this information, please email your fair directly. You can also email masters@societyforscience.org if you need assistance.

2. The application deadline is June 10, 2020 at 8pm Eastern Time.
We encourage nominees to submit early! Even if you have already submitted your application, you may make as many changes as you would like before the deadline. Be sure to save each section, but you will NOT need to resubmit once you are done. Your changes will be automatically saved. A helpful tip is to download your application for review to confirm that all your changes were successfully updated.
3. You get prizes just for submitting the application!
The first 5,000 nominees to submit applications will receive a Broadcom MASTERS t-shirt in the mail, and all nominees who submit applications will receive swag packages and are entered into a lottery to win other cool prizes, like Raspberry Pis. Even more prizes are offered at each stage of the competition—check out our Eligibility and Important Information page to learn more.
4. Team research is allowed, but please note that each team member must submit a separate application and will be judged separately.
The Broadcom MASTERS competition considers the whole student, not just your research project. Judges need to be able to hear from each member of a team and individually assess your skills. Teams can have a maximum of three teammates to qualify. All team members are not required to apply.
5. The Broadcom MASTERS application includes five parts and a few form uploads. Check out our YouTube page for videos walking you through each step of the application!
Registration: You are asked to enter basic information about yourself and your school. This section is NOT seen by evaluators.
Project Information: Here you will answer a series of questions designed to feel like a judging interview about your hypothesis, procedures, data and conclusions.
Essays: You are asked to respond to a few short essay questions to help the evaluators get to know you better. This is your time to be creative and share your true opinions! Often your first reaction to the prompts are best.
Personal Interests: Tell us what you like to do in your free time. The judges want to get a sense of what you do outside of your research.
Question about COVID-19: We know everyone has had unique experiences and challenges this spring, and we want to hear your thoughts and ideas. Your response to this question is NOT seen by evaluators.
Forms: All applicants are required to submit a parent permission form, a visual aid to represent their project, and some students might be asked to upload special paperwork based on their research subject. Remember, your project should have followed all the safety rules required by your affiliated fair.
If you're feeling stuck when completing the application, try answering the questions out loud, so it feels like you are explaining your project to a judge or friend who wants to learn about your science. This will help you get started, and remind you that you already know these answers! Good luck!
For more information, visit our Nominee and Eligibility and Important Information pages. You can also email masters@societyforscience.org with any questions about the application or competition. Remember, you have nothing to lose by entering, so apply today!