Fall foliage and science, Broadcom MASTERS virtual edition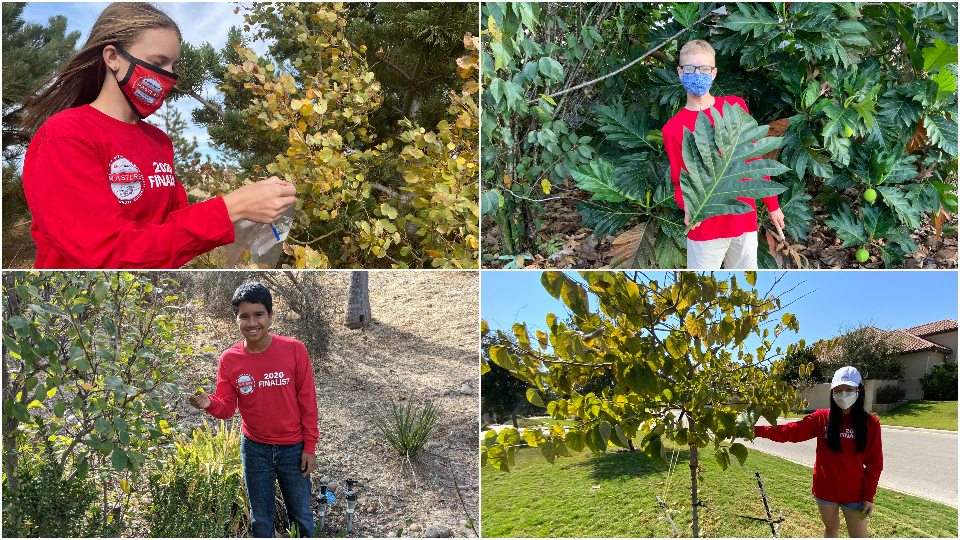 A Broadcom MASTERS challenge partner since 2016, the Smithsonian Environmental Research Center (SERC) in Edgewater, Md., usually spends one day in October hosting the country's top middle school scientists. Although the Broadcom MASTERS 2020 finalists were not able to travel to the Chesapeake Bay due to the competition going virtual, SERC staff members found a different way to test the students' critical thinking, communication, creativity and collaboration skills. Before the competition week started, each finalist was asked to collect 15 to 20 leaves, upload a picture of each and record where they were found. All the images were then compiled into a main dataset for the challenge. Working in teams, the students had to determine the relationship between leaf form and climate.
Trees and leaves are hypothesized to be living barometers of their environments. As trees and leaves adapt to their ecosystem's changing population dynamics and physical characteristics, these adaptations serve as a record of long-term changes of that particular ecosystem, but how exactly are the trees and leaves changing? The Broadcom MASTERS finalists were tasked to find out. They were also asked to consider how that relationship could be applied to understanding and predicting climate change. Equipped with information about average annual temperatures and how to classify between smooth and toothed leaves, the finalists sorted through 160 different leaves and then built graphs to show their findings to the judges.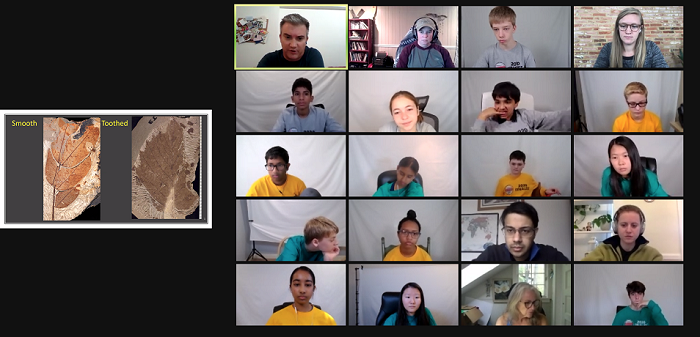 Divide and conquer was a popular strategy—the silver, green, white and black teams split the 11 different leaf collection samples among their group members. The gold team opted to sort together, with a focus on verifying their hypotheses about leaves and their link to climate change as they went along. Using a combination of these two methods, the purple team decided to analyze the leaf data in pairs, so they could discuss questions while sorting.
Judges as well as SERC staff members cautioned the finalists to be mindful about how they were keeping track of their numbers so that they could later turn them into graphs and charts without difficulty. They also had to contend with things like proportions, frequency and properly labeling axes.
As the teams wrapped up their work, they had to be cognizant of time and begin putting together their presentations. The silver team made it a point to set time aside at the beginning of the challenge for this precise purpose, while the white and black teams designated specific group members as timekeepers to keep them on track. All the teams reviewed their hypotheses and observations before presenting their conclusions to the judges.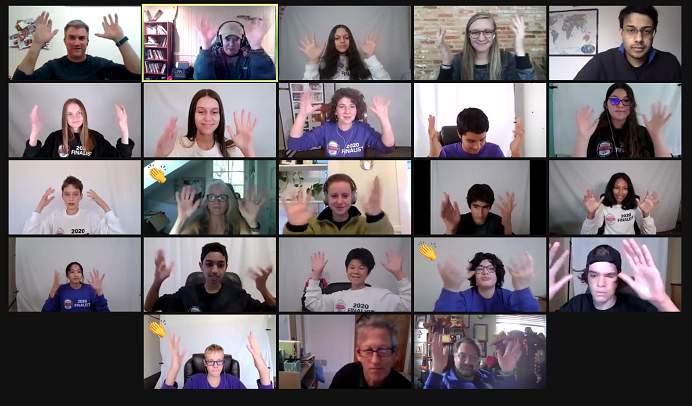 Reconvening as a full group at the end of the challenge, the 30 finalists had the opportunity to hear from Rich Barclay, a Smithsonian paleobotanist. In his research, Rich studies fossil plant records to ascertain what climate was like millions of years ago. Studying patterns from the past can help predict the potential impact of future climate change. This is not unlike what the students had to do for the challenge. In fact, Rich noted that young people their age "are capable of figuring out complicated concepts." He, along with other SERC staff members that helped guide the students, were impressed with not only the scientific acumen they displayed, but also their teamwork. Both will be important in the future careers of these young innovators.