Experiments in Social Distancing: Society alumna interns at Amazon and runs nonprofit, Develop for Good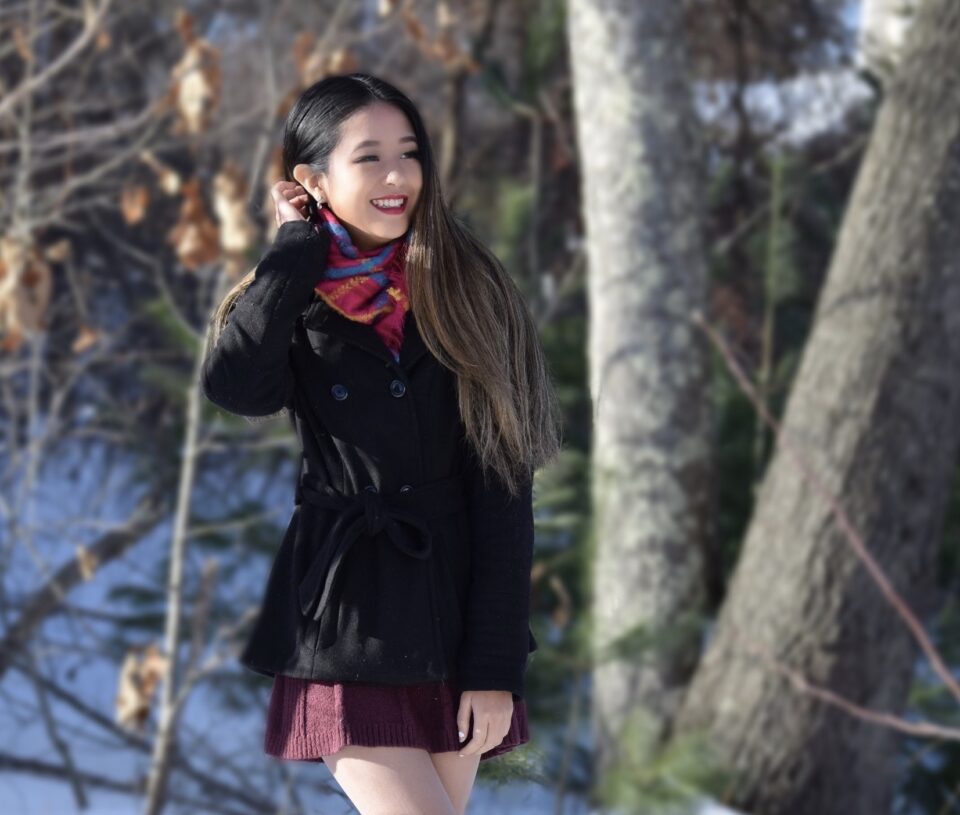 Regeneron Science Talent Search alumna, Mary Zhu says a smile came to her face when she saw news and updates about this year's STS finalists. As a 2017 top 40 finalist, she shares that, "seeing updates about the finalists on the Society's Facebook page brought back great memories, and made me so happy for each of them!" Mary also competed in the 2016 and 2017 ISEF, winning a Grand Award in Behavioral & Social Sciences.
Originally from Nashua, New Hampshire, the 21-year old rising Senior ventured nearly 3,200 miles away from home to pursue her undergraduate degree at Stanford University. During the quarantine, Mary finds herself back again on the east coast with her family. But the drastic move and being confined to her room hasn't stopped her from taking on new projects. Actually, quite the opposite, Mary is occupied with her work as a Software Development Engineering intern at Amazon and is on calls running her nonprofit, Develop for Good, a mobile web app development organization boasting esteemed clients such as UNICEF, the World Health Organization, World Bank, the Smithsonian Institution and The Nature Conservancy. Albeit, she's not all work and no play – when there's down times, Mary enjoys organizing surprise Zoom birthday parties for friends and dances the night away at virtual electronic dance sets. Hear more from Mary below!
How are you keeping busy during the COVID-19 world crisis?
After being sent home from college in March, I initially struggled to find a way to use my free time for something both productive and meaningful. Realizing that many other college students were in a similar position, I cofounded a nonprofit called Develop for Good with a fellow Stanford student, Amay Aggarwal. The organization strives to empower the next generation of student leaders to use technology for social good by developing digital tools pro bono for nonprofit organizations.
We partner with nonprofits in the hopes of eliminating the need for expensive outsourcing and easing the load on in-house development teams. At the same time, we source student volunteers who are driven by a desire to dedicate their tech skills to social good, and are also looking to gain real-world experience in coding and development. For example, some of our student developers are currently developing in-house tools that save our clients over $20,000 a year in subscription fees, while others are improving applications with millions of users across 60+ different countries.
Have you participated in any relief efforts during the pandemic?
We've participated in several different COVID-19 relief efforts through Develop for Good. One of our teams of talented student developers is currently creating a mobile app from scratch for the San Diego branch of the Ronald McDonald House Charities. This group serves the families of hospitalized children by providing meals and housing in close proximity to their children at little to no cost. The need for this app is motivated by the devastating effects COVID-19 has had in the area, and will allow for the contactless transfer of resources, information and house check-in functionalities for the over 50,000 families served annually by the organization.
Are you working on any projects? If so, what are they?
Since entering college, I've continued to further refine my STS project, Impact of Carbon Tax Policies on the Global Agricultural Economy: A Computational Spatial Partial Equilibrium Modeling Approach. This research was initially inspired by the policy proposals of 2016 Presidential candidates and the global conversation regarding the Paris Climate Agreement. For this project, I developed a computational model that projects the impacts of carbon taxes on the international agricultural market, spanning 17 countries/regions and 11 commodities.
Despite everything else that has been going on in the world, climate change has not been put on pause, and is still worsening day by day. The issue of whether to implement stringent carbon emission policies has become especially relevant as the 2020 Presidential Election approaches, with Presidential candidate Joe Biden proposing a $2 trillion plan to combat climate change. The most updated version of my research can be found on the 2019 edition of the Harvard College Economics Review.
Do you have any tips or suggestions for others who have recently been impacted by the coronavirus?
To high school and college-aged students who are fortunate enough to be comfortably quarantined at home – take this period of excess down time to either explore the breadth of your interests, or to dive as deeply into one as you can possibly go. I'm particularly fond of the following quote by Louis C.K., as being "bored" has been one of the most prevalently shared emotions over the past several months: "'I'm bored' is a useless thing to say. I mean, you live in a great, big, vast world that you've seen none percent of. Even the inside of your own mind is endless; it goes on forever, inwardly, do you understand? The fact that you're alive is amazing, so you don't get to say 'I'm bored.'"
How do think the textbooks will describe this point in history?
2020 has undoubtedly been a pivotal year, with impacts felt by individuals all over the world. With a global pandemic, increasing international tensions, protests in the face of racial and social injustice, and a spiraling economy, the year has consisted of a combination of challenges unlike anything experienced in recent history. However, despite the horrors of these difficulties, they have also stimulated initiatives leading to technological innovation, as well as movements resetting social norms and affecting cultural change. I believe the greater things that result from this point in time will be the focus of what will be described in future textbooks.