Experiments in Social Distancing: One teenager has started a no-contact grocery and medication delivery service for vulnerable seniors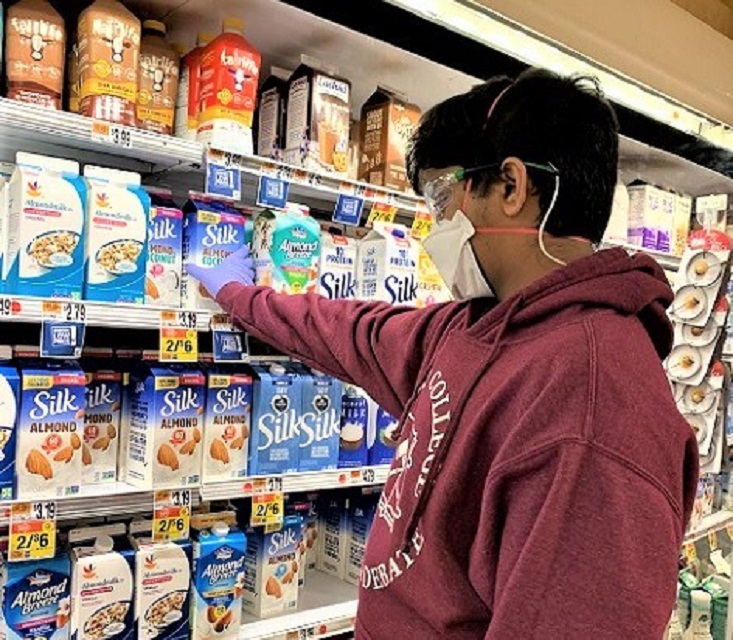 With the change in our collective reality, the Society will be talking to our alumni and sharing their unique experiences during this pandemic.
In response to the coronavirus, Dhruv Pai (ISEF 2020), a 16-year old sophomore at Montgomery Blair High School in Silver Spring, MD, and his best friend, Matthew Casertano, were both helping their grandparents by delivering groceries to their doorsteps. The boys discussed how other vulnerable and immunocompromised elderly citizens would need help too, so they started a volunteer organization called Teens Helping Seniors. Essentials are safely delivered with all volunteers required to wear proper gloves and masks. All bags are wiped down with sanitizer before drop off.
Over the past two weeks, the volunteer group has swiftly expanded and now has over 120 volunteers. They have made over 130 deliveries to the elderly and immunocompromised during the COVID-19 crisis. Dhruv tells the Society, "We have teen volunteers from 20 different states who have expressed interest to volunteer with us and start their own chapters. We are now expanding our chapters to New York and San Diego chapter. If possible, I would like to use this platform to have more teens all over the country join our efforts in serving the vulnerable population during this crisis." Dhruv's work has been recognized by Congressman Jamie Raskin and has gotten national attention in CNN and People Magazine.
Please share one or two ways that the pandemic impacted your life?
The pandemic has definitely affected my family in more ways than I thought it would. My mom is a physician at a military hospital and is on the frontlines. I know that she is worried every day that she may bring the virus home to our family.
Due to this fear, we moved my elderly grandparents into an apartment nearby in order to minimize contact with them. It has been difficult for my family because we now have to call them and make sure they are doing ok. I have not seen my grandparents for more than five weeks and I know that they are lonely, but this is what is best for them.
My school was closed for two weeks, but now we have started online learning. The teachers are giving us warm up assignments to get us accustomed to the new online class routine. While I like studying from home, I miss seeing my friends in person.
How are you keeping busy during the COVID-19 world crisis?
Since my grandparents moved to the apartment due to the COVID-19 crisis, I started delivering groceries to them because they were scared to go to the grocery stores. Our elderly neighbors called us asking if we could make a grocery run for them as well. This gave me the inspiration to start a group effort called Teens Helping Seniors to deliver essential supplies to the seniors and vulnerable population in our community who cannot go outside during the crisis to get supplies. College students and parents have also joined us in this endeavor. We provide contactless delivery (using CDC guidelines) to those in need. I have been very busy with managing the group efforts, as we have several volunteers who are joining us daily and in coordinating grocery deliveries in various parts of the community.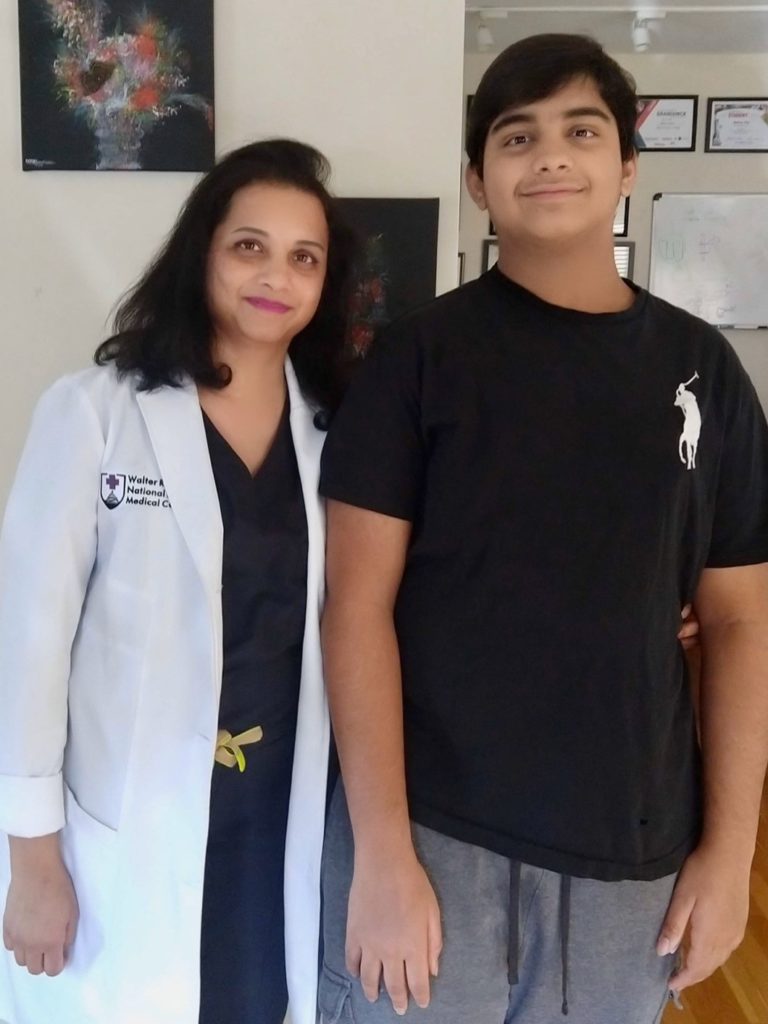 Are you working on any projects, both science-related and otherwise?
I am working on two science projects that I presented in two different competitions.
Science Montgomery, my county's science fair, was held virtually. I was preparing for my science project PrediGen: A tool for tracing the genealogy of medical devices, which led to my selection as a Regeneron ISEF finalist. I am working on writing a manuscript and submitting my research to a peer reviewed journal.
I was also selected as an oral presenter for my neuroscience research, The impact of varying electrical stimulation parameters on neuromuscular response, for the Maryland Junior Science and Humanities Symposium, which was held virtually on March 25th. I won 3rd place at this state event, and presented my research virtually at the National Junior Science and Humanities Symposia.
I also participated in the COVID-19 Beat the Pandemic MIT hackathon in early April where we formed teams and came up with new scientific ideas and solutions to conquer the pandemic.
Do you have any tips or suggestions for others who have recently been impacted by the coronavirus?
We have all been affected by COVID-19 in some form or the other. There are difficulties created by all these unprecedented circumstances, but it is important to use our time wisely and leverage all resources. The good news is we live in an age where information is just insanely accessible. Anyone can self-teach on almost any subject via YouTube, Khan Academy, MIT OpenCourseWare, Coursera, to name a few. If you have a passion for something, start your own endeavor, pursue it and make it impactful.
How do think the textbooks will describe this point in history?
Most of the world has associated patriotism with the military, but you can't shoot a virus. The health care workers on the frontlines against coronavirus are not in the armed forces; they are our doctors, nurses, pharmacists, teachers, caregivers, store clerks, utility workers, small-business owners and employees. They are suddenly given these tasks to fight the virus, amidst fear of increased risk of contamination and death they never signed up for. In history, when all is said and done, they will be recognized for their sacrifice as true patriotism, saluting our doctors and nurses and saying, "Thank you for your service," as we now do for military veterans. Perhaps, history will describe patriotism more as cultivating the health and life of our community.
If you are interested in sharing your experience during the COVID-19 Pandemic, please email the Society Communications team at communications@societyforscience.org.