Experiments in Social Distancing: ISEF judge from Kirkland, Wash. shares experience living in the center of a coronavirus outbreak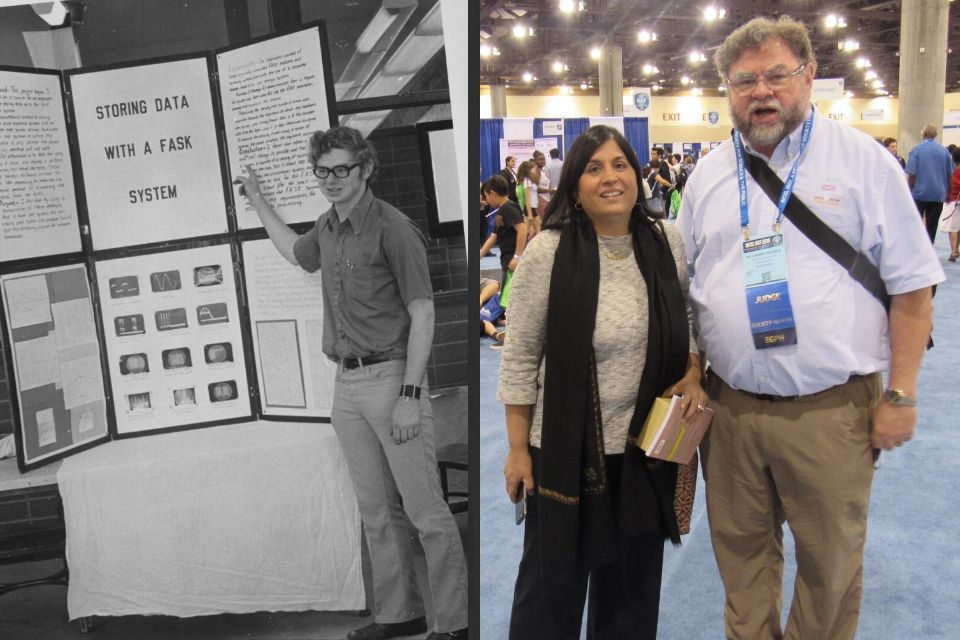 With the change in our collective reality, the Society will be talking to our alumni and share their unique experiences during this pandemic.
Before coronavirus took over his town, Dennis Heidner (ISEF 1971, STS 1974) would greet and catch up with his neighbors during his daily sidewalk mail run. Now, they do that from across the street. As an engineer at the Rextorgroup in Kirkland, Washington, Dennis lives just about a half mile from EvergreenHealth hospital and 2 miles from the Life Care Center, where the new coronavirus first reared its ugly head in February. "I can see the hospital from my house. I have two or three neighbors in my cul-de-sac that work in the hospital. My wife, Amy, and I would walk there to catch buses or for appointments in the adjacent medical buildings," Dennis said.
As a man in his sixties, Dennis is in the high-risk group, as are many of his neighbors. Last week, the Seattle Times reported that the virus has spread over 163 long-term care facilities, leading to 200 deaths in Washington state. But last Sunday, Gov. Jay Inslee returned 400 ventilators to the National Stockpile, an indication that mitigation efforts are slowly improving the situation. The Society spoke to Dennis about what it's been like living in the city where the virus first surfaced.
How has the pandemic impacted your life?

My parents live a thousand miles from me. I talk with them on the phone, but they are old and it is hard to explain to them what is happening. When I see people still meeting in large groups on the beaches or in the parks, I find that scary. Also, one of my daughters teaches English as a Second Language in a school district nearby. As a teacher she's having to switch to helping her students and their parents with the classroom material from a distance, but on-site interaction is an important aspect of learning. I am also working with local universities on their senior capstone projects. As you might guess, moving universities to an online process is really disruptive to projects that require lab time or specialized equipment.

Since the end of February, there have been about a half dozen conferences that I would have normally attended that have been postponed or cancelled. In addition, I have judged at local and regional science fairs, as well as ISEF, over the last four years. Picking up on the energy from the students and learning about their projects during public viewing has been important to me.
How are you keeping busy during the COVID-19 world crisis?

I watch a lot of NOVA, spend more time catching up on projects and reading. I've also been able to spend more time working with students remotely. One of my personal challenges is to develop some low-cost sensors that middle school and high school students might use to collect data for experiments.

Are you working on any projects, both science-related or otherwise?

I have multiple projects that I am working on for myself and with college students. One of the more interesting is a low-cost data logging system using Raspberry Pi that can be used to collect outdoor and indoor air quality information and with different sensors could be used for water quality data collection.

Why are you passionate about the value of the science fairs, including ISEF? Why have you volunteered to judge at ISEF for so many years?
There is no question in my mind the value of ISEF. The impact on students and their schools is profound. For most science fair students in Washington, the reaction is as if they were a unified sports team that had competed internationally, returning home with trophies. This is an extremely important recognition process for these students. I had the same exciting experience as a student from Belgrade, Montana competing at ISEF back in 1971.
As a judge, I've had the opportunity see thousands of K-12 projects over 35 years. I am always impressed with the creativity and effort that ISEF students demonstrate. These truly are students on their way to becoming our future scientists, researchers, engineers and mathematicians. My wife and I look forward to the science fairs much the same way we look forward to our yearly trips to the Tulip fields near Seattle. It's not just an event, but an opportunity to experience the wonders of discovery made by students around the world.
Do you have any tips or suggestions for others who have recently been impacted by the coronavirus?

Stay home, stay healthy, wash hands frequently. Most of us do not have the equipment to see the virus, but it is there as part of the personal bubble around those that are infected. We don't want to treat our friends as the walking dead or as zombies where we avoid any and all contact—we can still talk with them by phone, email and text. We can collaborate on scientific papers, outline research projects or sketch hardware setups that we will later use. We can take this time to look at our experiments and projects to see if we can examine the data using different tools.

If you are interested in sharing your experience during the COVID-19 Pandemic, please email the Society Communications team at communications@societyforscience.org.