Could clay work as a natural pesticide?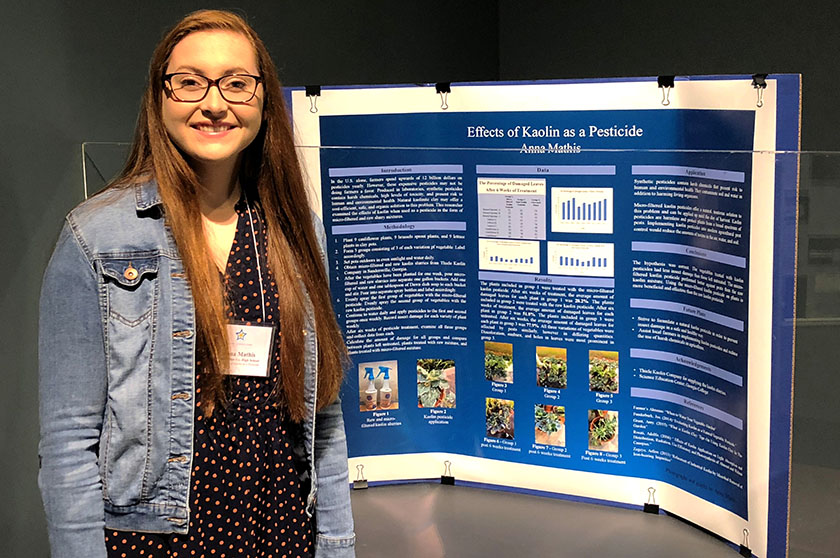 Pesticides contain harsh chemicals, high levels of toxicity, and risks to human and environmental health. Despite these concerns, pesticides are used generously in the U.S. agricultural industry.
Anna Mathis, a high school student from Sandersville, Georgia, was concerned about the negative impact of pesticides. She studied the agricultural industry of Washington County where she lives, searching for an accessible mineral that could prevent plant damage in a safe, healthy way. She focused on the conditions and needs of the plants in her community.
"The two largest industries in my county are the kaolin and agricultural industries," Anna explained. "Each year, farmers in the area spend thousands of dollars on chemical pesticides that protect crops; however, they infect groundwater and are fatal if ingested by humans or pets."
Anna believes that kaolin, a natural clay mineral mined in the county, could offer an easily accessible, cost-efficient, and organic solution to the problems of pesticide use. Kaolin is non-toxic, natural, and harmless to humans or pets. Anna's dad, the Chief Mechanical Engineer at Thiele Kaolin Company, gave her the idea to pursue this research.
In order to test her hypothesis, Anna obtained micro-filtered and raw kaolin slurries from Thiele Kaolin Company, then applied them to vegetable plants. When combined with water, the kaolin became a liquid that Anna sprayed directly onto the plants.
The micro-filtered and raw kaolin slurries were taken from different mining locations. Anna used two different kaolin filtrations: an East Georgia fine-particle sized clay and a West Georgia coarse particle-sized clay. The main difference between the two was the presence of iron in the raw clay, while the micro-filtered slurry was pure kaolin.
For six weeks, Anna exposed the kaolin-covered plants to common pests, such as aphids, beetles, and caterpillars. After six weeks, she analyzed the pest damage on the plants and found that the micro-filtered kaolin (from East Georgia clay) was the more effective of the two, and could be of potential use as a natural pesticide.
"When sprayed onto plants, the kaolin forms a thin film that acts as a barrier to insects," Anna said. "Chemical pesticides are applied after the farmer spots plant damage, while kaolin deters pests from eating plants beforehand. It's proactive rather than reactive."
Using the positive results and knowledge gained from her studies, Anna is currently furthering her research to formulate a natural kaolin pesticide, to prevent insect damage to plants in a safe and healthy way. "My ultimate goal is to assist local farmers in implementing kaolin pesticides and reduce the use of harsh chemicals in agriculture," she said. "There has been research on kaolin pesticides, but it's extremely limited due to the rarity of kaolin compared to other minerals."
Anna's local science fair was impressed with her work, and nominated her inventive research for a Society for Science & the Public Community Innovation Award. The award honors students participating in science fairs around the world who are making a difference in their communities. In 2018, the Society rewarded 24 young scientists with $500 prizes — and Anna was one of them.
Natural pesticides have been popular among Community Innovation Award winners in the past. Read two blog posts about natural pesticide projects (a natural pesticide which could save cotton production in India and a natural, more effective solution to bed bugs).
"It's a tremendous honor to receive the Society's Community Innovation Award," Anna said. "This recognition inspires me to further my own research in order to overcome challenges within my community. I am also motivated to help young students with their research, and emphasize the importance of STEM education."
Anna believes that science fairs offer an important platform for students to present potentially life-changing solutions to world problems. "After attending Intel ISEF 2018, it's clear that through science fair, innovative high school students are truly changing the world for the better," Anna said.
Science is all about learning to think outside of the box, according to Anna. "STEM is about combining one's skills with a curious mind, in order to solve real-world problems," she said. She is clearly heeding her own advice.