Calling all middle school scientists—apply to the Broadcom MASTERS!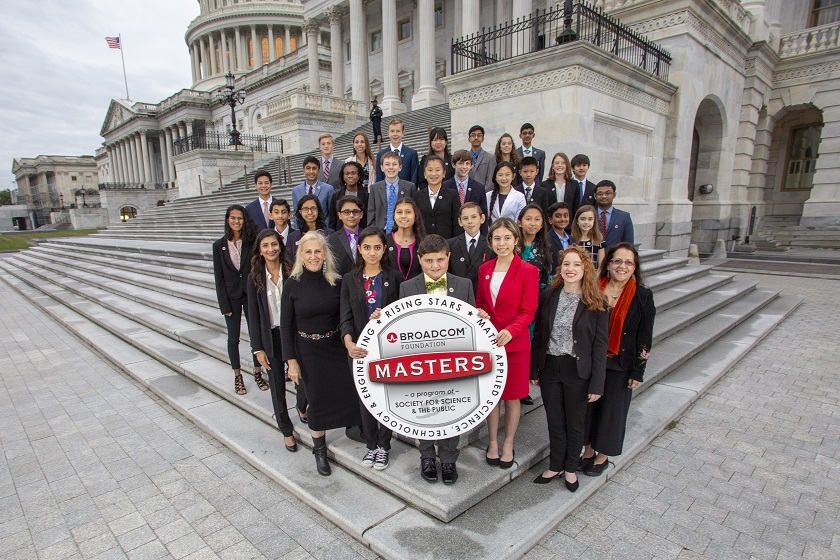 The Broadcom MASTERS (Math, Applied Science, Technology, and Engineering for Rising Stars) is the premier science and engineering competition for middle school students. In order to compete, Society-affiliated science fairs around the country nominate the top 10 percent of 6th, 7th, and 8th grade participants. Nominees then complete an online application for a chance to compete at the national level.
Out of the entrants, the top 300 projects are announced in September. From these top 300 MASTERS, 30 finalists and one parent/guardian win an all-expense paid trip to the national finals in Washington, D.C. to present their projects, compete in teams and visit sites that celebrate innovation through STEM. Through the team challenges, the finalists demonstrate their skills in critical thinking, collaboration, communication and creativity. Finalists compete for multiple awards, including the top Samueli Foundation Prize of $25,000.
If you're looking for motivation to apply, hear from the top winners of last year's competition and be inspired!
Meet Georgia Hutchinson, Winner of the 2018 Samueli Foundation Prize of $25,000
"Being a Broadcom MASTER is a once-in-a-lifetime opportunity where you get to share your love of science and engineering with the whole world."
Meet Jack Albright, Winner of the 2018 Robert Wood Johnson Foundation Award for Health Advancement of $20,000
"The project that I've been working on is something that I can use to change the world."
Meet Jacqueline Prawira, Winner of the 2018 Marconi/Samueli Award for Innovation of $10,000
"Now as a Broadcom MASTER, I truly feel inspired to find real world solutions to our current problems."
Meet John Madland, Winner of the 2018 Lemelson Award for Invention​ of $7,500
"If I can help those first pioneers be a little safer on Mars, that would be a huge contribution."
Finalists from the Broadcom MASTERS 2018 were also interviewed by the Washington Post's esteemed producer, Dave Jorgenson!
"This was like, it was homework, but it was fun." – Katie Quinn, Rising Stars Award
Additional highlights from the Broadcom MASTERS 2018 below: