Broadcom MASTERS International
BCMI: Meet 5 young scientists from the continent of Asia who endeavor to make their communities, countries and world safer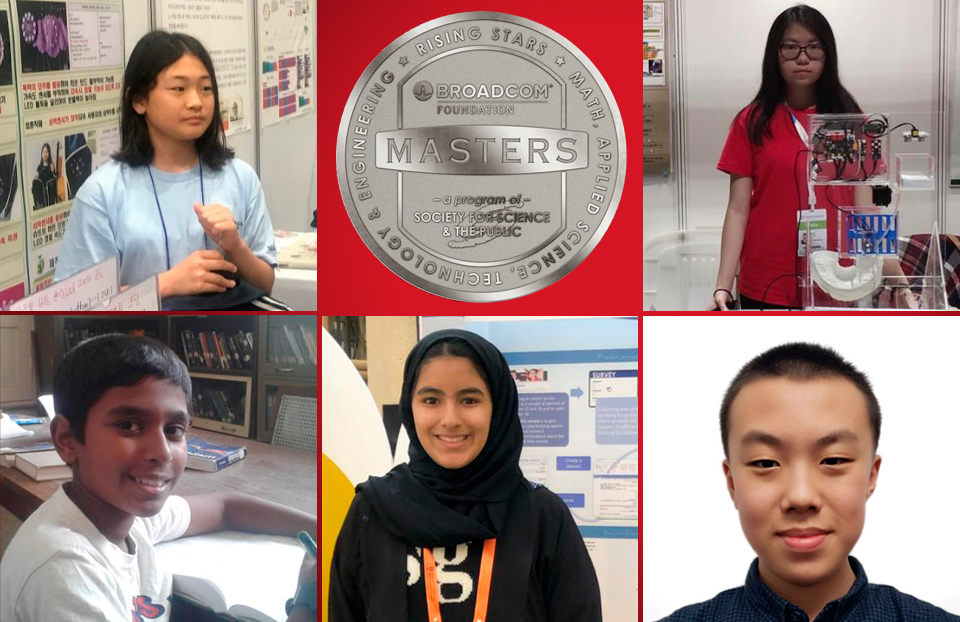 The Society's Broadcom MASTERS International program is a beautiful reminder of the global community that is science and how young people everywhere are moved to make a positive impact through their work. Annually, middle school students are chosen as delegates from Society-affiliated fairs around the world, emboldening them to pursue STEM through academic and collegiate studies and hopefully in their careers as well, where perhaps one day they will find themselves on the frontlines of scientific discovery. Below, read about five young scientists from the Asian continent who are working on projects to make their communities safer.
Dana Alharthi, 14
Saudi Arabia
Delegate Dana Alharthi has always been passionate about science; she aspires to be a computer scientist one day. Her research project focuses on the digital risks of cyberbullying. Dana explains that her "project is about a way to detect cyberbullying using machine learning algorithms, specifically the Naïve Bayes Classifier." She gives an example to explain: "If two social media users have a simple chat together and one bullies the other, my system detects the common bullying term right away to delete it before it sends." Dana hopes that her work can help stop cyberbullying and negative online incidence.
"Science in general is such an amazing world of knowledge. It is a hero to everything. Hopefully science can cure COVID-19 too," Dana tells the Society.

Do Hyeon Kim, 14
South Korea
Seoul locals often lounge and picnic along the luscious green spaces by Korea's fourth longest river ─ the Han. Delegate, Do Hyeon Kim, says it's one of her beloved spaces to hang out with friends, while eating Kimchi and Korean chicken.
Do also enjoys biking by the Han, but she does so with caution. Do says she's "always been afraid of riding a bicycle on the roads" of her homeland. Thanks to her own scientific solution, a safe suit meant to protect riders and pedestrians, she is no longer afraid of getting into accidents. "The accident prevention suit is designed to prevent crashes while riding a bicycle. At first, the suit didn't work properly. So, I developed a second version after fixing the shortcomings of the first." Do used computer science and coding to ensure that a cyclist wearing her suit would be noticeable to drivers on the road, specifically by turning on LED lights when the cyclist presses a button. The lights also illuminate when the rider stops abruptly.
In the future, Do hopes to maximize the field of computer science to help the marginalized peoples of her nation. "I haven't decided my final dream yet, but using software to help the socially disadvantaged is my current goal and dream."

Kushaal Kumar Pothula, 14
India
Since he was a little boy, Kushaal Pothula has been wholly captivated by the stars and the planets. When he was 12, he came up with two hypotheses in the field of astronomy and bravely forwarded them along to NASA. He was surprised when he got a letter back acknowledging his ideas. Kushaal says, "I find it amazing how almost everything in the universe can be explained using science. I want to contribute to the field of astronomy and solve enigmatic, perplexing scientific mysteries."
While his heart is in astronomy, Kushaal's current research focuses on making life safer down here on earth. His project looks at ways to prevent hazardous release from e-waste, that is, waste from discarded electrical and electronic machinery. If electronics aren't disposed of properly, human health and safety is at risk. "I try to solve the problem of e-waste by reusing it to make wireless electricity."
One of Kushaal's favorite traditions in his country is the greeting Namaste, which means "let our minds meet." He explains that the greeting is done by putting one's palms together, rather than a handshake, which "also prevents the spread of COVID-19!"

Lo Tsz Ting, 14
Hong Kong
The dangers of toxic gas leaks and other hazards in Hong Kong prompted delegate Lo Tsz Ting to partner with two of her classmates to develop the U-shaped Smelly, a "sensor that detects when the levels of gas in a U-shaped water trap are high." In Hong Kong, water in toilet u-shaped pipes prevent contaminated (with bacteria, viruses) gases from flowing in the wrong direction (from the sewers into the house or building). Lo explains that this gas detection technology adds water automatically to prevent gas leaks, making tenant living environments and buildings safer. She is troubled by recent reports that in Hong Kong, diseases such as SARS and COVID-19, are thought to have spread through the plumbing in some buildings because the intended barriers are not working as expected. Her method detects when the pipes have dried out and automatically fills them.
Lo adores Hong Kong, the global port city where she was raised. She tells the Society that it is often "referred to as the pearl of Asia." During down times before the pandemic, Lo would venture with her family and friends to two major local theme parks, Disney Land and Ocean Park, both of which have been shut down due to COVID-19.

Xiaojin Wang, 14
China
Delegate Xiaojin Wang invented an intelligent compound drive lane system, aiming to make driving safer. He uses "a video recognition technology, which is retrofit to current road infrastructure. This intelligent system ensures the compound lanes in cities are extensively visualized to drivers for safety purposes. It can also greatly optimize road capacity and automatically regulate when the road is crowded."
Xiaojin tells the Society that if he could have dinner with any STEM hero, he'd sit down with Ming Lin, the Chief Engineer of the Hong Kong–Zhuhai–Macao Bridge, the longest sea crossing and unbroken bridge-tunnel system in the world. "I admire him because of his team's enormous impact on construction, science and technology."
Xiaojin also shared that some of his favorite foods are popular during Chinese festival seasons, including Zongzi, sticky rice dumplings, at the Dragon Boat Festival in June and mooncakes at the Mid-Autumn Festival in the fall.
Learn more about Broadcom MASTERS International 2020 delegates who did projects focused on human health and disease here.