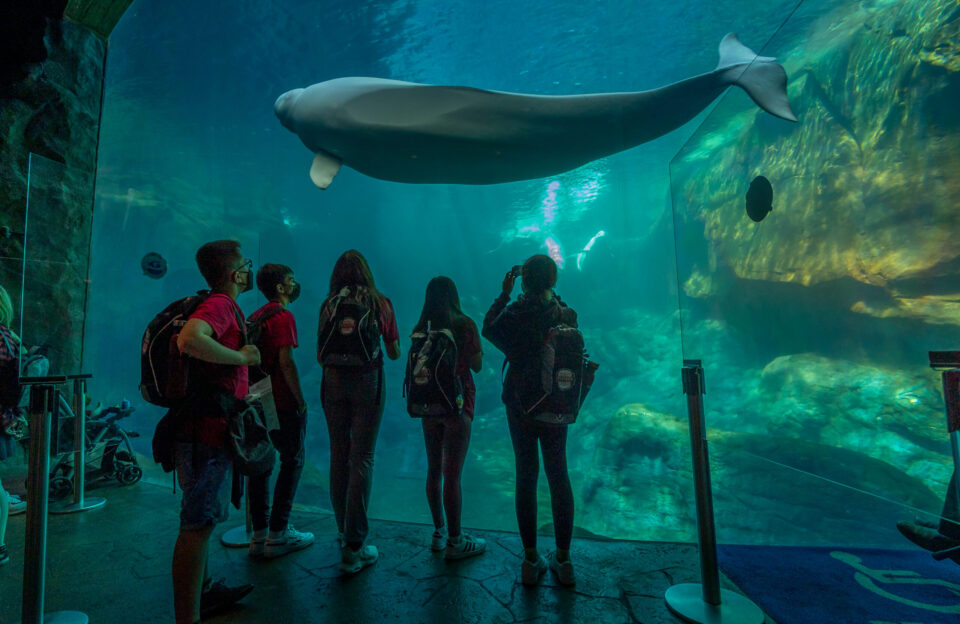 Written by Annika S. Hipple, Guest Blogger
Longer than a city bus, whale sharks – the world's largest fish – circled the enormous tank, gobbling up the fish being dropped into the water by a staff member at the Georgia Aquarium, as Manta rays cruised by and 20 middle school students from five different continents watched avidly.
The visit to the largest aquarium in the United States was a highlight of this year's Broadcom MASTERS International, a program of the Society for Science in association with the Broadcom Foundation, that brings together an international group of rising stars in math, applied science, technology and engineering. Representing 14 countries and one territory, this year's group traveled to Atlanta to spend five days forming lasting friendships and learning new skills through participation in a variety of STEM-related activities. Delegates were divided into four teams of five students, with each team identified by a different color, but had many opportunities during the week to get to know the rest of the group.
Delving into technology
After icebreakers on Sunday, May 8, the delegates spent Monday at the Georgia Institute of Technology (Georgia Tech) touring the campus and participating in STEM activities under the guidance of Cedric Stallworth, Assistant Dean in the College of Computing, who was frequently accompanied by Georgia Tech's entertaining yellowjacket mascot, Buzz. "It was my first experience going to a university," commented Roque López Fernández, 14, from Spain, who was impressed by the number of subjects and classes offered, the number of professors and students, and the amount of green space and housing for students.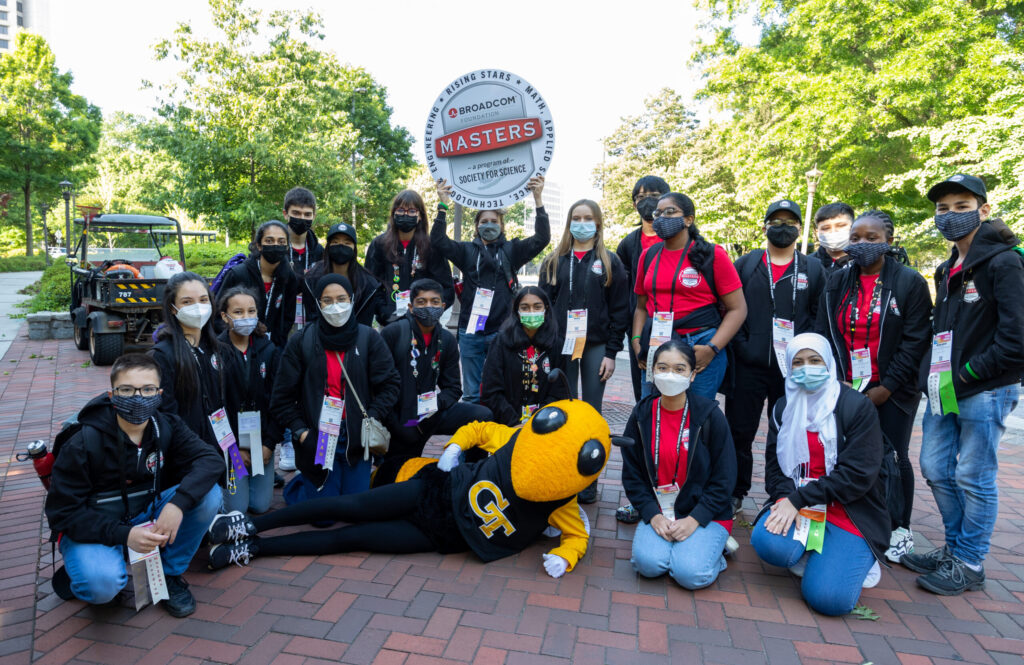 During the morning session, the delegates spent about an hour using a 3D printing program to design personalized luggage tags they could take home as souvenirs. The activity was a favorite for many students, including Chananrat "Janja" Tiranumpongvanich, 14, from Thailand, who had been interested in the technology for some time but had never had the opportunity to try it before. After lunch, the focus turned to coding. Delegates worked in pairs to complete a series of tutorials to learn how to program microbits to perform a variety of functions.
The world of plants
During a session on Tuesday called "Innovator Share," delegates presented individuals from their countries who inspired them and made a difference in STEM. Afterward, the group went to the Atlanta Botanical Garden, a lush oasis north of the city center. Delegates toured the conservatory, learning about different biomes including tropical rainforests and the South African desert.
Next, the group met with Conservation Display Garden Horticulturalist, Maxwell Kotelnicki, who discussed carnivorous plants found in Georgia's peat bogs. After spending some time examining different kinds of carnivorous plants and identifying how they eat, each student was given a pitcher plant to dissect. Inside, students found wings, legs or exoskeletons, the indigestible remains of unfortunate insects that were trapped and partially consumed.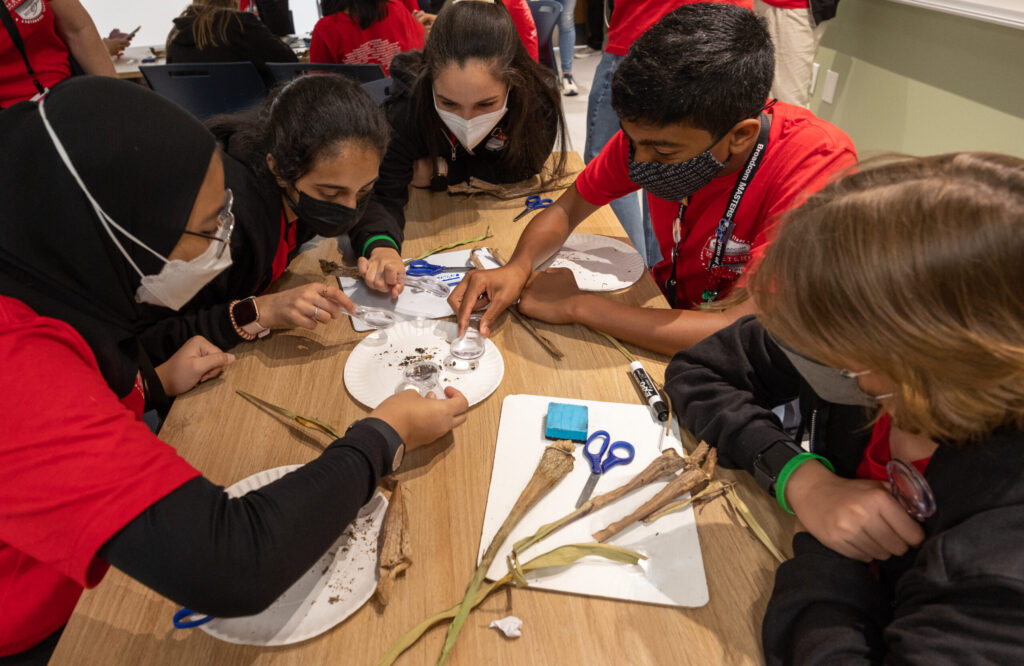 The botanical garden was particularly interesting for several delegates whose projects involved plants, including Josue Valencia, 15, from the United States, whose project focused on seed germination and pest control. "I really like learning about plants and their needs," said Josue, adding that in the future he would like to "help plants, cure or change global warming or find a cure for disease."
Ezzati Hanis Khairuzzaman, 14, also loved the botanical garden and sees a potential future opportunity for collaboration. Her project involved creating a biofertilizer from the husks of durian, a fruit native to her country — Malaysia. "Durian contains a chemical compound called serpentine that can enhance plant growth and reduce microbial activity," she explained. "Maybe someday I could offer my biofertilizer to them and see how the plant growth would be."
Design for the future
After lunch the Broadcom MASTERS group went to the Museum of Design (MODA), where they toured an exhibit about regenerative design. Sebastian Alexis, 13, from the United States, was excited by how design can help both the economy and the environment. "They showed us a waste treatment facility that was also an amusement park. I was blown away because there's this thing I was looking into called Not in My Backyard, where people don't want stuff like a waste treatment facility near their house, but this waste treatment facility completely turned that on its head. It was beautiful. I would want that near me," he said.
Another activity at MODA involved repurposing assorted materials to create something useful. Silver Team members Ava McGurk and Roque López Fernández got particularly creative, using cardboard packaging material, orange tape and pipe cleaners to design a model submarine resembling an anglerfish.
Learning from others
Delegates had the opportunity to meet Broadcom MASTERS alumni, who were participating in the Regeneron International Science and Engineering Fair (ISEF), at a mixer event. Keshve Sekdha, 13, from the United States, was inspired by the alumni she spoke with. "It was really cool because they told me what their projects were when they got to the Broadcom MASTERS compared to what they did for ISEF this year. It's crazy to see how much of a gap and difference they've made over the years," she said.
Wednesday provided another opportunity to learn from older peers as the group visited ISEF to explore the work of high school science students. "There's a lot of really cool ISEF projects that I think could have an impact on real world challenges," mused Sebastian. "As I was walking through the ISEF hall, I was thinking if I was an investor, I would walk through this and see all these things. I was so impressed."
Talah Bakhsh, 13, from Saudi Arabia, was impressed with ISEF for a different reason. "I went into the hall and the first thing I noticed was how people explained their projects. I was like, wow, they're so confident and I want to be like that. I want to be very confident when I'm explaining something," she said.
The delegates received further motivation from Prasanthi Sathyaprakash, a mechanical engineer originally from India but now based in California, who shared her experience as an immigrant woman in STEM and encouraged delegates to pursue their dreams of working in scientific fields.
Behind the scenes
A visit to the Georgia Aquarium included a tour of non-public areas where animals are trained, fed and treated for medical issues. The whale shark feeding that fascinated the group took place during a special access look at the aquarium's huge Ocean Voyager tank from above. Another popular experience was the pool where visitors could touch various types of rays. "The sting ray was really bumpy," marveled Bakhsh. "I don't know why, but I expected it to be smoother."
The last day of Broadcom MASTERS began with a visit to Mercedes Benz Stadium, one of the world's most sustainable sports venues. On a behind-the-scenes tour, delegates learned about the building's many eco-friendly design elements, including 4,000 solar panels, LED lights, a rainwater capture system, and an onsite fruit and vegetable garden.
"I enjoyed learning about sustainability," said Siona "Dolly" Pramoda, 13, from Puerto Rico. "Sustainability is something that I generally don't think about, but I realized it should be, because we must leave the Earth better than we found it."
Broadcom MASTERS International concluded with a special circle ceremony celebrating each delegate's unique strengths and the group's accomplishments, followed by a dance party. As the action-packed program drew to a close, one thing was evident: friendships made during this life-changing week will endure and these 20 bright, talented delegates are sure to find success in whatever professions they decide to pursue.