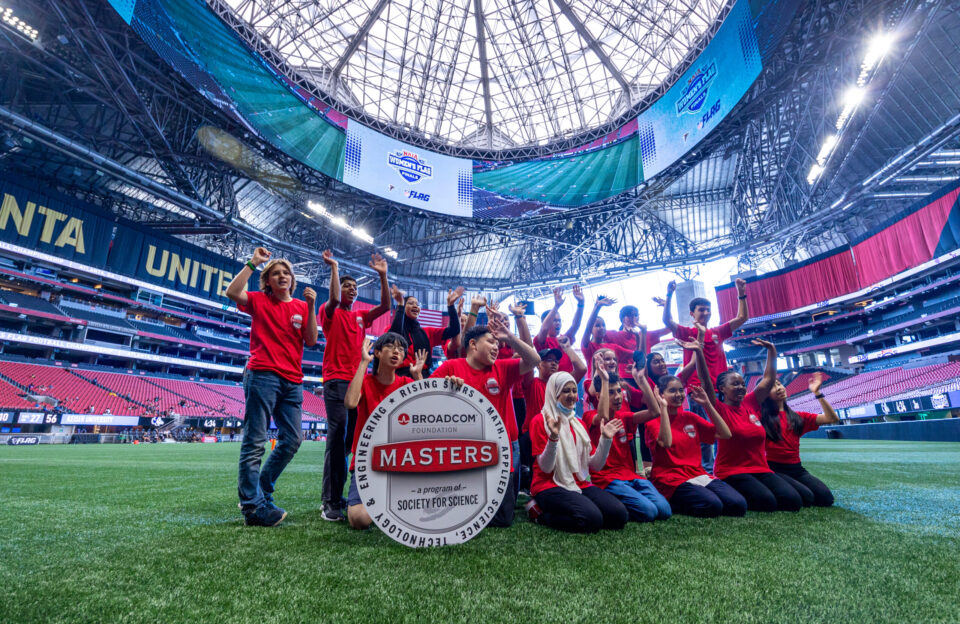 Written by Annika S. Hipple, Guest Blogger
They came from 14 countries plus one territory, an impressive contingent of bright, curious middle school students, all rising stars in math, applied science, technology and engineering. The 20 students, known as delegates were eager to learn, explore and make new friends over the course of the five-day Broadcom MASTERS International program in Atlanta, Georgia, the host city for the 2022 Regeneron International Science and Engineering Fair (ISEF).
This year's program was particularly special since it was the first time since the COVID-19 pandemic began that the program was held in person. For many delegates, it was also the first time they had ever traveled outside of their home country or region.
"I've met people from all around the world and I learned from every single one," said Josue Valencia from the United States, who particularly enjoyed hearing from other delegates about the traditional foods of their countries.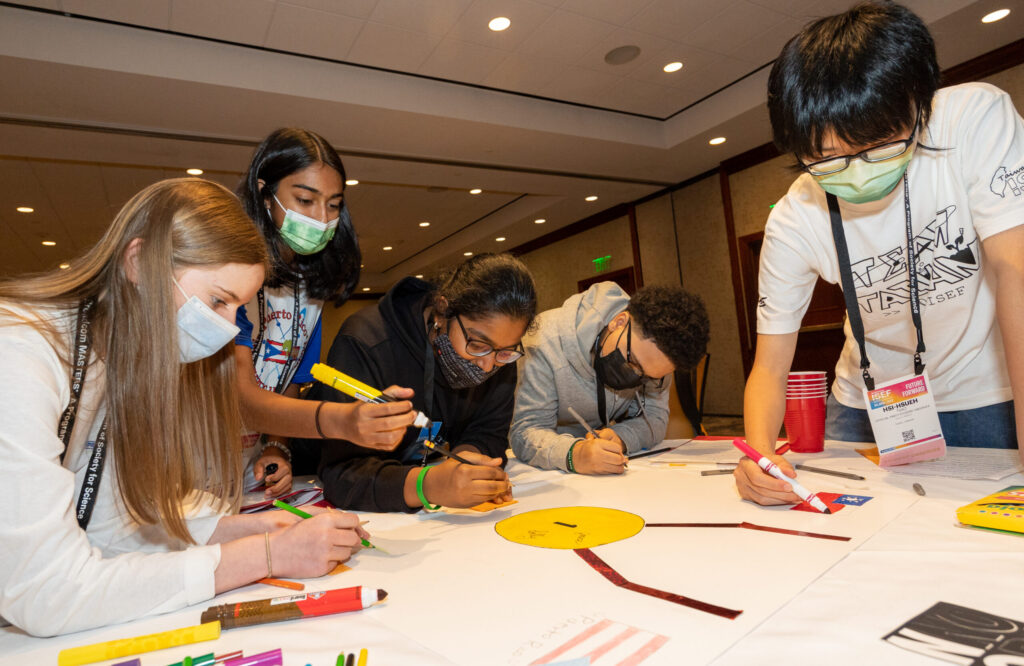 Working together
The program began on Sunday, May 8, as delegates were divided into four teams: green, purple, silver and gold and asked to complete a pair of activities designed to help them get acquainted.
The first involved working together to stack six paper cups in a pyramid using only threads and rubber bands. "You couldn't touch the cups, so you had to do some critical thinking and problem solving, which I think acted as a great icebreaker," said Anushka Tonapi, from India. "We put our minds together and eventually managed to stack the cups by tying a knot with the rubber bands and the threads and using that to hoist the cups on top of each other." For the second activity, each team was tasked with drawing a poster to represent its members, providing an opportunity for teammates to learn about each other's countries and cultures.
"I really love being on a team because it gives us a chance to collaborate and work together," said silver team member Nyambura Sallinen, from the United States. "We get to explore each other's ideas and learn new ideas every single day, and also just talk to each other and learn more about each other."
Finding friendships
For Lucy Chiwaka, from Zimbabwe, Broadcom MASTERS International was the first real opportunity to interact with likeminded peers who share her interests. Back home she says her classmates are more interested in socializing than science. "I'm more of an introvert. I stay at home and research and read books," Lucy said. "To come here and meet other people who love science, it's amazing because you now start to fit in more."
"It's really nice to be in a place where your peers are also striving to make a difference in STEM," agreed Sebastian Alexis, from the United States. "It's nice to meet people from other countries and interact with them. It's like an eye opener to see all the different lenses of the world."
"These are friends that will last for a lifetime," shared purple team member Chaylin Myburgh, from South Africa. "It is very exciting to meet friends that have the same interests that I do, that love the same things that I do." She particularly enjoyed the experience of working in a group and hearing about her teammates' experiences and attitudes towards science.
Though delegates identified with and grew close to their specific teams, there were also plenty of opportunities to deepen connections with members of other teams, as well as meet past participants. "I have never had international friends before," said Siona "Dolly" Pramoda, from Puerto Rico. "When I first came here, I was super nervous because I was looking around and I didn't know anyone, but through the course of four days I've gotten to know so many people so much better. I also enjoyed the mixer where we got to meet other Broadcom and ISEF students, and we got to dance a little bit. That was a lot of fun."
Gold team member Grace Heffernan, from Ireland, agreed. "Over the course of just one week, I've made so many new friends from so many different countries in this program," she said. She also counted the mixer with ISEF students and Broadcom MASTERS alumni as one of the highlights of the week.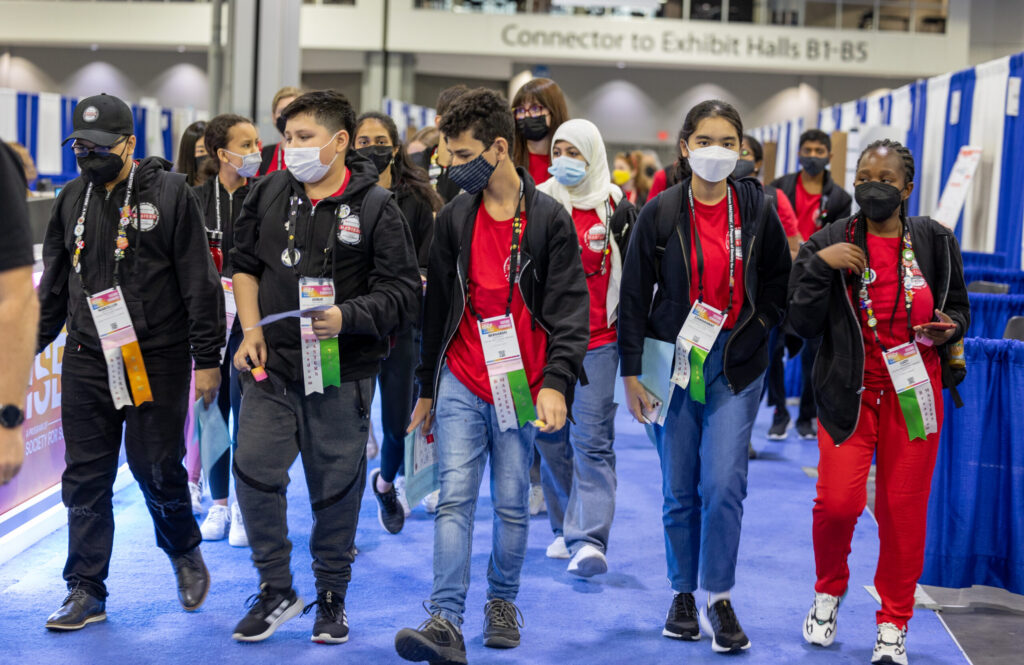 Learning from each other
For Talah Bakhsh, from Jeddah, Saudi Arabia, coming together with international peers held special meaning. Her project, an app to improve teenagers' mental health, was motivated by the sense of isolation she felt during the COVID-19 lockdowns. She loved making friends with fellow delegates from all over the world and learning about their countries while sharing aspects of her own culture.
Judy Bai, from the United States, was interested in the research her fellow delegates had completed. "I've only been exposed to biology because I've been a biology person," she explained. "It was nice getting to know how cultures differ, how school works for them, and what they were exposed to during their research projects. They also come from different parts of the world, so they all have different ideas. It's just been amazing."
At the end of the program, Ezzati Hanis Khairuzzaman, a delegate from Malaysia, was elected class speaker. In her speech, she touched on the many wonderful experiences the group had shared during the week, and the enduring friendships they had formed. She also shared her most important takeaway: "I learned that cooperation and teamwork are essential for success."
It's a valuable lesson that will serve Ezzati and her fellow delegates well into the future. The experiences shared, the skills learned, and above all the international friendships that developed during this year's Broadcom MASTERS International, will surely continue to expand delegates' horizons, enriching their lives for many years to come.