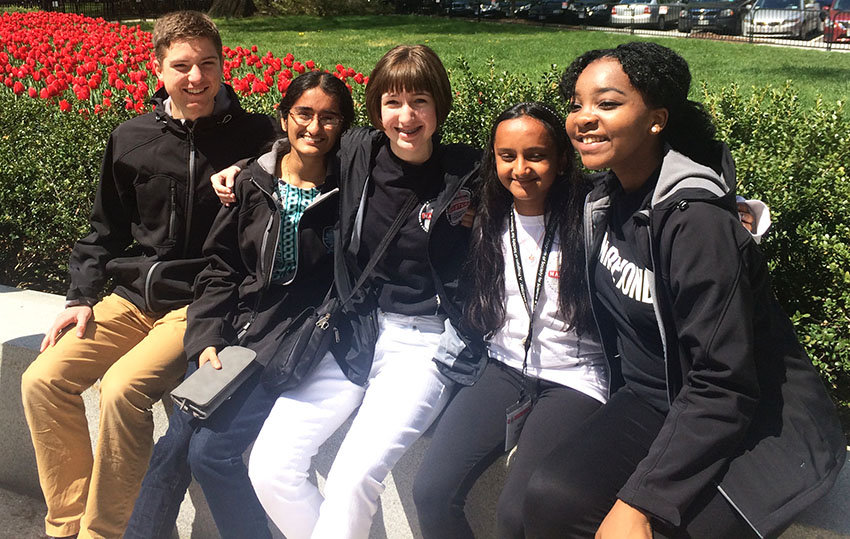 Twenty-three Society for Science & the Public (Society) science fair alumni attended the sixth White House Science Fair on April 13. All 23 participated in at least one of the Society's prestigious science education programs, which include the Intel Science Talent Search, the Intel International Science and Engineering Fair, and Broadcom MASTERS.
This is the sixth White House Science Fair that Society alumni have been invited to attend.
The students escorted by the Society were Hari Bhimaraju, 12, of Cupertino, California; Amy Chyao, 22, of Richardson, Texas; Avery Clowes, 14, of Bolton, Massachusetts; Yashaswini Makaram, 17, of Northborough, Massachussetts; Nathan Marshall, 17, of Boise, Idaho; Annie Ostojic, 13, of Munster, Indiana; and Augusta Uwamanzu-Nna, 17, of Elmont, New York.
In addition to Society-escorted students, many alumni attended with other organizations. Several student participants, including Bhimaraju, Clements, Cofer, Davey, Hallisey, Kurup, Makaram, Marshall, Mesa, Ockels, Ostojic, Palanki, Rane, Sun, Te, Uwamanzu-Nna, Vallabheni, Varma, and Yoo exhibited their projects at the White House.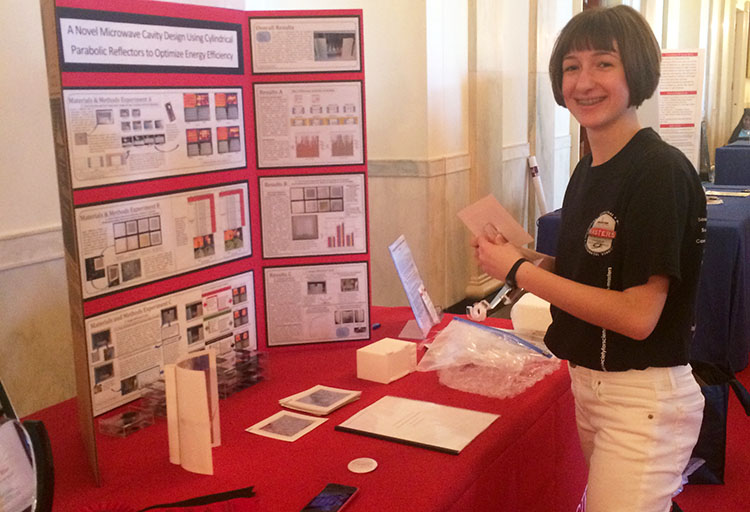 Bhimaraju won a first place award in Technology at the 2015 Broadcom MASTERS for creating a portable, low-cost teaching tool to help students learn the Periodic Table. She designed hardware and software, using a Raspberry Pi and Arduino to build her system to help visually impaired users.
Chyao, now studying applied mathematics at Harvard University, won the top award at the 2010 Intel International Science and Engineering Fair for her project developing a photosensitizer for photodynamic therapy, a cancer treatment that uses light energy to activate a drug that kills cancer cells. She was an attendee at the first White House Science Fair in fall of 2010 and the State of the Union.
Clowes won a first place award in Engineering and the Scott A. McGregor Leadership award at the 2015 Broadcom MASTERS. For his project, he designed several versions of the classic "Lord Kelvin's Water Dropper" to determine how alterations would impact voltage.
Makaram was a 2016 Intel Science Talent Search finalist for her project creating a new phone security tool that records the distinctive arm and hand motions that people use to lift a cell phone from a table to uniquely identify each individual.
Marshall won third place in the Global Good category at the 2016 Intel Science Talent Search for his project using a marine sediment core to examine the warming effects of two natural pulses of carbon dioxide released 55 million years ago.
Ostojic won the top award at the 2015 Broadcom MASTERS and a Rising Star award at the 2014 Broadcom MASTERS for her projects designing a microwave container to cook food more thoroughly with less energy and redesigning the microwave cavity itself to refocus lost corner energy onto turntable food.
Uwamanzu-Nna was a finalist at the 2016 Intel Science Talent Search for her project, which added a nanoclay ingredient called attapulgite to cement slurries to improve the undersea cement seals that keep offshore oil wells from leaking.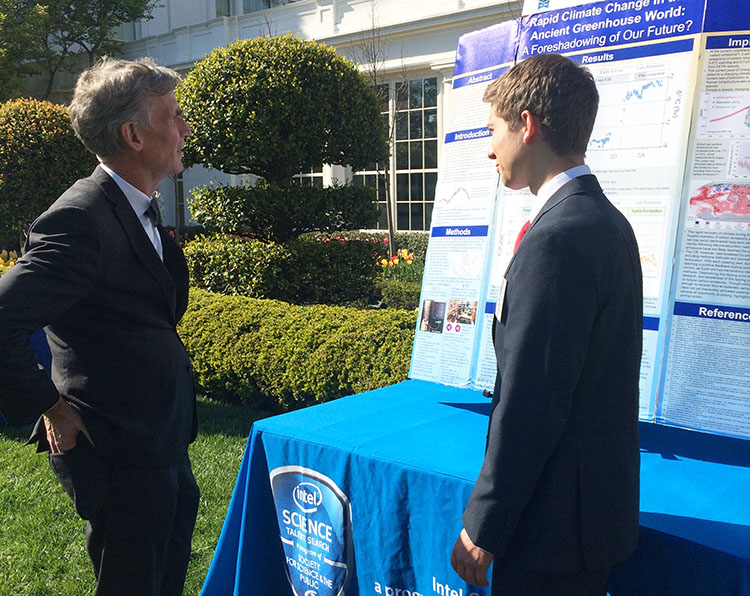 Additional Society participants:
Nia Clements, Broadcom MASTERS 2013 and 2014
Savannah Cofer, Intel ISEF 2015
Neil Davey, Intel STS 2013, Intel ISEF 2013 and 2014
Olivia Hallisey, Intel ISEF 2015
Deepika Kurup, Intel ISEF 2015
Gabriel Mesa, Broadcom MASTERS 2014
Mikayla Ockels, Intel ISEF 2013
Rupa Palanki, Intel ISEF 2014
Sanjana Rane, Intel ISEF 2013-2015
Elana Simon, Intel STS 2014
Matthew Sun, Intel STS 2016
Kimberly Te, Intel ISEF 2014 and 2015
Varun Vallabheni, Intel ISEF 2015
Maya Varma, Intel STS 2016, Intel ISEF 2015, Broadcom MASTERS 2011 and 2012
Christine Yoo, Intel ISEF 2015
"The Society is proud that our alumni have been selected to attend every White House Science Fair to date," said Maya Ajmera, CEO and President of Society for Science & the Public and Publisher of Science News. "President Obama's decision to recognize and feature these talented students reinforces the importance of STEM to our country and encourages young people to pursue their interests in the field. We hope that the next administration will continue this tradition of acknowledging young innovators and promoting hands-on research."
Maya Ajmera was listed under Leading STEM and Media Communicators attending the fair, in an April 13 White House press release.
View the science fair live on a White House livestream.