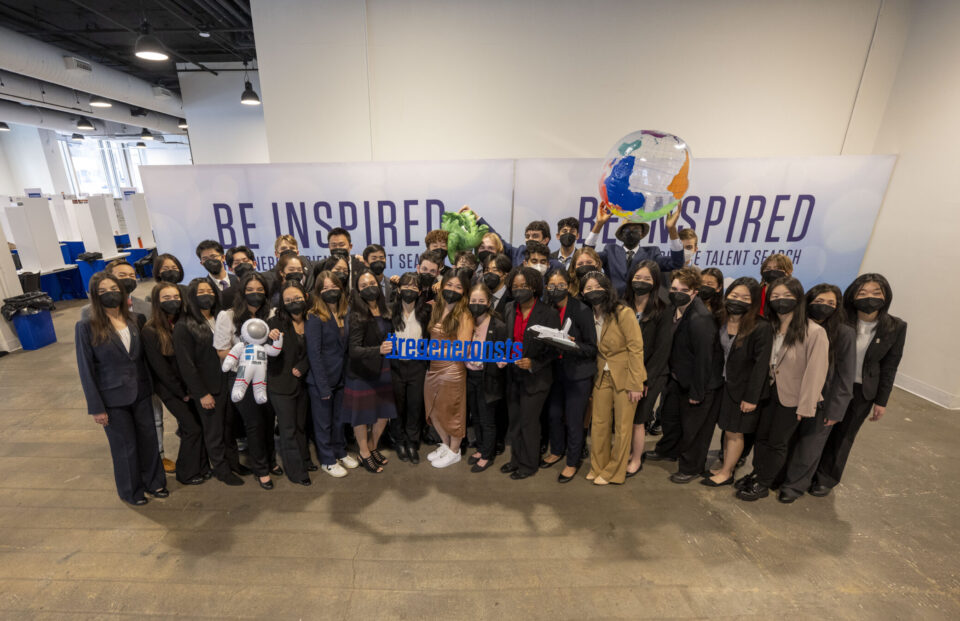 In its 82nd year, the Regeneron Science Talent Search Public Exhibition of Projects showcased the amazing research conducted by this year's top 40 finalists. With projects ranging from environmental science to mathematics to molecular biology, there's no doubt these finalists are on their way to changing the world. During the exhibition, finalists learned about each other's projects and answered questions about their research during panel interviews which were hosted by 2022 Regeneron STS Winner Christine Ye. Here's a look at this year's event: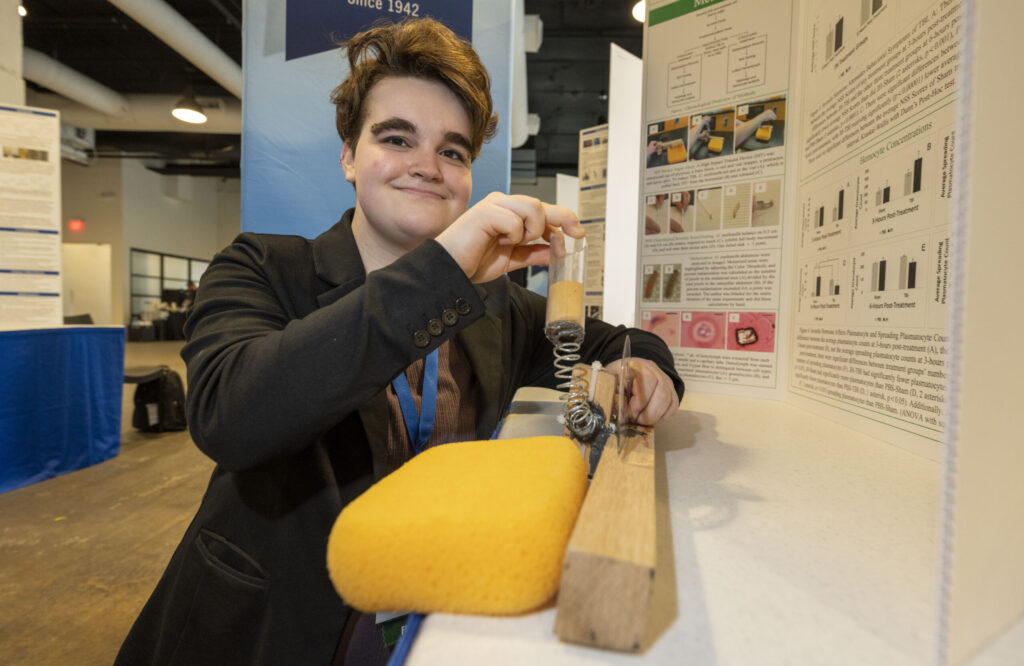 Linden James
North Carolina School of Science and Mathematics (Durham, NC)
With an interest in Traumatic Brain Injury (TBI), Linden researched a thyroid hormone treatment addressing neurological trauma using the model Galleria mellonella. "Most treatment plans around TBI focus on preventative care," Linden explained. "I found that Galleria mellonella's thyroid hormone T3, which is equivalent to a human thyroid hormone, is effective at treating the signs of a traumatic brain injury." Linden is interested in pursuing science policy to advocate for student-athletes. In the future, they also aspire to help provide equitable care to low- and middle-income countries, where 80% of traumatic brain injuries occur and treatment is inaccessible.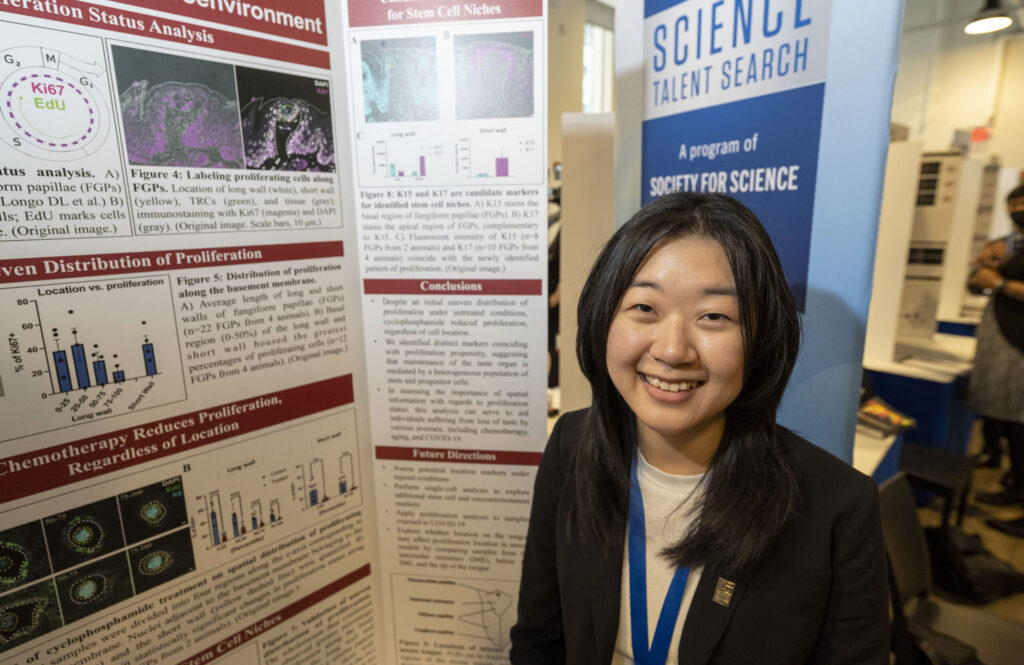 Elane Kim
Stanford University Online High School (Redwood City, CA)
Inspired by the impact loss of taste can have on a patient's health and overall recovery from long-term diseases, Elane's research focused on the effects chemotherapy can have on taste stem cells. She found that, regardless of location, chemotherapy drastically increases taste receptor cell loss. "These findings help us get one step closer to finding solutions to taste loss associated with chemotherapy, COVID-19, aging and beyond," says Elane. She plans to explore how her current methodology can tell us more about how COVID affects taste loss.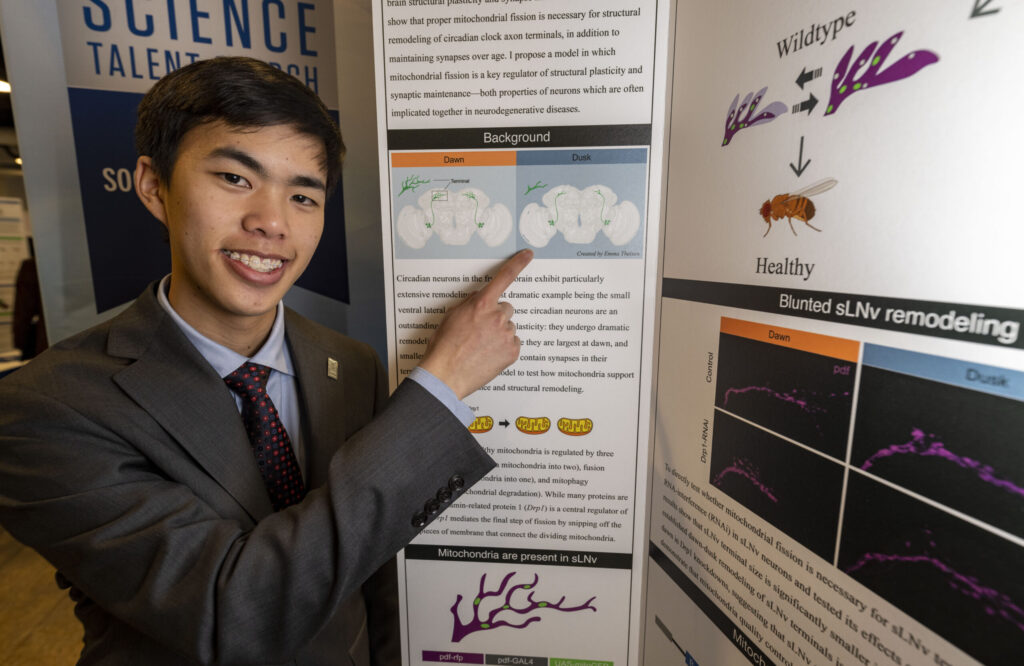 Ryan Lee
Palo Alto High School (Palo Alto, CA)
Ryan wanted to know how mitochondria play a role in the structural plasticity of neurons in the brain. He found that when mitochondria are impaired, it affects a cell's energy production and how they respond to new information, impacting structural plasticity. "My results help pave the way for potential therapeutic approaches to treating neurodegenerative diseases like Parkinson's disease and Alzheimer's," he says. Ryan encourages anyone interested in applying to STS to plan ahead due to the very long application process. He advises his peers to follow their passions in order for good things to come.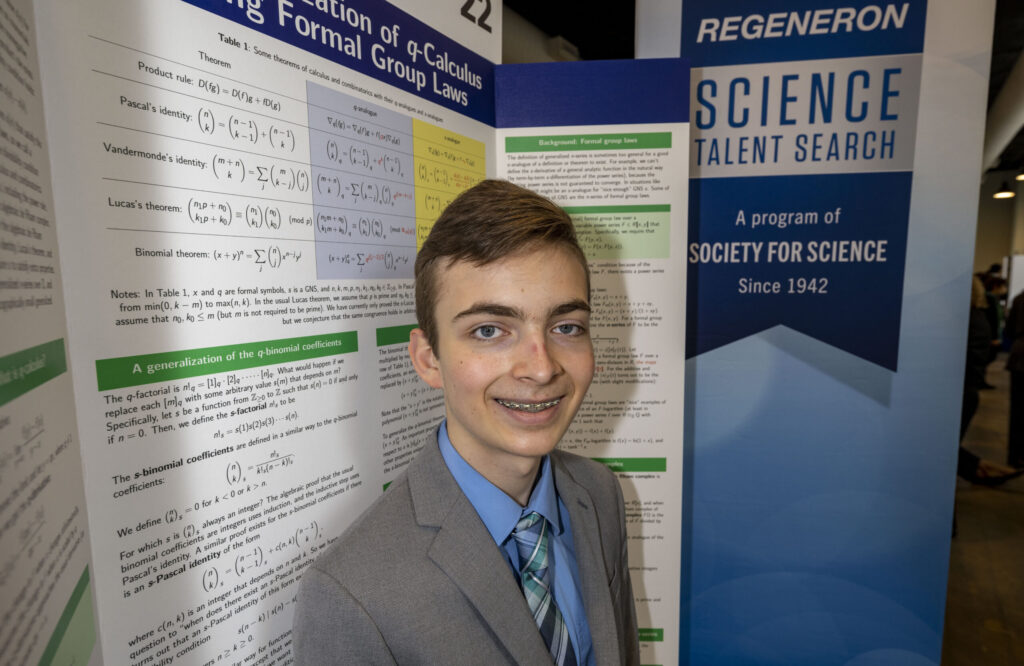 Max Misterka
Misterka Homeschool (Harrisonburg, VA)
Max studied q-calculus, a version of traditional calculus, and found a way to generalize it. He proved many things using his new generalization, which he calls s-calculus, that are comparable to results found using q-calculus. Max wants to further generalize s-calculus and hopes his research will be helpful in the field of quantum physics. "So far, my favorite part of STS finals week has been hanging out with all of the finalists in the lounge," shared Max. "I think the dance party is going to be really fun!"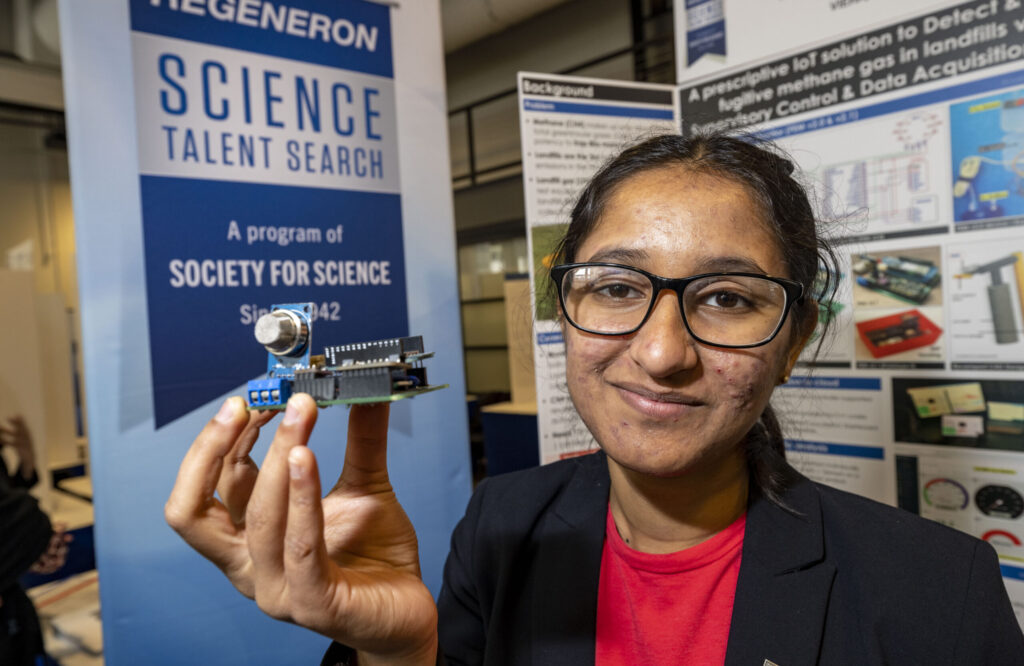 Lavanya Natarajan
Viera High School (Viera, FL)
Lavanya created an inexpensive device to monitor methane emissions in landfills, which could help landfill engineers capture methane and lead to a reduction in greenhouse gas emissions. Lavanya plans to further her research by using a drone and infrared spectroscopy to monitor and collect data from different methane hotspots in a landfill. How did Lavanya react to being named a finalist? "I was really surprised, I wasn't expecting it at all," she shared.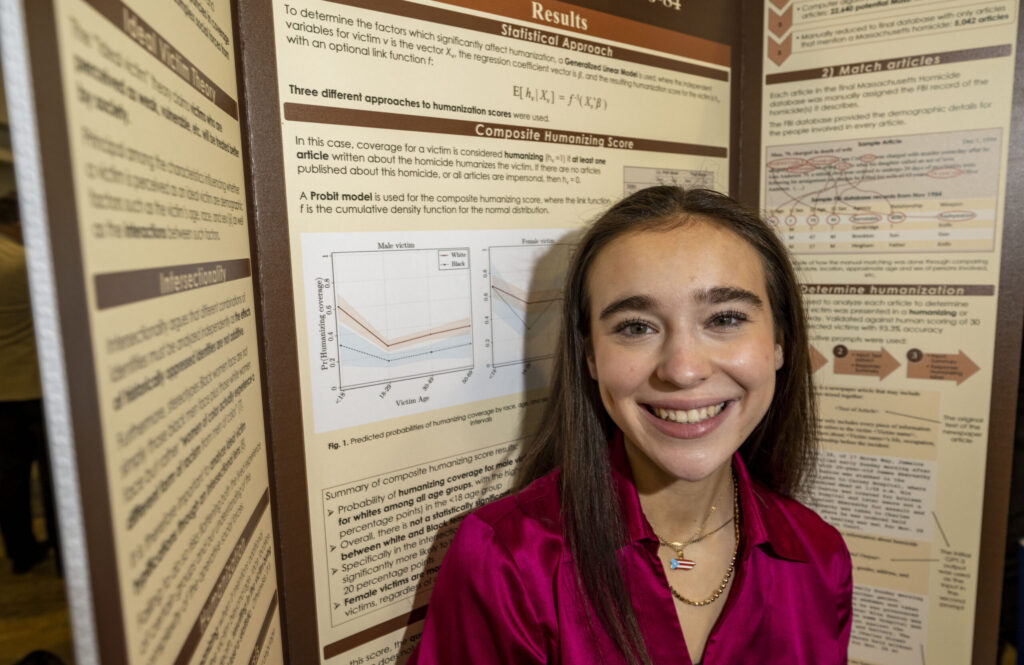 Emily Ocasio
New School of Northern Virginia (Fairfax, VA)
Using ChatGPT, Emily analyzed news articles from the Boston Globe to determine whether humanizing language was used when describing homicide victims. She found that Black male victims are 30% more likely to receive less humanizing coverage than their white counterparts. What can we do to prevent further media bias? "We need to be aware of the communities we are leaving behind in our content and media coverage because even though we may not be overtly discriminating or speaking negatively about certain groups, the fact that we aren't elaborating on certain instances shapes the communities that we care about," explained Emily.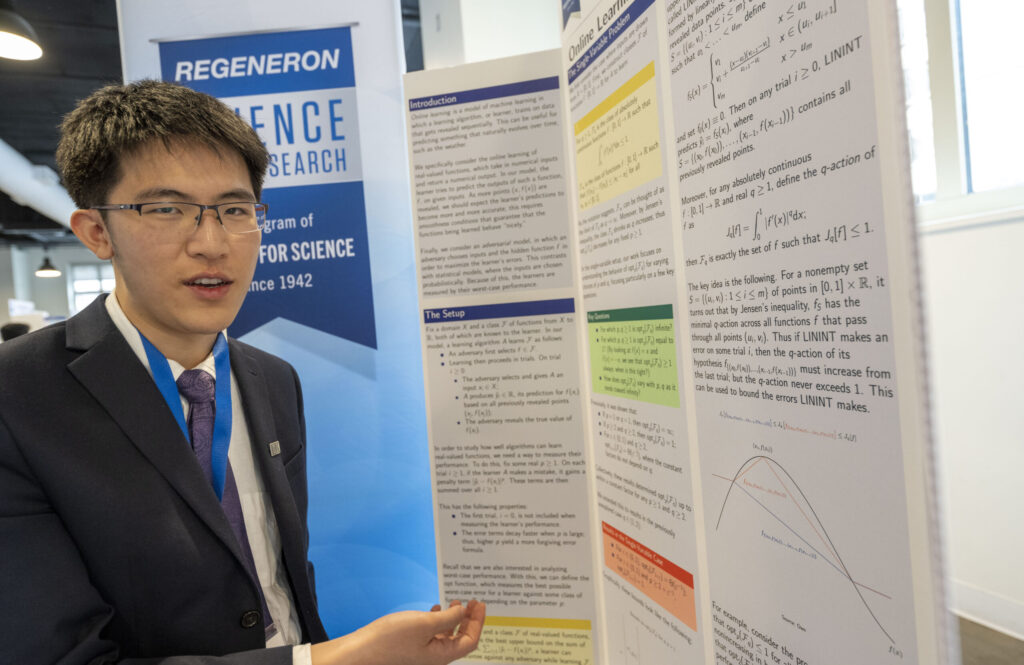 McLean High School (Mclean, VA)
Ethan's project studied the Online Learning of Smooth Functions. He says online learning is a branch of machine learning which continuously receives data gradually instead of all at once. Ethan says his research can be useful to algorithms that create models which evolve over time, like predicting the weather or stock changes. "Being a finalist is pretty crazy," shared Ethan. "Seeing everyone's projects and meeting everyone has been great. I'm just really grateful to be here."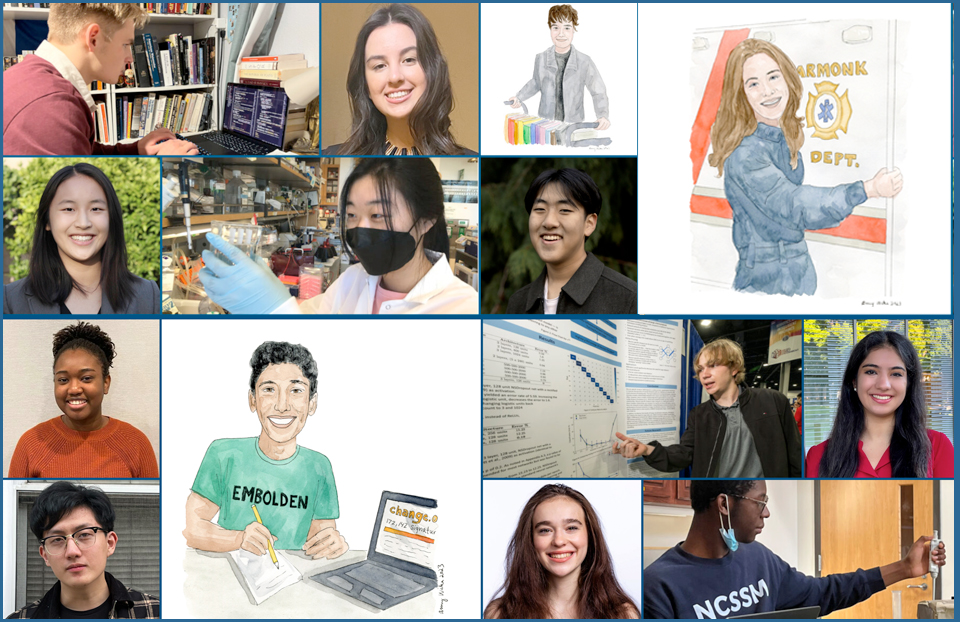 You can watch every panel interview from the Public Exhibition of Projects on the Society's YouTube page. Stay tuned for the Regeneron Science Talent Search winners' announcement on the evening of March 14. Bookmark the link to watch the awards ceremony livestream when the winner of the $250,000 top award will be announced.