Emily Ocasio
New School of Northern Virginia
Falls Church, Virginia
About Emily Ocasio
Using an artificial intelligence (AI) model, Emily matched publicly available FBI data with archival Boston Globe articles to examine hidden biases about homicide victims in media coverage. By mapping a victim's demographics against the quantity of humanizing details reported in the newspaper, Emily demonstrated biases based on the victim's race, gender and age. By using AI to document these biases, Emily shows that it can be safely used to help society answer complex social science questions.
Demographic Correlates of Humanizing Language in Media Coverage of Crime: Evidence From the Boston Globe, 1976-84
View Poster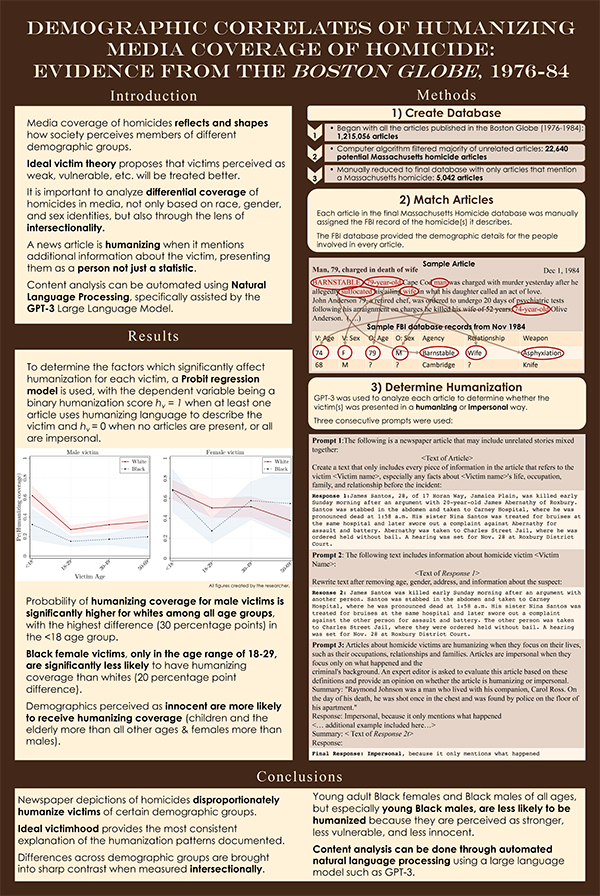 View Poster
Emily Ocasio, 18, of Falls Church, used artificial intelligence and natural language processing (NLP) to measure the impact of a homicide victim's demographics on press coverage for her behavioral and social sciences project submitted to the Regeneron Science Talent Search. Emily scoured publicly available FBI homicide records from Massachusetts between 1976 and 1984 and matched victims with their corresponding Boston Globe articles. She then used NLP to assess each article for the amount of humanizing or impersonal language used to describe the victim. Coverage is considered humanizing when it includes personal information such as a victim's family, occupation or interests. Emily's results showed that news reports included fewer humanizing details in articles about Black male homicide victims than in those about white males. There were also fewer humanizing details in articles about young Black female victims. Emily hopes her findings will help raise awareness of media coverage bias.
At New School of Northern Virginia in Fairfax, she is the student government president and leads its fairness committee. She is also CEO of a nonprofit called the GirlsComputingLeague. Her parents are Trina and Wendell Ocasio.
Beyond the Project
Emily, a vegetarian since the age of seven, is a "huge animal lover." She adopted a one-eyed bunny three years ago, and now it sleeps in her bed every night. She enjoys hosting fundraisers for animal-related causes, and in fifth grade, she began knitting scarves to raise money for shelter animals.
FUN FACTS: Emily can walk across the room on her hands!