Lavanya Natarajan
Viera High School
Melbourne, Florida
About Lavanya Natarajan
Lavanya developed a relatively inexpensive wireless device that could be used to decrease methane emissions from landfills. She successfully tested her device at an actual landfill and had results sent to handheld devices nearby. She believes her device could contribute to reducing the rate of global warming.
A Prescriptive IoT Solution To Detect and Mitigate Fugitive Methane Gas in Landfills via a Supervisory Control and Data Acquisition System
View Poster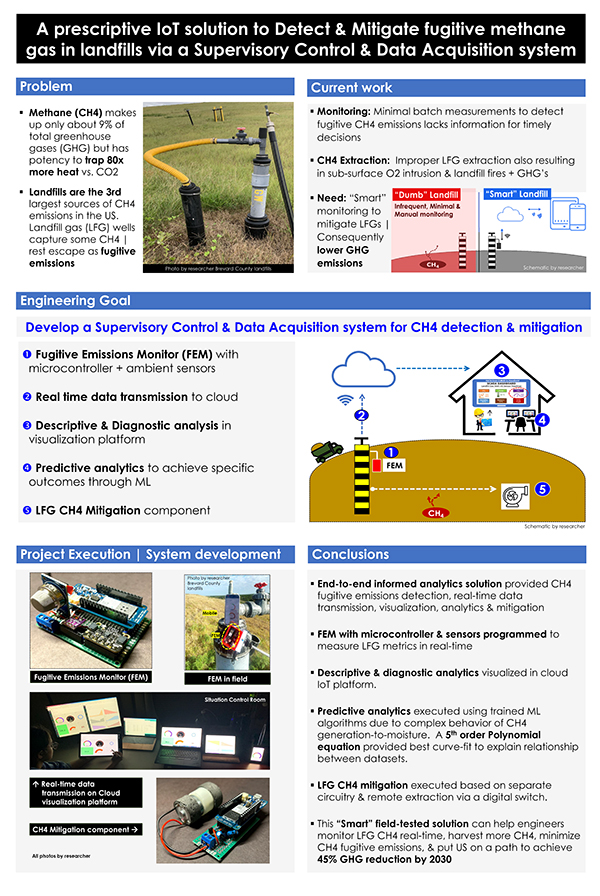 View Poster
Lavanya Natarajan, 17, of Melbourne, developed a device that might help reduce the amount of methane being released from municipal landfills for her engineering project for the Regeneron Science Talent Search. Landfills produce gas that is roughly 50% methane – and alarmingly, that methane traps heat in the atmosphere up to 80 times more effectively than carbon dioxide. Interested in reducing global warming, Lavanya developed a relatively inexpensive wireless device that remotely monitors a landfill's greenhouse gases and other parameters. The data can then be accessed using a smartphone. Ideally, methane is pumped out of landfills when concentrations get high, but measuring it is cumbersome, so pumping gets delayed, which means that much of the methane escapes. This new device should make it easier to pump out the methane appropriately. She has tested her device, first in the lab she set up in her family's garage and then at an actual landfill.
The daughter of Sanjay Natarajan and Lakshmi Narayanan, Lavanya led the varsity tennis team at Viera High School, where she also led a successful fund-raising effort to repair their old tennis facility. Additionally, she taught coding and mentored kids on how to solve Rubik's cubes.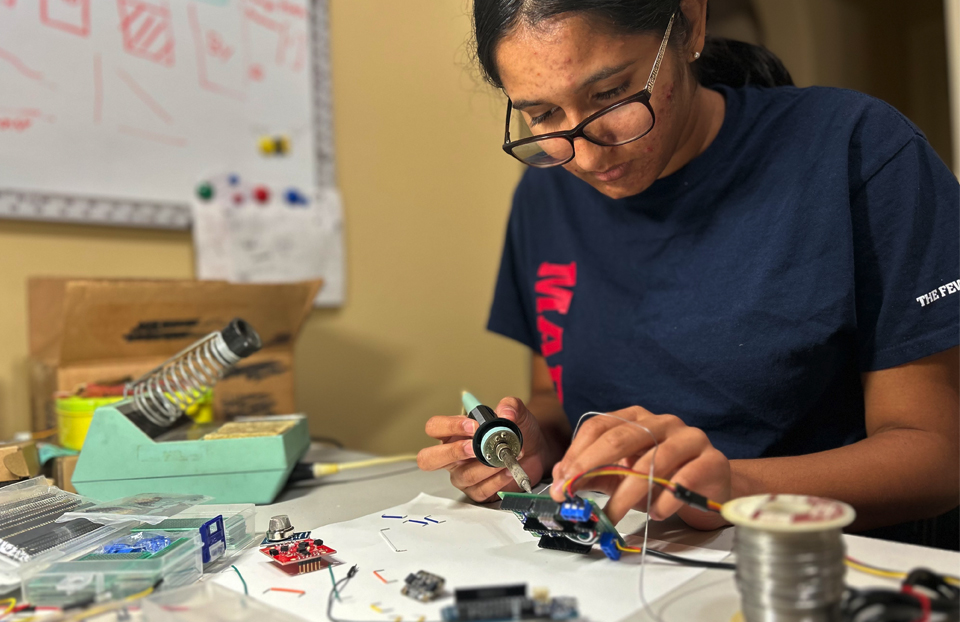 Beyond the Project
Lavanya sings and plays traditional Indian music. She has performed solo and group performances for large audiences and even accompanied musicians onstage by playing a tambura.
FUN FACTS: Lavanya organized two fundraisers to repair the school's tennis court surface and its fence, and then to install windbreakers. The result? In 2022, the team had their best season ever!