12-Year-Old uses optical illusions to better understand cognitive processing; wins $25,000 top award at the Broadcom MASTERS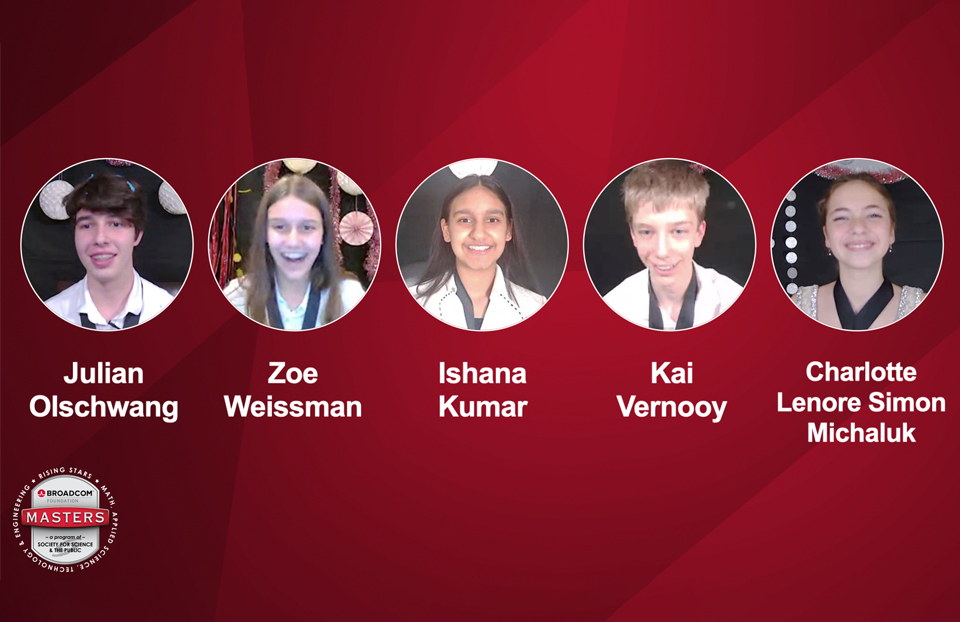 Broadcom Foundation and Society for Science & the Public today announced that Ishana Kumar, 12, from Chappaqua, New York, won the coveted $25,000 Samueli Foundation Prize, the top award in the Broadcom MASTERS®, the nation's premier science and engineering competition for middle school students.
Through her project, Ishana investigated whether retinal fatigue changes our perception of "imaginary colors," an illusion of color most commonly seen from a spinning black and white disk, called a Benham's disk. She had her subjects look at the Benham's disk, and then stare at a red, blue or green light. Next, her subjects stared back at the Benham's disk, and determined whether the imaginary colors changed as a result of retinal fatigue, the phenomenon that occurs when someone stares at a brightly lit, colored area for a while. Ishana's research could lead to a better understanding of eye disease, our neural pathways as well as both color and cognitive processing.
The other top winners tackled pressing issues including climate change, gender parity in clinical trials, gerrymandering and communicating with the deaf and hard of hearing.
The Broadcom MASTERS (Math, Applied Science, Technology, and Engineering for Rising Stars), a program of the Society for Science & the Public, inspires middle school students to follow their personal passions to exciting college and career paths. Thirty finalists, including Ishana, took home more than $100,000 in awards.
For the first time, the competition took place virtually to keep the finalists and their families safe during the ongoing coronavirus pandemic. Each of the 30 finalists participated in online team challenges in addition to being judged on their science research project. The challenges leveraged project-based learning and tested their mastery of 21st Century skills of critical thinking, communication, creativity and collaboration in each of the STEM areas. The finalists' projects, meanwhile, brought a fresh perspective to solving global challenges from wildfires to eye disease to data security.
"Congratulations to Ishana, for her fresh take on the role of retinal fatigue on imaginary colors and the leadership she exhibited during the Broadcom MASTERS team challenges," said Maya Ajmera, President & CEO of the Society for Science & the Public and Publisher of Science News. "From climate change to gerrymandering, it is so inspiring to see young people identify a large problem in our world and then zero in on a way that they can make a difference using their STEM knowledge. I have great expectations for all of this year's Broadcom MASTERS."
"The entire Broadcom family congratulates Ishana and the entire class of the 2020 Broadcom MASTERS," said Paula Golden, President of the Broadcom Foundation. "To compete and bond as a dynamic cohort has been made more challenging in the face of a worldwide pandemic, yet they found a way to come together in competition and friendship. They will forever be remembered for their enthusiasm and perseverance as young scientists and engineers."
Ishana Kumar, 12, Chappaqua, NY, won the $25,000 Samueli Foundation Prize, for her project investigating optical illusion and Benham's disk as well as her leadership, collaboration and critical thinking skills. The prize is a gift of Dr. Henry Samueli, Chairman of the Board, Broadcom Inc., and Chair of the Broadcom Foundation and his wife, Dr. Susan Samueli, President of the Samueli Foundation.
Charlotte Lenore Simon Michaluk, 14, Pennington, NJ, won the $10,000 DoD STEM Talent Award for demonstrating excellence in science, technology, engineering or math, along with the leadership and technical skills necessary to excel in the 21st Century STEM workforce and build a better community for tomorrow. In her project, Charlotte found that a silicone type called PDMS combined with 3D models mimicking the Mako shark teeth would improve the coating for cargo ship hulls by limiting biofouling and in the transfer of invasive species.
Julian Olschwang, 14, Los Angeles, CA, won the $10,000 Lemelson Award for Invention, awarded by The Lemelson Foundation to a young inventor creating promising product-based solutions to real-world problems. In his project, Julian developed a low-cost glove that could convert sign language to text or speech.
Kai Vernooy, 14, Niskayuna, NY, won the $10,000 Marconi/Samueli Award for Innovation, an honor made possible by Samueli's generous donation of his 2012 Marconi Society Prize Award. The finalist demonstrates both vision and promise as an innovator, in the spirit of radio inventor Guglielmo Marconi. For his project, Kai studied gerrymandering and used a mathematical algorithm to draw voting districts that are more fair.
Zoe Weissman, 14, Plantation, FL, won the $10,000 Robert Wood Johnson Foundation Award for Health Advancement, which recognizes the student whose work and performance shows the most promise in health-related fields and demonstrates an understanding of the many social factors that affect health. Through her research, Zoe learned that most clinical trials for new drugs use more male subjects than female subjects, as a result more pain medicines are geared towards men. Zoe worked to identify natural alternatives to opioids that could help both sexes.
Broadcom MASTERS winners were chosen from the 30 finalists selected from 3,476 applicants in 42 states and Puerto Rico. Winners were selected by a panel of distinguished scientists, engineers and educators. Each finalist's school will receive $1,000 from the Broadcom MASTERS program to benefit their STEM initiatives.
For a full list of the winners, visit here.